A Rice Paddy's Potential
By staff reporter LI GUOWEN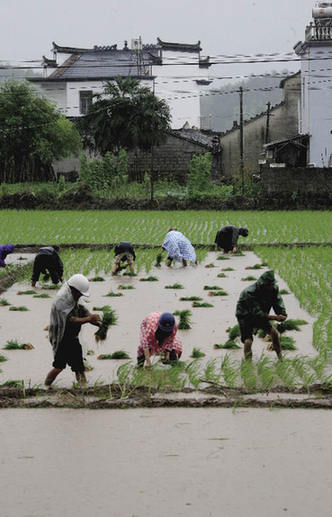 For everything there is a season, and this one is devoted to seedling-transplants.                                  Cnsphoto
THERE is a small piece of village land near Fuzhou City, Jiangxi Province that has changed many hands since it was surveyed and registered in 1949. Wang Huojin, a village old timer, remembers it grew one crop a year 60 years ago, and the yield was merely 200 kilograms. Today its two crops produce 750 and 800 kilograms respectively.
The plot is now contracted to the Juyuan Agricultural Sci & Tech Development Co., Ltd. and company spokesman and General Manager You Bufa is confident his company can increase that output further through improved irrigation and cultivation. Juyuan now runs more than 3,000 mu (200 hectares) of farmland in Changkai Town, which encompass 1,000-odd plots around three villages. In China farmlands are parceled into plots and contracted to villagers who use simple field ridges, ditches or footpaths for demarcation.
Productivity Swings on Ownership
After the founding of the People's Republic, farmlands held by landlords were redistributed to individual peasants to work them. This land reform led to a rise in agricultural productivity.
It was 1952 when reforms were conducted in Fuzhou, and the 0.1-hectare paddy field in Donghu Village was allotted to Wang Yousheng, with a few other plots. They provided for all the Wang family's needs. But six years later the People's Commune campaign swept across the nation. All rural lands were taken back by the villages, and put under collective management. During the following two decades, the annual yield of the 0.1-hectare plot swung between 150 to 200 kilograms.
By the end of 1978 a village in Anhui Province tentatively initiated the household contract responsibility system, contracting farmlands to its residents. Under this system farmers lease lands in household-sized parcels from their villages who still own the land and therefore have the management rights. The practice was later sanctioned by the central government, and promoted nationwide. By early 1983 the system had been adopted by 93 percent of China's rural areas.
It was 1980 by the time the household contract responsibility system was introduced into Donghu Village, and the 0.1-hectare plot went to Wang Yuquan. Motivated by the idea gain was tied to effort, the Wangs put their whole heart into the land, and soon boosted its single-crop yield to 500 kilograms.
As the years went by, the plot was shifted to other households in regular land redistributions that the village conducted, and its output remained largely stable – between 500 and 600 kilograms, still considered a decent yield compared to past performance but not enough to reward its proprietor with the higher standards of living seen in cities.
Since the mid-1990s China's countryside has seen an ever-mounting exodus of young laborers seeking employment in cities, where the economy is more dynamic and the living standard higher. According to statistics released by the Ministry of Human Resources and Social Security, 225 million farmers held down non-agricultural jobs at the end of 2008, with 140 million working away from their hometowns – equivalent to the combined populations of Germany and France.
As migrant workers are still entitled to farmlands at home, they often release their fields to relatives or neighbors. For many years, that was done without monetary compensation, and what's more, the original land holder had to pay the agricultural tax. Zou Manshui, an agricultural officer in Fuzhou, confirmed that some lands were left fallow in the region in past years because of a shortage of farm hands to work them. "Many of the younger generation of 'rural residents' grew up in cities where their parents went to take odd jobs, so they have little knowledge or interest in farming," Juyuan's General Manager You Bufa noted, and adds, "Most people tending the fields now are in their 50s or older." It is this reality that gave rise to private plantations and a class of professional management companies like Juyuan.
Size Equates to Profit
That 0.1-hectare of land in Donghu Village was reallocated to Wang Xuexiang in 2000. Wang, then in his late 60s, had two sons who both found their fortunes out of town. So when his health deteriorated in 2005, he had no choice but to lease his land to fellow villager Wang Delong. The rent was a nominal 50 kilograms of rice a year, priced at barely over RMB 100. Wang Delong does better: cultivating 40 mu (approximately 2.7 hectares) leased from other farmers, he harvests 35,000 kilograms of grain a year that net him more than RMB 20,000.
To further stimulate profit and the number of big growers like Wang Delong, China repealed the agricultural tax and increased agricultural subsidies on January 1, 2006. In Fuzhou's Linchuan District alone more than 14,500 hectares of farmland was sub-contracted in 2009, accounting for 28 percent of the district's total. One hundred and sixty-five households now cultivate more than 100 mu (6.7 hectares) each. Their holdings add up to 30,000 mu (2,000 hectares), or four percent of the district's total. Besides state subsidies, these families receive RMB 16 per mu per year from the district authority.
Li Jianfa is known for his green thumb in his hometown of Shangrao, another city in Jiangxi. Beginning in 2007 Li and two of his friends began to contract paddy fields in Linchuan District. "I looked for parcels next to each other. The rent I budget for has been on the rise; it used to be RMB 80 per mu but it's up to RMB 130 a year," Li said.
This year Li and his partners amassed a farm of approximately 1,000 mu (67 hectares) and purchased three harvesters and two tilling machines. "Scientific farming" is now Li's catchphrase. "As soon as I acquire a piece of land, I immediately send soil samples to the Jiangxi Academy of Agricultural Sciences, and follow its experts' advice on application of fertilizer and other farming process." After three years of overseeing his field, Li Jianfa knows every nuance of timing and fertilization that affects its output.
Every mu gives Li a return of RMB 300 a year, after deducting costs for rent, fertilizer, pesticide, seeds and labor. In 2009 he and his friends saw a revenue of more than RMB 300,000.
An Uneasy Relationship with Capital Assets
The success of big grain growers is changing how country folk view their options. For decades Chinese farmers saw no way of making good money in the fields, and flocked to cities in the hope of a better life. You Bufa was among the migrant workers native to Fuzhou before he sniffed out the promise of agribusiness and founded the Juyuan Corporation. By 2009 his company signed on more than 3,000 mu (200 hectares) of lands in Changkai Town, the largest project of its kind in the city that also happens to encompass the 0.1-hectare plot in Donghu Village. This is leased to Juyuan at RMB 310 per year and produced more than 1,500 kilograms of rice in 2009 for a net profit of RMB 450 for the company.
Juyuan now runs three plantations, all administered in corporate style. The crops are attended to by hired veteran farmers and the finances are handled by professional accountants. Almost all farm work, including transplanting and reaping rice seedlings, is done using the company's 50 agricultural vehicles. Besides tilling its 3,000 mu of lands, Juyuan provides services ranging from machine repair, pest prevention and manure/water management.
While delighted over the dynamics of his business, You Bufa harbors secret worries about the future. "Most sub-contracts for lands are renewed on a yearly basis. Though I am lucky to get three-year terms, it is not good enough for long-range investment. One of the troubles I face is not being able to incorporate the small plots that make up my holdings into one contiguous piece, so as to make full use of big farming machines." You agrees that the local government is doing its best within its resources to facilitate land subcontracting. The district government of Linchuan has set up an agency that collects and releases information on land transfer, offers matchmaking services for land owners and leasers, and mediates disputes – any of which might serve You in unifying the plots.
Mr. You is also alarmed by the risks natural disasters pose to his business; agricultural insurance is still nascent in China, providing little protection for crop growers. Any investment therefore carries with it the possibility of losses that could not be redressed. "Amassing and managing capital assets in agriculture is still new in China," concluded You. "Things will smooth out later. All the signs show we are heading in the right direction."