High on Wind Power
By staff reporter LI WUZHOU
SEVERAL huge matrixes of wind turbines, towering 70 meters high and wielding blades that stretch out 35 meters, rise abruptly on the vast expanse of the barren Gobi desert in northwestern China's Gansu Province. Here you can find the Changma Wind Farm, the first stage of construction in the Jiuquan Wind Power Base – China's first wind power project in the tens of million kW classification. The ground-breaking ceremony took place on August 8, 2009, and by September 13 all 134 aerogenerators had been installed.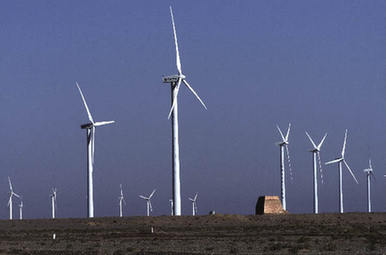 Winds of change: by the end of 2008 China had constructed 239 wind power farms with a total installed capacity of 12.17 million kW. 
Construction Upsurge
The Changma farm is a joint venture between the China Energy Conservation Investment Corporation (CECIC) and Hong Kong Construction (Holdings) Limited (HKC). Though 20 kilometers from downtown Yumen in Jiuquan City, it is not alone in this wilderness; on one side of it stands the 161,000-kW State Grid Longyuan Wind Farm and on the other is the 100,000-kW Datang Power Gansu Wind Farm. Both the State Grid Corporation of China and the Datang International Power Generation Co., Ltd. are leading the country in electricity generation. Other major power enterprises possessing wind power properties within the jurisdiction of Yumen include the China Huadian Corporation and China National Offshore Oil Corporation.
Yang Xuhua is the head of the Changma farm, and concurrently deputy general manager of CECIC and general manager of CECIC-HKC (Gansu) Wind Power Co., Ltd. Caught in the upsurge of wind power construction, he has recently had to spin much faster than those turbine blades. Just winding up the construction of a 100,000-kW wind farm in Xinjiang's Dabancheng, and a 400,000-kW one in Hebei's Zhangbei, he arrived in time for the installation of the 200,000-kW wind power units at Changma. Still on his hands are the ongoing 400,000-kW project in Zhangbei and the preparation for the 200,000-kW second stage of Changma to be launched next year. The number of wind farms his company will build in Gansu amount to a total installed capacity of one million kW.
The first stage of Changma farm is an RMB 1.7 billion investment. Though the cost of wind power is high, Yang expects his enterprise to be profitable, given its operation and management experience and the policy support for new energy. After all, the state's purchase price for wind electricity is RMB 0.54 per kW/h, much higher than that for hydro and coal electricity. He did a simple calculation: planned obsolescence for the wind turbines is 20 years; the bank loan will be paid back within 14 years, and the RMB 700-800 million that the farm generates in the remaining six years will be pure profit, not counting the reutilization of the steel shafts and blades from the original generators.
Nature was on his side too, providing a site that is a natural passageway for easterly and westerly winds. Jiuquan is located in the Hexi Corridor between the Qi-lian and Beishan mountains in northwestern Gansu. Its territory of 195,000 square kilometers makes it larger than some southern provinces, even if two-thirds of it are Gobi desert and sandy deposits. This strip of flat land between two mountain ranges is a natural funnel for winds, whose annual average speed reaches 7.9 meters per second at an altitude of 70 meters above Yumen and increases to 8.3 meters further eastward atop Jiuquan's Guazhou County. The average annual wind energy resources of the two sites each exceed 20 million kW. Of the 8,760 hours in a year, the duration of effective the wind resources in Jiuquan amounts to 6,500 hours, including 2,300 hours when the wind is strong enough to power full-capacity electricity generation.
There was every reason for China to choose Jiuquan as the site for its largest wind power demonstration project. According to the plan, construction of the wind power base will be undertaken jointly by Guazhou County, Yumen City and Subei County of Jiuquan and will achieve an installed capacity of 5.16 million kW by 2010, and 12.71 million kW by 2015. The static investment for the entire project is estimated at RMB 120 billion. A 750-kV transmission grid is under construction and will go into service next year. In addition, a 4-million-kW thermal power plant has also been listed in the state plan as an adjustor to even the base's output.
The wind base is the fourth mega project in western China, following west-to-east natural gas transmission, oil transmission and the Qinghai-Tibet Railway. When completed, the total installed capacity of the Jiuquan base will be comparable to that of the Three-Gorges hydropower project. So the locals call it the "Terrestrial Three Gorges."
According to Shi Pengfei, vice president of the Chinese Wind Energy Association, in 2008 the National Energy Bureau listed wind power development as a central plank in the country's power structure, and started planning and construction of six wind energy bases in the tens of million kW classification. Inner Mongolia, Gansu, Xinjiang, Hebei and Jiangsu were selected for their rich wind energy resources.
As a demonstration project, Jiuquan has already pulled ahead of the other five. The bureau has also signed off on plans for 20 million kW wind power in southeastern and northern Hami in Xinjiang. Inner Mongolia will host a more impressive one with a total installed capacity of 50 million kW. Hebei Province will build to a total capacity of 10 million kW in its coastal and northern areas. Of the 10 million kW wind power designed for Jiangsu, 7 million kW will be generated at an offshore base, already dubbed the "Maritime Three Gorges" to continue the nickname theme.
The Chinese government declared the goal for wind power capacity to be 5 million kW by the end of 2009. However, experts say the actual installed capacity will amount to 10 million kW by the end of 2009 and reach 30 million kW by 2010 – 10 years ahead of the government's target.