China's First Astronaut
By staff reporter LI WUZHOU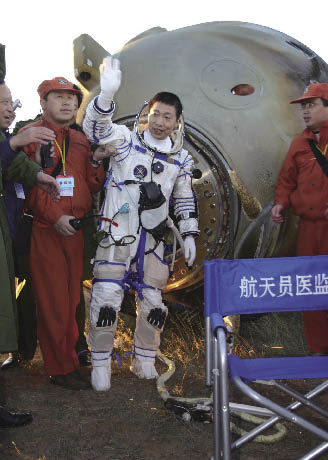 Yang Liwei on Shenzhou-5 – delivering on an ancient ambition.    China Foto Press
    WHEN 38-year-old Chinese astronaut Yang Liwei took off from the Jiuquan Satellite Launch Center on board the spacecraft Shenzhou-5 at 9:00 a.m. on October 15, 2003, he was fulfilling an ancient Chinese dream. He orbited the earth 14 times and landed his re-entry module according to plan at the landing zone in Siziwangqi, Inner Mongolia, at 6: 23 a.m. on October 16.
    The national desire began with myth, as evidenced by the tale of Chang'e flying to the moon and the many murals of flying apsaras that grace the Dunhuang Grottoes. A brave adventurer even made a consecrate physical attempt: Wan Hu, a Ming Dynasty official, blasted off in his "spacecraft" propelled by 47 gunpowder-filled rockets. It wasn't until 2003 this centuries-old dream finally became reality. The Shenzhou-5 mission ushered in a new era of China's space age, making the nation the third in the world capable of manned space flight.
    The plan to develop manned space flight was proposed as early as the 1970s, after China sent its first satellite "Dongfanghong-I" into orbit. But it was shelved due to the inadequacy of overall national strength. In 1992, with advancement made in space technology, the Chinese government fired up the plan. Seven years later in 1999, China's first experimental spacecraft, Shenzhou-1, was successfully launched. After three more unmanned flights by Shenzhou-2, Shenzhou-3 and Shenzhou-4, Yang Liwei lifted off on board Shenzhou-5.
    Yang, as China's first astronaut or "taikonaut," made Chinese history and is considered a national hero. He was promoted to senior colonel soon after, and again to the rank of major general in 2008.
    China's first spacewalk lasted 19 minutes and 35 seconds, an achievement made by Yang's comrade Zhai Zhigang who climbed out of Shenzhou-7 on September 27, 2008.
    The space program's line up includes the launching of the spacecraft Tiangong-1 – a space hub – in 2010, and three more Shenzhou craft to perform manned and unmanned space docking experiments with the mini space station. The crowning achievement will be a manned space station in 2020, named "Tiangong," meaning in Chinese "palace in the heavens."