In March 2009, China's top 10 seaside tourist cities were unveiled in an online survey conducted jointly by sohu.com, a leading Chinese Internet portal, and Enjoy World, a popular electronic tourist magazine. Tourism experts, journalists, independent travelers, and more than one million netizens voted Sanya, Qingdao, Qinhuangdao, Zhuhai, Rizhao, Xiamen, Beihai, Dalian, Haikou and Ningbo as their favorite seaside destinations.
China's Top Ten Seaside Cities
By staff reporter ZHANG XUEYING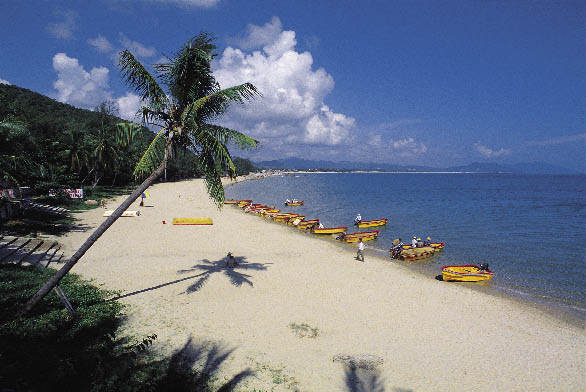 Dadonghai Beach in Sanya.                                                                                   Yu Xiangjun  
Traditional Resorts
Of the 10 cities, Sanya, Haikou and Qinhuangdao are traditional destinations for millions of urbanites seeking to escape the summer heat of inland cities.
Sanya and Haikou on China's southernmost island province of Hainan are often compared to Hawaii, given a tropical climate and landscape that make them unlike any other Chinese seaside locale. Apart from marine sightseeing and recreational activities, golfing has boomed in recent years at both summer resorts. Sanya's Yalong Bay Golf Club, in particular, has distinguished itself by hosting a number of international professional tournaments, leading to its selection by the American golf magazine, Golf Digest, as one of the top 10 greens in China.
However, it is their exotic tropical scenery that lures millions of inlanders, with Sanya's Jianfeng Ridge rainforest and Yalong Bay, and Haikou's Dongzhaigang mangrove forest standing out as their emblematic natural tourism destinations.
Jianfeng Ridge, 90 kilometers north of Sanya city proper, has the largest tropical primeval rainforest in China, home to 75 percent of the plant species and 85 percent of wildlife species found on Hainan Island. Experts claim that the biotic integrity and diversity of the vegetation coverage is comparable to that of the Amazon River. Towering ancient trees, sprawling climbers and gurgling streams can be seen everywhere, as well as the ethereal mists that drift over the forest park. Now the park offers several ecological and adventure sightseeing routes.
Twenty-five kilometers southeast of the city lies Yalong Bay, where a rolling green terrain hugs a body of calm and azure-blue sea. A visibility of more than 10 meters in depth allows visitors to see well-preserved corals and colorful tropical fish. The silver sands of the bay are fine, making a soft beach for the sunbather, and the local climate is also congenial.
The 4,000-hectare Dongzhaigang Mangrove Forest sits 30 kilometers from downtown Haikou. During high tides, the dense woods are submerged in water, exposing only their crowns. Tourists can take a boat cruise through the forest of crowns.
Qinhuangdao is located 280 kilometers from Beijing in the northeastern tip of Hebei Province; it is embraced by a 124-km-long coastline of the Bohai Sea. Qinhuangdao beaches are known for their fine sand, ample sunshine and gentle waves, and most of them are clustered in Beidaihe and Nandaihe.
In the late 19th century, people of the upper classes and Westerners began to build villas at Beidaihe, and by 1949, 719 of them had been erected, including 483 built by foreigners in various alien architectural styles. In addition, Beidaihe also has a well-preserved 19th-century railway station constructed by the British. Old photos testify to the popularity of the summer resort for foreigners residing in China, and it is said that even rickshaw boys were able to speak a few words of English.
Today, Beidaihe remains a popular seaside resort in northern China, and receives more than 6 million holidaymakers every year.
Apart from its beaches, a 280-km-long section of the Great Wall within Qinhuangdao is also a major tourist draw. This section also includes a length built much earlier. A preliminary study dates it to the 6th century, though disagreement exists.
The Shanhai (Mountain and Sea) Pass is the eastern end of the Great Wall built in the Ming Dynasty (1368-1644). It is actually a walled town fortified by 10 passes, seven enceintes, 37 forts, and 14 beacon towers. The town has established three pedestrian routes for tourists to trace this section of the Great Wall and its fortifications – from Old Dragon Head to First Pass under Heaven (Shanhai Pass) and to Mount Jiao; from Mount Jiao to Sandao Pass; and from Jiumenkou to Huangtuying.
The Old Dragon Head is five kilometers from the town and is a 20-meter head of the Great Wall that intrudes into the Bohai Sea. Mount Jiao is three kilometers from town and is the first mountain that the Great Wall climbs over after it crawls out of the sea and extends northwards. The Sandao Pass guards the valley between two vertically sloped mountains, and the flanking walls almost hang perpendicularly on the mountainsides.
Urban Culture
Qingdao, Xiamen, Dalian and Ningbo are famed for their sophisticated urban culture.
Dalian in Liaoning Province is a famed seaside city of northern China. It was a small fishing village 100 years ago when a group of Gallomania architects from Russia arrived with their blueprint for an "Oriental Paris." In the following centuries, Dalian developed into a square-centered city, with its streets and neighborhoods radiating from its many squares. Today, the city has more than 80 squares with distinct square features – lawns, pigeons, sculptures, fountains, as well as the country's only mounted policewomen patrol.
Dalian is also the city of fashion and soccer, being the venue of the annual International Fashion Festival and home of the Dalian Wanda Soccer Team, which has captured eight championships out of the nine national league tournaments. The enthusiasm of locals for soccer is no less intense than that of Brazilian fanatics.