Halal Industry Beyond Religion and Borders
Ningxia's Prospects Expand on Intra-Islamic Trade
By staff reporter PENELOPE COLVILLE
    In an economic downturn, friends like to help out friends. In the world of international trade that means buying and selling where you feel at home, where a kind of brotherhood makes borders a small matter. Globalization means communities worldwide – ethnic and religious communities, and even just "communities of interest" – are looking forward to more trade based on whatever defines them. China is in the top ten countries of the world with the highest population of Muslim citizens. Trade among members of a group across the borders that separate them is nothing new, but it may make China's mid-west, and specifically Ningxia, a major hub of import-export activity for the entire Islamic world. At the core of intra-Islamic trade is halal meat – referring to the strict code for raising, culling and processing animals for consumption by believers in Islam – but this trade has moved beyond halal meat, beyond borders, and beyond religion, an expansion that is turning China into a uniquely advantageous base camp.
    All of this couldn't be more evident than at the Ningxia International Trade and Investment Fair in August of 2009. Countries whose Muslim businessmen represented them at the Ningxia Trade and Investment Fair this year were Indonesia, Pakistan, Turkey, Malaysia, Thailand, Moroccco, Syria and the UAE.
    Mohammed Yasin of Midtrans Commodities International, one of the fair's Pakistani participants, says his company is making the investment in marketing to China's Hui and Uygur (Muslim) minorities because "this trade is in fact a very old one. When I go to Muslim communities anywhere in the world I feel at home, but with China we also share the legacy of the Silk Road."
    Part of that legacy is that Ningxia became the only Hui autonomous region in China and is home to the largest Hui population in the nation. The Hui are 36 percent of Ningxia's population and they have already built a trade in Islamic food and products, with 10,000 enterprises owning 300 patents and taking up to 80 percent of the region's food industry. It generates an output exceeding RMB 7 billion in value annually, tapping Islamic food and products markets in Southeast Asia, the Middle East and Central Asia, and is exporting to Saudi, UAE, Kuwait, Egypt and Malaysia.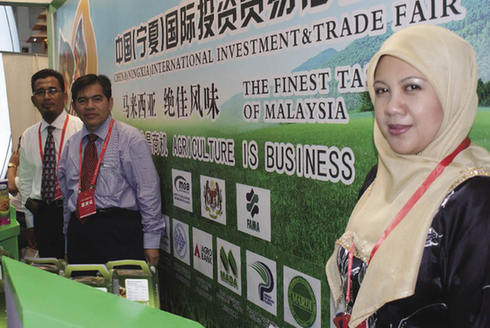 Agriculture is business at the Malaysia International Hala Showcase.    
    Roots of the trade may be historic in nature in China as the ancestors of many of her Muslims came via the "Silk Road," but it is the present and the future that are motivating promoters of a world-class halal industrial base in Ningxia. Mr. Yasin is confident of those reasons as well, speculating, "The product is less expensive here, but protection of the partners is the key in such businesses... It is very important to investors and major business concerns that the Chinese government ensures law and order. Stability is critical for the development of an industry."
    The concerns are quite major, as are the plans, what with the Muslim population of China estimated at between 23 and 30 million and that of the world about 1.5 billion. The global halal trade generates US $150 billion annually, but the goods being moved are not just satisfying the Muslim demand for meat.
Meat and More for Muslims
    The term "halal" is being applied –perhaps too liberally – to a whole range of food products. What's in a name? The definition of "halal" is generous enough to fuel a core trade within Muslim populations, with other international interests on its coat tails.
    Adnan Farfour, a Dubai-based business advisor and commercial consultant for those entering the Chinese market, agrees with the business case for a halal meat production base in China's mid-west, but he cautions that – technically speaking – the term applies only to meat. Its use as a label for all manner of foodstuffs, he suggests, is a bit of marketing allure being applied a bit deceptively. Nevertheless the classification attracts commodities brokers and product distributors with Muslim customers in mind. What is included in Ningxia's halal-related exports goes beyond beef and mutton to include rice, maze, fruits and antibiotics. Goods attached to the halal label range across breads, drinks, jams, and personal care products.
    Whatever the marketing ploys involving halal-defined goods, the benefits to China and her Muslim trading partners are mutual, and the products displayed by international merchants at the Ningxia fair in Yinchuan last summer also go well beyond traditional halal goods. "To some of our Muslim countries Allah gave certain gifts, and to others, other gifts. Pakistan has very good, high-quality cotton to trade and Ningxia produces inexpensive beans and other agricultural products popular in Pakistan," commented Mr. Yasin.
    Malaysia is the largest Muslim country in the world in terms of population, and Yuzhen Wang, chairman of the Malaysia International Halal Showcase, represents products he intends will reach Muslim consumers in China on the basis of religious identity and mutual understanding. These products have little to do with halal meat either; they include processed foods like crackers and biscuits and extend into personal care products such as facial creams. His company has studied China's emerging markets well and one offering they are showcasing is a high-quality instant coffee.
    Along for the ride on the floor of Ningxia's Trade and Investment Fair are every kind of product with no link to the halal label but that countries nevertheless seek to trade in, from the traditional wool goods available over the counter, to the high tech displays by the newer chemical and agricultural equipment industries, right down to well-attended lectures benefiting the region's emerging grape growers and wine producers with their long-term ambitions and impressive advisors.
More Than Muslim: Markets Based on Health
    Much of the territory through which religious affiliation runs like a spine is geographically contiguous from China to Morroco to Mozanbique – all Islamic nations or ones with large Muslim populations.
    Around 30 to 40 countries in the world are Muslim majority and the global population is poised to grow. Turkey and Iran are the non-Arab states with Muslim majorities. South Asia and Southeast Asia contain the most populous Muslim countries, with Indonesia, Pakistan, and India dominating. Parts of Africa contain large communities of Muslims, but significant pockets are also found in Russia and Eastern Europe. Muslim immigrant communities are even growing in Western Europe.
    But where are the potential markets for an expansion of that trade? The short answer is non-Muslims. Ningxia's role isn't just as a halal production base or a marketplace for international businesses with Islamic roots. Among the many advantages cited by the participants in the trade fair is Ningxia's geographic position – it's a gateway to Mongolia and Russia. What is important about that? The careful controls on the production of halal meat don't just appeal to Muslims. On the potential demand for halal meat and growth in the halal industry, Dubai businessman Mr. Farfour explains, "There's more to it than meets the eye. The strictness of the process appeals now to anyone concerned about animal products and their processing standards. Halal meat will be marketed to all the demanding consumers of the world."