There's No Place Like Home
By staff reporter ZHU HONG
    Being one of the three major engines of the economic growth in China, exports are suffering a setback in the global financial crisis. Most export-oriented enterprises are facing sluggish sales and overcapacity. This situation has forced them to look for alternatives, and many are discovering a huge and previously neglected domestic market.
Export-oriented Manufacturers Turning Inward
    "The current crisis urges us to shift from overseas to domestic markets," says Wang Xiaohai, a member of Beijing Jinyi Bushe Garment Export Co., Ltd.'s export sales staff. The period from the end of last year to the beginning of this year was the most difficult time ever in his work life: foreign purchasers forced down prices, leaving narrow profit margins. Then the number of export orders dropped 40 percent due to the decrease in demand. Moreover, in order to save costs, foreign firms no longer take responsibility for certain kinds of business procedures, and pass them on to the export companies while setting stricter standards on product quality and compensation. "So we are planning to promote the brand that was sold abroad on the domestic market," Wang Xiaohai announced.
    A number of export-driven companies have begun to try their luck at home. Yan Shibo, domestic sales manager for Beijing Rikon Electric Appliances Co., Ltd., confirms that his company has adjusted its marketing strategy, devoting more energy to sales within China. The company's preparation includes the translation of product information, better supervision of regional sales agents and franchises, and improvement of after-sale service. These timely strategic adjustments have brought Rikon a handsome monthly turnover so far this year: RMB 600,000 to 800,000 and on the increase.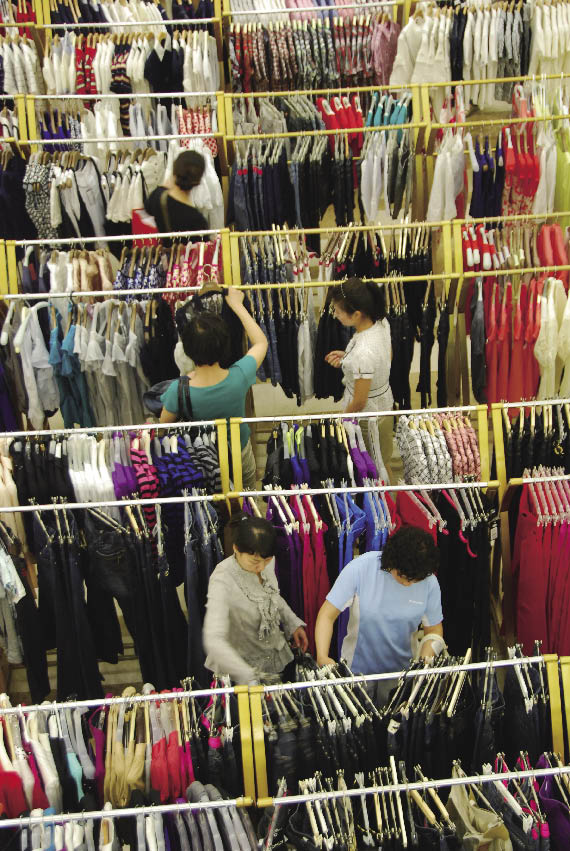 Export-oriented manufacturers are becoming increasingly attentive to the burgeoning domestic market.                              Photos by China Foto Press 
    In response to the downturn, some companies are expanding into emerging markets in Africa and South America. However, they are also longing for further relief from developing home markets. "Though we stood the test of the crisis, we need to give equal attention to both overseas and domestic markets in the future," comments Lin Min, executive deputy general manager of Beijing Best Power Technology Development Co., Ltd. "Numerous companies grew rapidly by concentrating on foreign trade. That makes them vulnerable to any little change in the global economy." Lin continues, "Experience tells us no company can grow into a multinational without a solid base in their domestic market."    
   Turning to domestic consumers is by no means a makeshift arrangement to counter the present depression. On the contrary, it is crucial to any enterprise's upgrade and transformation. Yi Xianrong, director of the Finance Development Research Office under the Finance Institute of the Chinese Academy of Social Sciences, advises that China's foreign trade enterprises should turn to developing original brand manufacturing (OBM) and products with higher added value. "Most export-oriented manufacturers in China now revolve around OEM, or original equipment manufacture. Any business transformation is restricted by the external environment and their own capabilities. Tapping into the domestic market, on the other hand, can help move a company from being production-oriented to being market-oriented," explains Yi Xianrong.
Risks of the Domestic Market
    The domestic market is an unknown territory for export-oriented businesses. Some don't dare to step into it because they are so accustomed to a routine of "attend fairs, receive orders and ship products."
    According to Zhang Jiankang, president of Beijing Jiading Carpet Company, operation in a domestic market is totally different from foreign trade. "Take our company for example. The production line, operation mode and core team are export-oriented. In foreign trade, the key to obtaining more orders is to take the upper hand in negotiation, especially on the issue of price. The processes of manufacturing and exporting are rather systematic. While in the domestic market it is much more complicated. We have to take market demand and customer preferences into consideration, not to mention knotty problems such as brand promotion and fierce market competition."