The Many Lives of Furniture
By TANG YUANKAI
    HAN Ping, aged 58, is about to move into the new apartment he just bought. He wants to live together with his parents, and new furniture is on his decorating list. Meanwhile, he worries about how to dispose of the old stuff. Seeing that the old furniture has held up for several decades, his aging mother is not convinced it's a good move and keeps asking herself, "Do we give them up or not?" To her, this is a serious question.
    Unmatched pieces of furniture in disparate styles from different decades look out of place in an apartment like Han Ping's, not to mention several old wooden trunks his parents have brought along. Han Ping fully understands their nostalgic value, but his children don't.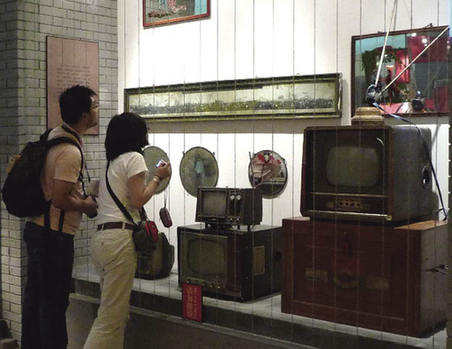 Shanghai's The City's Memory, a recent exhibition of oldies-but-goodies, drew numerous visitors to discover their nostagia.                              Cnsphoto 
    The 1950s: Furniture That Gets the Job Done
    Han Ping's parents are native to Shanxi Province. "We came to Beijing with the People's Liberation Army, and married in 1950. Our apartment and furniture were assigned by our PLA unit. We ate in the canteen, so we didn't need much in the way of cooking utensils. We bought only two wooden trunks and a washstand made of iron bars," recalled Han Ke, Ping's father. Han Ping also remembers that as a small child all the pieces, such as a wooden bed, and a small cabinet and table, had an iron label bearing the serial number and name of his father's work unit. "These things belong to the unit, and we in fact rented it. The rental bill listed the fee for use of the furniture."
    "My childhood 'bed' was made of two wooden trunks," said Han Ping. Though not all families were like his, it was common that the household accouterments were few and simple. Many families used beds, tables, chairs, trunks and cabinets that had been discarded by workplaces or inherited from an older generation. (Some of the inherited items later became quite valuable, a subject we'll return to later.)
    As family size grew and living standards improved, Han Ke splurged a few of his hard-earned RMB on a bed and an iron bookshelf being disposed of by his work unit, then asked a relative to make a desk with drawers at one end, and a chest of drawers inlaid with a mirror. Aesthetic ambition played no part in this. The emphasis was placed solely on durability; it was fine if it did the job.
    In 1958, to answer the call of "steel as the key to the Great Leap Forward," Han Ke donated his iron bookshelf and washstand. That year, the whole country busied itself with the "Great Leap Forward" Movement and the "Iron and Steel Smelting" Campaign, in order to realize industrialization and an increase in agricultural output.
    The 1970s: Furniture Self-Reliance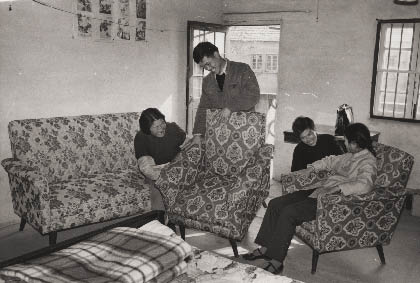 An ordinary family in Shanghai tries out their new living room set, 1979. Xinhua
    Han Ping got married in 1977, before China had implemented the policy of reform and opening-up. Consumer goods were in short supply then, and still quite expensive. Even if one could afford furniture, it could not be obtained without presenting state-issued furniture coupons. Han Ping embarked on the rounds, soliciting help and backdoor influence, and finally, to make his purchase – the unforgettable, defining experience of the era – standing in line overnight. Han Ping recalled his determination "To get that wardrobe for the bridal chamber, I stood in line for hours, coupon in hand."
    Soon after, Han Ping and his younger brother made simple sofas for their parents and their own families, which was a fad at the time. Many people added to their furnishing with "do it yourself" items. A typical domestic job had two armrests and four legs, with a cushion made by installing springs muffled by a layer of cotton. Then the whole thing was wrapped in cloth. To the average family, sofas were objects of desire seen only in films and regarded therefore as "luxury items" tainted by the "bourgeois lifestyle." But in a social environment enjoying the effect of gradual exposure to the world, the sofa soon became the most prized of household goods to show off.
    When Han Ping was enjoying the sofa he made himself, many migrant workers from the countryside were walking the streets. The most welcome were carpenters who brought their simple woodworking tools with them. Sometimes a carpenter could make the round of an entire neighborhood, working continuously, while across the street other migrant workers waited for employers with a signboard reading "making wardrobes and cabinets," "installing ceilings" and "interior wall decoration." They were known as "streetside guerrillas." People were transforming their old furniture and adding new items.