On February 21, 1972, U.S. President Richard Nixon started a week-long official visit to China, the first by an American leader to the People's Republic. Nixon later called it "the week that changed the world." At the end of his trip the two countries released the Joint Communiqué of the United States of America and the People's Republic of China (also known as Shanghai Communiqué), in which both expressed a desire to normalize relations and stressed common ground on several key issues. The frosty ties between two of the world's biggest countries began to thaw. On December 16, 1978, China and the U.S. signed the Joint Communiqué on the Establishment of Diplomatic Relations, officially recognizing each other and establishing diplomatic relations on January 1, 1979. On March 1 the same year they exchanged ambassadors and embassies, and Sino-U.S. relationships entered a new epoch.
    This year marks the 30th anniversary of this historic event. The Beijing Youth Daily and the U.S. Embassy in China recently co-sponsored a writing contest on the changes in Chinese people's lives since China and the U.S. opened their doors to each other. More than 200 essays were submitted, and 10 received awards. With approval of the Beijing Youth Daily and the authors, China Today has selected six of the winning essays, and will publish them from July to December.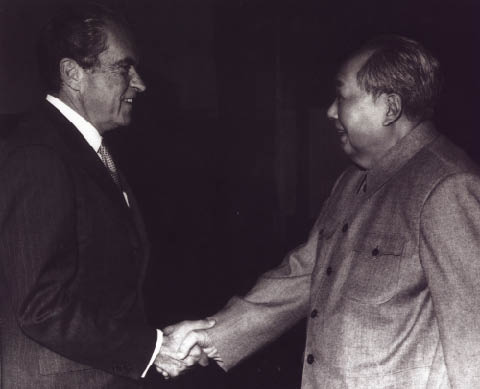 Mao Zedong meets U.S. President Nixon in Zhongnanhai.
Belated "Thanks"
By WANG JINGQIU