Sino-U.S. Cooperation: A Family Affair
By LI XIN
    MY mom was born in 1943, and I in 1975, but we began our English lessons at almost the same time. We didn't have much choice. During the 1980s our whole family shared a compact room with an area of only nine square meters. Every evening my mom would listen to English radio broadcasts, and every Sunday morning she would watch the English-learning programs on our 12″ black-and-white TV. Produced in foreign countries, they had titles like "Follow Me" and "Join Us." My sister and I would eagerly follow along with our mother, though we didn't quite understand the language. Those times have really stuck in my mind. During the period when we were all watching the shows that introduced us to the U.S., it never occurred to us that one day both of us would have the opportunity to be part of Sino-U.S. sci-tech cooperation.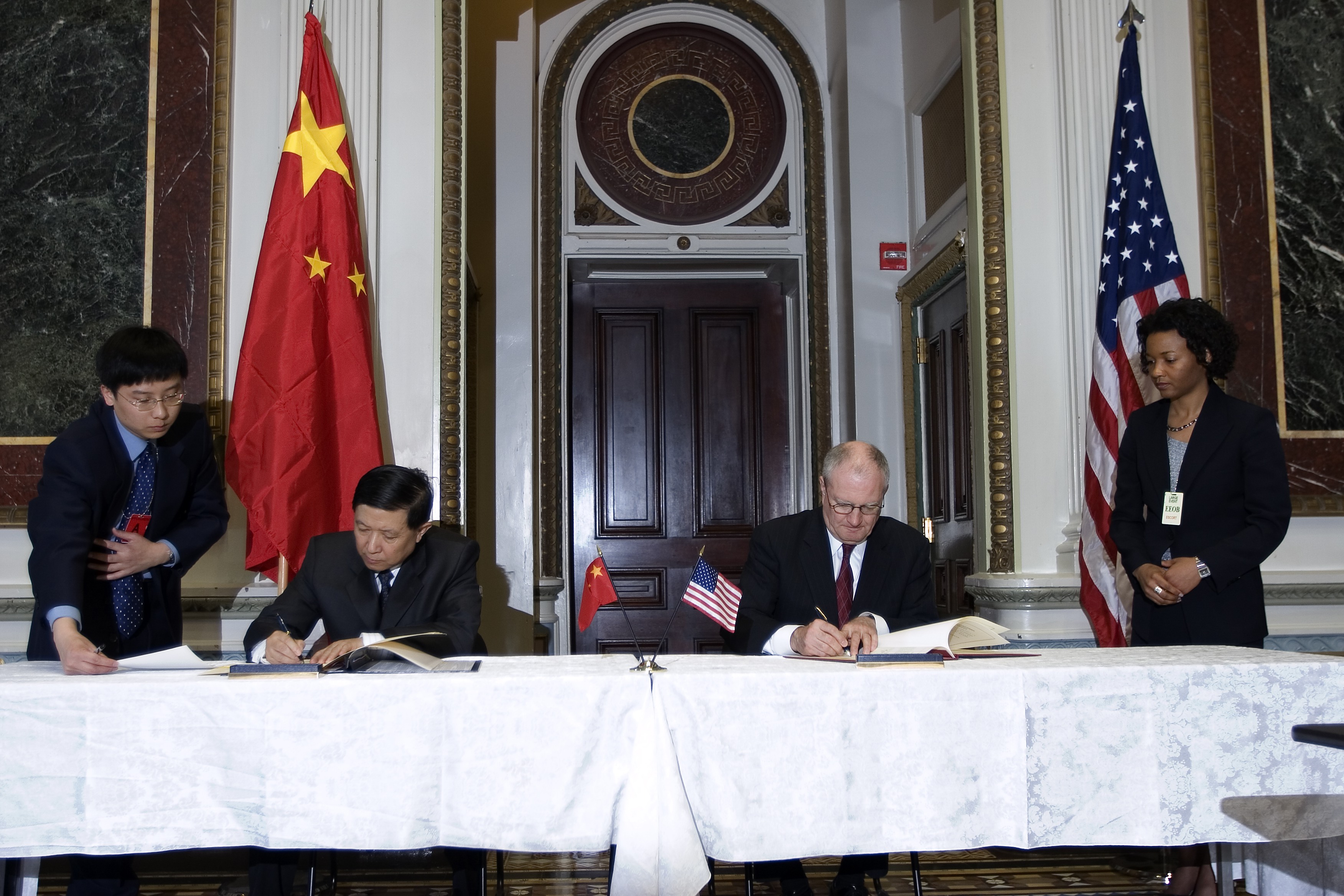 Chinese Minister of Science and Technology Xu Guanhua and U.S. Secretary of Health and Human Services Mike Leavitt signing the Memorandum of Understanding on Health and Medical Sciences Cooperation in 2006.
    As it turned out my mom was transferred to the Shanghai Food Research Institute (SFRI) in 1982. At that time food inspection and nutritional analysis in China were both still in their infancy, with research in food security just beginning and no criteria set. In the 1980s, the Food and Agriculture Organization of the United Nations (FAO) and the U.S. Food and Drug Administration (FDA) jointly launched a training course to help build China's capability in food security detection and nutritional analysis. My mom, after taking various exams relating to professional knowledge and command of English, was selected for a course in the U.S. and left for Washington in April 1989. While I was working on this article, my mom showed me a note that she had made that year before going to the U.S. It read: "I have an explicit goal and a sense of mission – after I return to my country I will apply what I have learned in the U.S. to the scientific research of food in China and try my best to contribute to helping China reach world standards."
    During the short four-month stay in the U.S., my mom spent day and night in the nutritional elements monitoring lab of the FDA, absorbing the most advanced technologies and experimentation methods. My mom's American colleagues helped her a lot, professionally and personally, as it was her first time in a foreign country.
    I still vividly remember the day she returned home. I stood at the entrance of the alley where our home was, excitedly waiting for her. I was imagining what gifts I might get, which turned out to be two transformers and a pile of English-learning textbooks, most of which were on American history, culture and local customs. My English was not very good during my middle school years. But with encouragement from my mom, who instilled in me that mastering a foreign language would help open many doors in my life, my English had improved a lot by high school, and I even received the highest marks in English among all the subjects for my entrance examination to the university.
    Soon after returning to China my mom achieved those goals that she had set for herself before going to the U.S. In 1991 when the FDA-sponsored project "to analyze the liquid chromatogram of aminophenol in infant formula using the PITC derivative method" was completed, my mom received a certificate and a letter from the FDA, in which it appraised the Chinese project team led by my mom as having performed the best among the eight participating countries. More surprisingly, upon hearing the news the president in charge of the Asia-Pacific operation of the American lab apparatus company that supplied the SFRI where my mom worked, personally presented a certificate of merit to my mom, extolling her top-notch scientific achievements in the Sino-US sci-tech cooperation accomplished using their products. Over the next few years my mom undertook many scientific research tasks and received many other awards. She fully applied the techniques she had learnt in the U.S. to boost the development of food research in China. For quite some time after returning, every weekend she found a quiet moment to look over the album that brought back fond memories of her days in the U.S. From then on I had a new task – each December I helped with mom's seasonal greetings to her friends in the U.S. – picking out greeting cards and mailing them.
    In 1997 when I graduated from Shanghai University, my mom encouraged me to take the National Civil Servant Qualification Exam. I was then recruited by the Ministry of Science and Technology. I left home for Beijing and began my career with the sci-tech cooperation and exchange between China and the outside world. In 2004, I was transferred to the Division of American and Oceania Affairs under the Department of International Cooperation and was engaged in sci-tech cooperation with the U.S.
    Through reviewing files I was happy to learn that the first agreement between the Chinese and the U.S. governments after the establishment of the Sino-U.S. diplomatic relations was on cooperation in science and technology, signed by Deng Xiaoping and then American President Jimmy Carter during Deng's official visit to the U.S. I felt very privileged that I would have the opportunity to carry on the work of my predecessors. In the next four-odd years while working for the division, I was able to take part in a series of important activities, such as the China-U.S. Strategic and Economic Dialogue and the Sino-U.S. Joint Committee on Science and Technology. I drew up a variety of cooperative agreements and participated in the negotiations. My efforts have brought some of these projects to fruition, and through them I have made many friends in U.S. scientific circles. The most unforgettable moment for me took place in April 2006 when President Hu Jintao visited the U.S. together with Xu Guanhua, the Chinese Minister of Science and Technology. The "Memorandum of Understanding on Health and Medical Sciences Cooperation" was signed with Mike Leavitt, then U.S. Secretary of Health and Human Services. In the following talk, Leavitt asked about my background. I told him proudly about my mom's working experience in the FDA, which is affiliated with the U.S. Department of Health and Human Services. The leaders on both sides considered the story a perfect example of the all-round, multi-level sci-tech cooperation between the U.S. and China. I told my mom about the meeting after returning, and she beamed with satisfaction.
    The year 2009 marks the 30th anniversary of the formal establishment of the Sino-U.S. diplomatic relations and the signing of the Sino-U.S. Agreement on Cooperation in Science and Technology. I intend this article as a commemoration in gratitude to those who have dedicated themselves to promoting Sino-U.S. sci-tech cooperation and worked to benefit both our nations. And I sincerely hope that the Sino-U.S. sci-tech cooperation continues toward its ever more promising future.
    (Courtesy of the author and Beijing Youth Daily. The article was selected from contributions to a writing contest in memory of the 30th anniversary of the establishment of Sino-U.S. diplomatic relations, co-sponsored by Beijing Youth Daily and the U.S. Embassy in Beijing. )