Cinematic Underdog Makes Chinese Film History
By staff reporter ZHANG XUEYING
    BEYOND the expectations of industry insiders, a low-budget, homegrown, feature animation named Pleasant Goat and Big Big Wolf has become a runaway hit. The plot may not be the secret formula for success; it's an ongoing battle of wits between a herd of goats and a couple of wolves with a relationship similar to that of Tom and Jerry. The wolves rack their brains to set traps for the goats, only to fall repeatedly into traps of their own making. Even the "bad guy" turns out to have his fans, for being so "human." What is extraordinary is that with an investment of less than US $900,000, the movie did record-breaking box office, grossing US $12 million over the Spring Festival holiday season. This was far beyond the haul of another successful domestic animated movie, Storm Rider, which last year generated sales of US $4.8 million. Not stopping there, Goat's creators marketed various products made in the images of the film's leading characters that have proved popular with consumers, including daily-use items, toys and food. "We are aiming to build the goats and the wolves saga into an international brand in the near future," says Li Ruigang, president of Shanghai Media Group (SMG), one of the movie's investors.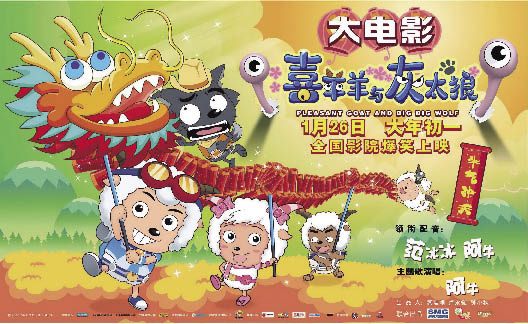 An old storyline with classic tensions is a public and financial success, proving everything old can be new again. 
    Goats Make Wolves the Underdogs
    "Generally speaking, most domestic feature animations only recoup a third of their original investment," tells Chen Yingjie, a staffer in the Animation Department of the Film and TV Production Center of the SMG and producer of Pleasant Goat and Big Big Wolf.
    The stagnancy of the Chinese animation industry has been noted for 20 years. The joke is that the homemade cartoons are "goats" and the foreign ones "wolves." For a long time, foreign cartoons and animations dominated the Chinese market, and the homemade variety turned out to be inviable amid the fierce competition. The movie Little Soldier Zhang Ga, an animation that took six years and RMB 12 million to produce, hasn't been distributed yet because its investors lost confidence in it. The Warrior, Olympics Is in My Family, and even big-budget Thru the Moebius Strip made for RMB 100 million, all took big losses following release. Some of them had only been on the big screen for two or three days.
    Pleasant Goat and Big Big Wolf was another story. By contrast, its box office income had exceeded US $4.4 million three days after its debut. This record almost matches that of Hollywood blockbusters, such as famous animations Finding Nemo and The Incredibles. "It is a miracle," admits Chen Yingjie, who is an experienced cartoon producer and distributor used to seeing foreign animations dominate the domestic market.
    In fact it was relatively low-risk. The animated characters in the movie have been very popular among TV audiences, the movie being adapted from the TV series of the same name produced by Guangdong-based Creative Power Entertaining (CPE) Company. The TV production has aired on nearly 50 stations nationwide since its debut in 2005, and audience share once reached 17.3 percent. "The cartoon series attracted a huge audience, especially children, which told us expectations for solid profit-making with the movie were well founded," says Chen Yingjie.
    Its box office earnings broke records in fact. However, both the investors and the producers anticipate far higher profits from the movie's derivative products. The box office revenue of Disney's The Lion King, shot in 2004, amounted to US $700 million, but the profits from its derivatives are an astounding US $2 billion and counting.
    A comic book of Pleasant Goat and Big Big Wolf is one such derivative; more than 1 million copies of it sold within three months of publication. So far, the comic book has generated revenues of US $5.8 million, and the goats and wolves toys over US $1.4 million. Distributors of the movie's audiovisual products are sitting on a volume of orders worth tens of thousands of US dollars. Where to go from here? Liang Shanyi, director of the Licensing Department of the CPE, explains. "We are also working on exploring more distribution channels for gift items and impulse buys, and recently we signed some agreements regarding the rights to promote new products. I expect the revenue on the movie's derivatives will be close to US $100 million for 2009," he enthuses.