Something About a Man in Uniform
By staff reporter ZHANG XUEYING
    My Chief and My Regiment, the latest war-themed series, dominated evening prime time on the Chinese small screen in the weeks following its debut in March. The word is out that domestic television stations paid a record RMB 1 million for the rights to a single episode. Its producers bragged "the figure actually reached RMB 1.5 million." For many, the sum is too staggering to be true for a drama without big-name actors or romantic twists. Some suspect it is merely a promotional stunt. But the jostle among TV stations for preemption of the pilot broadcast was real enough.
    The media reported that four television stations – Jiangsu TV, Dragon TV of Shanghai, Yunnan TV and Beijing TV – had initially settled on the date they would simultaneously broadcast the first episode, but all found ways to get a competitive edge without technically violating that agreement. Jiangsu TV slipped the show into its first hour of airtime that day, and without any commercial insertion. Yunnan TV immediately followed suit, airing two episodes in the wee hours and rebroadcasting them later in prime time. Dragon TV condensed and edited the first three episodes down to two for the first day of broadcast, jumping an episode ahead. And Beijing TV, which started the drama three days later than the others for some reason, aired three episodes a day to catch up.
    In China's TV series market, around 14,000 episodes are produced and about 7,000 broadcast every year; those with military themes account for a small proportion. "There are about 300 episodes of military dramas produced every year," says Yin Hong, a celebrated specialist in China's film and television circle. Disproportionate to its percentage of productions, many examples of the genre have entered the top rating rank in the past three years.
    Besides My Chief and My Regiment, several other military dramas dominate the screen this year, including Red Sun, Chinese Bands of Brothers and Lurk. Ratings in this regard keep hitting new highs. This year's releases focused on military subjects to mark the 60th birthday of the PRC. Since the beginning of this year various television stations have offered military dramas back to back. "Initially we were worried it would tire our audience if we broadcast similar dramas continuously. But so far we have received quite a volume of positive responses from fans. They think these stories, no matter if re-filmed or newly-scripted, all give them a completely fresh perspective," claims a director under the surname Li in Beijing TV Station.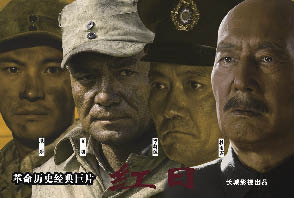 Real men with real problems: Shen Zhenxin and Zhang Lingfu in Red Sun are two of a new set of complex characters.
    Complexity of the Characters
    "War-themed dramas of recent years show more humanistic traits," comments Zhou Zhentian, vice president of Chinese Television Artists Association. "Directors have ventured away from a strict focus on historical facts, exploring characters' personal lives and deeper nature. The good guys, such as Shen Zhenxin in Red Sun, no longer appear as impeccably flawless. New interpretations of heroes and villains make characters more vivid and appealing to audiences."
    TV drama Red Sun, adapted from a novel of the same name, is set during the Menglianggu Campaign in Shandong Province in 1947, which is the best example of the weaker defeating the stronger in the War of Liberation. In this battle the Communist-led army, with fewer people and inferior weapons, fought with great valor and smart tactics, eventually defeating the famous No. 74 Division of the Kuomintang forces.
    The novel has been repeatedly adapted for the big and small screen, but the latest series has a different take on the lead Shen Zhenxin, a commanding officer in the Chinese People's Liberation Army. Now his love story has a place in the plot. For the first time, Shen is allowed to have an affair and look rough and ungroomed. The man is firm and brave, but also crude and fierce. From time to time he contradicts his superior, violates military discipline and even gawks at women through a telescope. Imperfection and complication is the intention of the director. "Nowadays directors realize that the traditional characterization of people in the war is oversimplified and insipid. To cater to the tastes of today's viewers and add new dramatic elements, they have begun to depict a fuller human nature," says You Fei, a professor of the Communication University of China.