As the storm of the financial crisis gathers strength, China's market has shown its governance superior to the chaotic forces at work. The momentum of its economic development has been maintained throughout, and that success was bound to create a need for more human resources. So it is no surprise that Chinese enterprises are increasing their recruitment abroad, an effort focused on high-level overseas Chinese and foreign talent. The call is being answered – by more and more returnees and foreigners seeking to make China a career milestone.
China Absorbs Overseas Talent
By staff reporter LU RUCAI
    CHINA'S appetite for resources has extended to people, creating quite a buzz in global human capital circles. At the end of December 2008, 27 Shanghai-based financial institutions conducted a recruitment trip to London, Chicago and New York, putting 170 mid- or high-level positions on the block. During the 10-day trip, they interviewed about 4,000 applicants on site, and some 800 were later sporting their memoranda of agreement with the firms. It all comes as something of a surprise to the talent search agencies.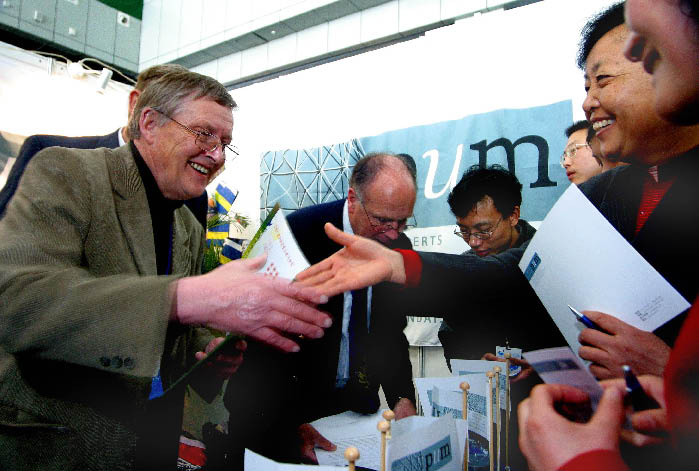 The call of Chinese enterprises is being answered in areas of strategic importance.                                                       China Foto Press  
    Wanted: Overseas Innovators
    Perks and benefits are the name of the game. Shanghai now offers favorable treatment to overseas financial professionals, including benefits like medical care, housing, and school admittance and enrollment assistance, assures Ji Wenguan, secretary of the CPC Shanghai Financial Work Committee. Their last recruitment trip netted two overseas recruits, now contracted to financial institutions in Shanghai. Meanwhile over 50 others had reached initial agreements with local employers.
    That is just the tip of the proverbial iceberg.
    The Chinese government itself launched an initiative to hire 1,000 top-notch overseas professionals in the final months of last year. Key areas have been identified as talent deficits – either current or projected – becoming the marching papers for scouts to scour prestigious foreign universities and scientific research institutions for related specialists or scholars. Technical and management functions in the financial industry are the hottest areas currently, and those we'd describe as innovators are being sought for many fields. The central government will offer these top guns RMB 1 million each as a post-tax subsidy. Preferential policies like this are expected to make headhunting for overseas Chinese and foreign professionals more successful.
    "Many Chinese enterprises want to enhance their human resource pool with overseas personnel because their presence on staff translates into increased profits. Luckily many educated and experienced foreigners have become quite interested in Chinese enterprises," says Larry Wang, president of Wang & Li Asia Resources. His company, now 15-years in the headhunting game, specializes in recruiting bilinguals.
    Larry believes this interest in China means the skilled of the world are betting on the country's continued good performance as the financial crisis and its remedies unfold. He points out that while other economies sink into "stagflation" or recession, China's is still growing, albeit at a slower rate of 6 percent. He bets, "If there's any place in the world that is still offering dry land economically and interesting prospects for employment and career development perspectives, it's China."