China's Ancient Towers
By HUO JIANYING
WHAT the Chinese generalize as "ta," or "tower" for the convenience of cross-cultural communication, has its origins in the Indian "stupa," which means "tomb mound" in Sanskrit. Nowadays, a "ta" can refer to a tower, a pagoda, a stupa, or anything like them. The iconic Buddhist brick-and-mortar architecture of the ta was adopted by China in the first century when Buddhism crossed the border from India.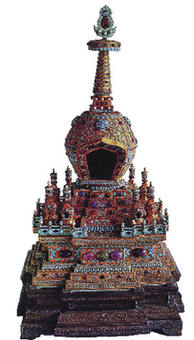 A gold pagoda decorated with gem stones in the collection of the Palace Museum.
A New Architectural Form
    Buddhist stupas arrived during the first zenith in the history of ancient Chinese architecture, when the aesthetic and technical levels of the construction trade were fairly advanced. The alien structures were quickly synthesized with local architectural know-how and traditions, bringing about new and locally adapted tower forms that were inherently Chinese in design.
    The earliest Chinese towers resembled pavilions and storied houses. Some other forms developed later, among them the gate and pedestrian towers. The gate tower served as an entrance to an enclosed compound, while the pedestrian tower was erected at a traffic juncture. Both had an opening at the ground level to allow pedestrians and other traffic to pass.
    Some Chinese towers combined two or more different architectural forms. For example, the two Ming (1368-1644) copper towers in the Xiantong Temple on Wutai Mountain in Shanxi Province employed various architectural elements, becoming towers that were also storied buildings and pavilions. Chinese adaptations also included distinct architectural features used by the nation's ethnic groups, such as outer surfaces painstakingly carved with exquisite ornamentation.
    The North Stupa in Beijing's Yunju Temple also combines a range of tastes. Built in the Khitan-ruled Liao Dynasty (916-1125), its brick-and-tile structure stands over 30 meters tall. Miniature stone stupa dating from the Tang Dynasty (618-907) guard each of its four corners.
    In ancient China, temples and Buddhist towers were top-level civil engineering projects, many of them undertaken by the imperial court at high cost. A number of the commissioned towers were even conferred with imperial status. As such, these buildings usually represent the best architecture of their time.
    It seems no comprehensive catalogue of ancient towers built over the past 2,000 years has ever been compiled. However, some statistical sources claim that the existing ancient towers exceed 3,000. The oldest is a 40-meter-tall brick tower in the Songyue Temple on Mount Song in Henan Province, built in 509 during the Yongping Reign of the Northern Wei Dynasty (386-534).
    Ancient towers can be found all over China. Even towers of the same style can have different characteristics, varying from region to region and from era to era. Most are built of common construction materials such as wood, stone, clay, brick, tile, and glazed tile, but it is not uncommon to find those made of more valuable materials – iron, copper, silver, even gold and ivory. Incredibly, some towers are decorated with gem stones, but these are usually smaller structures enshrined within imperial temples.