Curling Slides into China
ON March 29, 2009, Chinese women took the crown in the 2009 World Women's Curling Championship. Victory has attracted more Chinese people to the sport, which is still very new to the PRC. In fact, China's National Curling Team is merely six years old.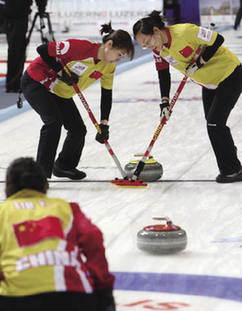 Curling is a new sport in China, played by merely 100 professional athletes.
Growing from Nothing
    With help from the World Curling Federation, China held its first curling training course in 1995, taught jointly by a Japanese and a Canadian coach. In 2000, China's first curling team was founded in Harbin, Heilongjiang Province. Three years later, the Chinese National Women's Curling Team came into being and joined the World Curling Federation. Since then Chinese competitors have appeared in the global curling arena.
    To improve their game, the Chinese women's team went to Canada for a practice match in 2004. Captain Wang Bingyu clearly remembers how they suffered a crushing defeat at the hands of a local amateur team of seniors.
    "We are not as skilled as others, so we must redouble our efforts," said Wang following the loss. The girls persevered with at least eight hours a day of hard training all year round, and many have developed arthritis from kneeling on ice for prolonged periods. But the hard work has paid off. In 2005, the Chinese Women's Curling Team won the Pan-Pacific Championship. The following year, they came third in the Asian Winter Games. Encouraged by these achievements, they now believe competing in the 2010 Vancouver Winter Olympics is an attainable dream.
    The team's Canadian coach Daniel Rafael came to China in 2007, having practiced curling for four decades and coached for 20-odd years. He brought with him a new concept of "enjoyment." In his opinion, Chinese curlers are talented in terms of technique, but fall short in their appreciation of the sport. In Canada, tens of thousands of curling fans play after work, and really relish the game. In China, only athletes play, treating it as a competition and focusing on match scores and performance rather than the fun of playing.
    Daniel has focused on two tasks since coming to head up the Chinese team: boosting players' confidence and strengthening their legs, laying the foundation for their recent successes.
Building a Profile
    In China, only about 100 professional athletes engage in curling, and there are just three stadiums suited to host professional curling competitions: two in Harbin and one in Beijing. In contrast, Canada has more than one million registered players and countless curling clubs.
    "Curling is a little-known game in China, so the first thing we should do is attract more publicity," says Li Dongyan, leader of the Chinese National Women's Curling Team. "To do so, we need to attain satisfactory results in competitions. Then we can build the game's prevalence in communities, and attract both live and TV audiences. As the fan base expands, there will be more players."
    Curling is a sport that suits Asian people, giving prominence to skill while requiring little physical strength or body contact. However, its development in China has been impeded by a lack of facilities and the need for expensive equipment. The stone must be made of polished natural granite from Scotland, and each set costs anywhere between RMB 40,000 and 100,000 or more. In addition, personal equipment, such as a brush, shoes and sportswear cost several thousand yuan a set.
    Li Xiaoshun, who works in a sports brokerage company, developed a taste for curling after watching several games involving the Chinese National Team. "I like the wonderful sliding feeling, although I didn't know about curling before. But I have never heard of any curling club in Beijing, so actually playing it might be pretty difficult," says Li.
    "For years we have been working hard to set good results in the coming Vancouver Winter Olympics. This has been our greatest motivating force," says Wang Bingyu, captain of the National Women's Team. "We have a dream of winning gold at the Olympics, so more Chinese people not only learn about, but learn to love curling."