Upgrading the "Kingdom of Bicycles"
By CHEN SI
    IT is hard to trace how China first become known as the "Kingdom of Bicycles," but an image by well-known photographer Wang Wenlan bearing this title provides some explanation. The shot was snapped in 1991 on Guangxin Road, Shanghai. In the middle of the image is a railway line. On each side of the tracks a sea of bicycles wait for a train to pass.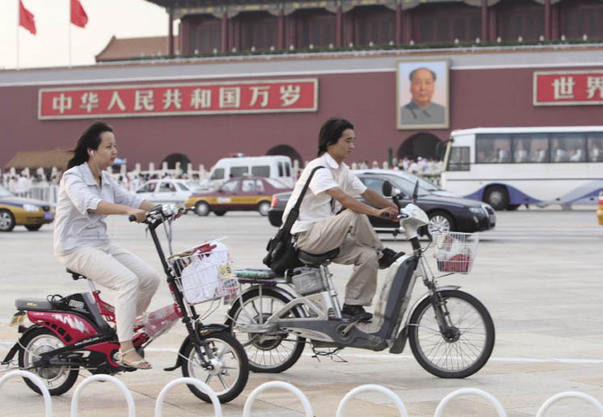 In recent years electric bicycles have become popular for their speed and absence of polluting emissions.  
Disappearing Bikes
    In 2004, Wang Wenlan went back to the same spot, and instead of bikes he found two long lines of cars – a sure sign of the changing times.
    Similar changes have occurred in Beijing. In the past, Wang took photos of bicycle flows on the Second Ring Road, but now they are overwhelmed by long lines of car traffic. More and more locals have moved out of the Third or Fourth Ring Roads, the city's downtown is now four to five times the size it once was, and it is not uncommon for people to travel scores of kilometers to and from work. Wang Wenlan once pledged that he would never drive a car, but in 2000 he had to give in and buy a private vehicle. "My home is far from my workplace, so owning a car is necessary. In addition, the heavy traffic means it has become unsafe to ride a bicycle. Besides, having a car has expanded my radius of activity."
    China could not make bicycles independently until 1950. Even though the variety was limited, people were passionate about bikes. At that time public transport was underdeveloped and the nearest bus stop was often one or two kilometers away, making bikes the most convenient means of transport.
    In the 1960s and 1970s, a bicycle, a sewing machine and a wristwatch were the three essential items for marriage. At that time one bicycle cost several months' salary and also required a coupon, so people envied those who owned one. In the late 1970s, five China-made brands – Phoenix, Forever, Flying Pigeon, Gold Lion and Five Rams – occupied 70 percent of the domestic market. In the autumn of 1981, Yang Xiaoyun, a farmer in Hubei Province, sold to the state 10,000 kilograms of grain beyond his quota. When asked about what kind of award he desired, Yang answered: "I want a Forever brand bicycle."
    In 1979, China's output of bicycles exceeded 10 million for the first time. After that, China ranked first worldwide in output, consumption, and export of bikes. According to statistics of the China Bicycle Association, at present there are 470 million bicycles in China, which includes 420 million push-bikes and 50 million electric models.
    Although traditional brands have been replaced by international names such as Emmelle and Giant, which are lighter and have better shock absorption, in super-large cities fewer and fewer people choose to ride at all. In the mid-1990s, motor vehicle usage developed very fast and bike lanes rapidly shrunk. In some cities like Shenzhen they disappeared altogether. The more motor vehicles hit the road, the worse exhaust emissions became, forcing more people off their bikes. According to statistics issued by the China Bicycle Association, among Beijing's working population the proportion of those cycling to and from work has declined from 60 percent more than a decade ago to 20 percent at present.
    Jiang Yulin, a research fellow with the China Academy of Transportation Sciences, said, "At present, only 34 percent of China's population owns a bicycle. But while the absolute number is certainly declining, it is still huge." Domestic sales of bicycles presently amount to around 22 million units per year.
    With the traffic congestion and environmental pollution caused by rapid growth in vehicle ownership, drivers are realizing the benefits of the humble bicycle. An official of the Ministry of Housing and Urban-Rural Development said it is important that China retain its title the "Kingdom of Bicycles," and the ministry firmly opposes any restrictions on bicycle use. Wang Fenghe, president of the China Bicycle Association, said Beijing, Shanghai, Hangzhou, Zhengzhou, Jinan, Wuhan, Changzhou and Sanya are all constructing or preparing to construct bicycle communication systems.