Mount Jiuhua
Located in Chizhou City on the southern bank of the Yangtze River in Anhui Province, Mount Jiuhua has over 70 noted peaks, about half of them exceeding 1,000 meters in height, with the highest at 1,342 meters. It has beautiful valleys, streams and waterfalls. The mountain is shaped like a lotus flower, and is reputed as the most famous mountain in Southeast China.
After arriving, the first destination for a visitor should be Jiuhua Street, 600 meters above sea level. It is the center of the mountain, and a town complete with schools, shops, hotels, and residential dwellings. Tourists can stay the night before exploring the mountain. Most temples are also located in and around the town.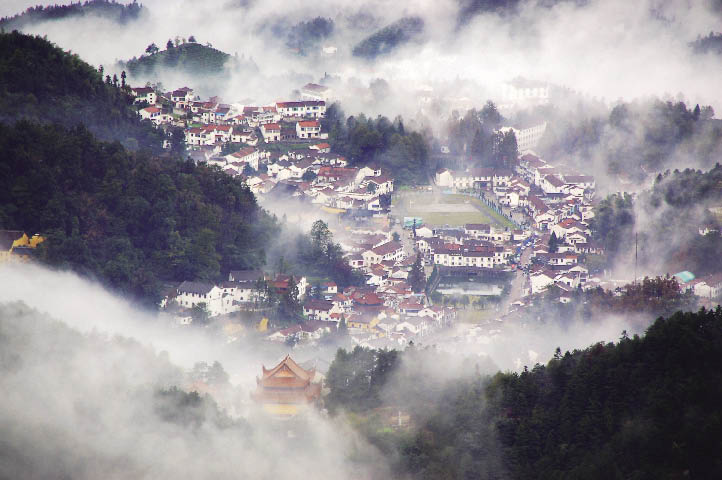 The panoramic view from Mount Jiuhua.
Huacheng Temple, built in the Jin Dynasty (265-420), is the oldest and most prominent temple on the mountain. Not far east of Jiuhua Street is the Baisui (Hundred-year-old) Palace, a temple built on the steep cliff in the local residence style. Zhiyuan Temple is a labyrinthine complex following the contours of the mountainside. Its tiered palatial roofs create a majestic and spectacular sight. Dongya Temple also clings to a steep cliff. Ganlu is a tranquil temple, and now houses the Anhui Province Buddhism Seminary.