In Foguang Temple, one can enjoy not only the 1,400-year-old Indian style pagoda with a hexagonal plane and flamboyant lotuses on top, but also a series of carvings created from 386 to 1279, and mural paintings and calligraphy masterpieces of the Tang Dynasty (618-907).
Mount Emei
Mount Emei is located 160 kilometers southwest of Chengdu in Sichuan Province. In 1996, Mount Emei, along with the nearby Leshan Giant Buddha, the largest stone-carved Buddha in the world, was declared a UNESCO World Natural and Cultural Heritage Site.
Construction of Buddhist temples in the area started in the second century and reached its heyday in the 15th century. At present, there are almost 30 temples on Mount Emei, including the famous Baoguo, Qingyinge and Wannian.
Baoguo Temple is the oldest and best-preserved temple in Mount Emei. It houses two renowned treasures: a 2.4-meter-tall porcelain Buddhist statue and a 2.3-meter-tall and 25-ton bronze bell.
Qingyinge is famous for its beautiful gardens, and is regarded as the number one landscape on Mount Emei by tourists, both ancient and modern.
Wannian Temple, one of the main temples in Mount Emei, was built in 420, and is a brick-and-masonry ancient architectural masterpiece. According to historical records, the temple has survived 18 earthquakes over 400 years. Inside the temple is a bronze statue of Samantabhadra riding a white elephant, cast in the Song Dynasty (960-1279).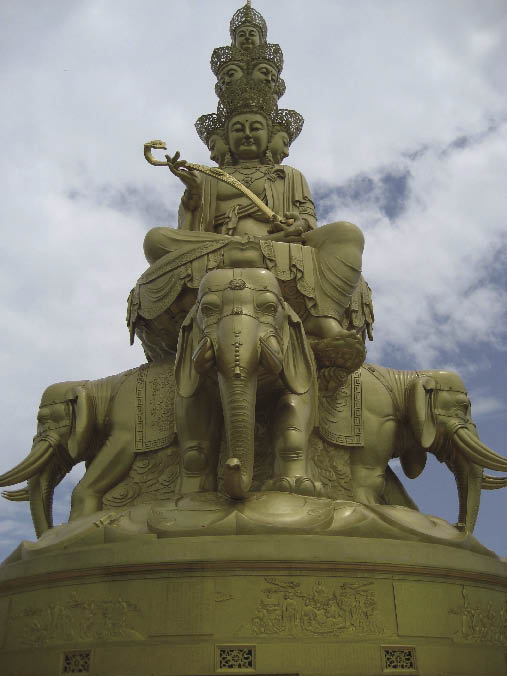 The gold-plated 48-meter-high statue of Bodhisattva Puxian at the Emei Golden Summit. Fu Zhibin 
Besides the sacred temples, the Golden Summit of Emei, 3,079.3 meters above sea level, is also worth a visit. It displays all the glamorous features of the ideal mountain: a sea of clouds, an auspicious halo and sacred lamps.
Mount Putuo
This sacred mountain is actually a small part of the Zhoushan Islands. It lies 100 nautical miles east of Hangzhou Bay, Zhejiang Province.
There are three major temples on Putuo – Puji, Fayu and Huiji. Puji Temple has the island's oldest structure – the Yuan Dynasty Duobao (Abundant Treasures) Pagoda. In Fayu Temple stands a stone stele from Wanli's Reign (1573-1620) in the Ming Dynasty, carved with an image of Bodhisattva Guanyin holding a willow twig in her hand. The temple also houses the Nine-dragon Hall, a replica of its ruined predecessor in the early Ming Imperial Palace in Nanjing. Its caisson ceiling carved with nine dragons reveals the exquisite workmanship of ancient ornamental architecture.
The new landmark of Mount Putuo is a gold-copper Bodhisattva Guanyin built in 1997. Bodhisattva Guanyin is highly venerated by Chinese people as the embodiment of compassion, mercy and love. Some believe that she can relieve people's suffering and has the power to grant children.
In addition, Mount Putuo holds many diverse plants and a profusion of forests, and is extolled as an island botanical garden. There are 1,221 trees of 66 species over 100 years old on the island, including 1,000-year-old camphor trees, and an endangered species named Carpinus putoensis, which can only be found in the wild here. It is a beautiful and relaxing experience to stroll around the island, frolicking on the sand beach, and enjoying the silvery waves and thick, cool forests.