Dancing in the Park
By RUTH ELISA CHAMBERS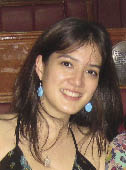 Ruth Elisa Chambers is from London, and is currently a freelance writer in Beijing.

 
   Since moving to Beijing eight months ago, I have noticed countless differences between the culture I grew up with back in England, and the one of the people who surround me now. One of the things that I have particularly noticed as I have got to know Beijing is the attitude people here have towards exercise. Never before have I seen so many people happy to be keeping fit.
   Don't get me wrong, I do like to exercise every now and then, whether it's because I want to look after my health, I get a sudden burst of energy or because, when sat in front of the TV, I might look down and realize that my bottom's horizontal spread is a lot larger than it used to be.
   Generally, I will decide that a jog is in order and I pull my running shoes out of the back of my wardrobe and take to the streets full of boundless energy and joie de vivre. Five minutes in, however, my attitude and enthusiasm somewhat diminishes. I turn into a sweaty mess dragging my feet along the pavement and gasping for air. I try to avoid eye contact with any locals in case I meet a look which says "oh dear, it's been a while since you've exercised, hasn't it? It shows."
   I think my attitude towards exercise is quite typical for a Westerner. I generally think about exercising far more often than I actually do it and when I do decide to go jogging, I will do it alone and steer clear of main streets as I don't want anyone to see me at my most sweaty and gross.
   However, something I have noticed in Beijing, particularly amongst the older generations, is their completely different attitude towards exercise. Beijingers appear to view it as much more of a social activity and they certainly do it a lot more elegantly.
   Right next door to my local fruit and vegetable market is one of those brightly colored exercise areas that are dotted around the city. Nearly every time I pass by, there are a group of Chinese people cheerfully chatting to one another while using the equipment. This never ceases to amaze me. I'm pretty sure that if the same equipment were provided in the UK, it would be left unused and neglected until they were little more than awkwardly shaped heaps of rust.
   This got me thinking about the different attitudes that the East and West have towards exercise. It seems to me that many people in the West view exercise as a chore, something they have to do for fear that one day they'll have to be rolled out of their houses or something their doctors have told them to do to reduce their cholesterol. It's something that requires concentration, drive and determination.
   It's easy to understand why we have this point of view. After all, using a treadmill may have many benefits for your health, but what's fun about running but never actually getting anywhere?
   People think of exercise as something we should do because the government tells us to. Maybe part of our laziness is actually a subconscious act of rebellion…and, of course, once we have started our lazy rebellion, it becomes harder and harder to start exercising again. Furthermore, it probably doesn't help that a big part of the British diet consists of curries, fry-ups and pints. If we swapped our fish and chips for a bowl of noodle soup we'd probably be a lot more capable of exercise too.
   In contrast, Chinese people appear to view exercise completely differently. They seem to think of it as more of a social occasion. Perhaps they see their exercise parks in a similar way to how we see our pubs: somewhere that you might pop into to see whether anyone's around for a chat. However, instead of buying a pint and sitting down for a couple of hours, they have an abdominal work out. Much better.
   Chinese people aren't so reserved when it comes to exercise either. On a recent trip to Beihai Park, I came across an elderly gentleman who was blasting out some traditional music from his stereo and happily dancing to it on his own; joyfully swinging his arms about and skipping around in time with the music. I was fascinated. This would never happen back in England. Anyone caught dancing alone in a public place like that would be considered a complete loony. I found myself really admiring this man and hoping that, when I'm his age, I'll have the confidence to dance around the park and, if I'm back in the UK, ignore the strange looks I get too.
   I honestly hope the Chinese attitude towards exercise infiltrates the West. Perhaps if we took it less seriously we would enjoy it more. I, for one, would love to see my parents exercising in a park back home and I hope people in China continue to do for many years to come.