Human Rights Plan: Solve Existing Problems
By staff reporter LI YAHONG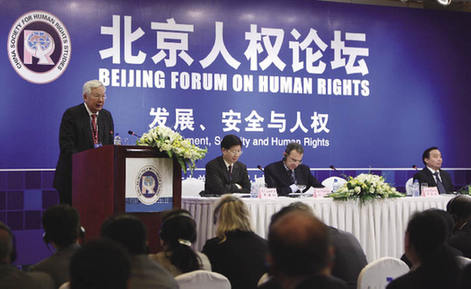 Beijing Forum on Human Rights convenes on April 21, 2008.
SINCE "respect and protection of human rights" was written into the Amendments to the Constitution of the People's Republic of China in 2004, the Chinese government has set about drawing up implementation details and targets. On April 13, 2009, the Information Office of the State Council issued the National Human Rights Action Plan of China (2009-2010), outlining goals and measures for the next two years.
Liu Huawen, secretary-general at the Center for Human Rights Studies, Chinese Academy of Social Sciences, was one of the experts who contributed to the document. "This is the first national action plan on human rights," he said. "It's a sign that protecting human rights has become a concern of mainstream society."
Solving Existing Problems
This plan covers the protection of people's economic, social and cultural rights; civil and political rights, and the rights and interests of ethnic minorities, women, children, seniors and the disabled.
In its first part, the plan explicitly proposes that China will take positive and useful measures in the next two years to help its people survive the negative influences of the financial crisis and guarantee their economic, social and cultural rights. To stimulate employment and re-employment, the government aims to create 18 million new jobs and transfer 18 million farmers out of rural areas by 2010. Meanwhile, it will promote the implementation of the Labor Contract Law and steadily spur the growth of workers' incomes.
"The outstanding concern is to solve existing problems," stated Liu Huawen. Not long ago, a detainee was found dead in Jinning Detention House, Yunnan, provoking a flood of public criticism. The plan puts forward useful protections, including those against using confessions extracted through torture, and the exercise of corporal punishment, mistreatment and insults. Separation of detainees and police in all interrogation rooms and establishment of a medical examination system for suspects before and after interrogations will both become part of regular procedure.
The Wenchuan earthquake on May 12, 2008, left large numbers of casualties and staggering property loss. Given that reconstruction is the key focus, the Chinese government decided to complete the main part of the task in three years, providing houses, jobs, a basic living, and medical insurance to disaster-stricken populations.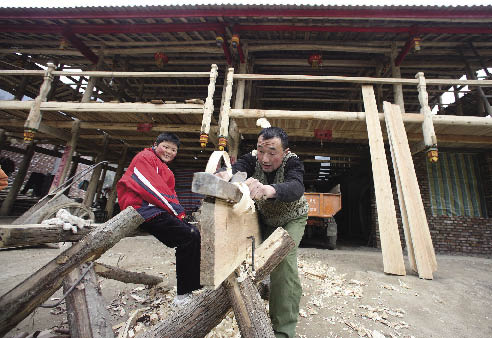 Anti-quake houses are being constructed for victims in Beichuan Country, Sichuan.
Medical issues concern every person in the country. The action plan proposed realizing a new cooperative medical system in the countryside covering all rural people by 2010, and the establishment of a health service organization in every town.
A Road Map for Human Rights
As early as the 1940s the Communist Party drew up a series of regulations to protect human rights, like the 1940 Shandong Province Human Rights Protection Regulations and the 1942 Regulations of the Shanxi-Gansu-Ningxia Border Region on the Protection of Human and Property Rights.