We Shall Overcome
By LI YINGCAI
ONE year after the Wenchuan Earthquake the magnitude of the disaster is still imprinted on Yingxiu and its surrounds. The town lay at the quake's epicenter, and the stripped mountains, blocked rivers, fallen houses, cracked roads, and smashed vehicles all graphically illustrate the extreme cruelty of nature. Amongst the rubble, however, lives are being rebuilt.
    Along the new roads snaking through the mountains come a steady stream of trucks bearing plates from all over the nation, carrying bricks, cement, steel, construction machines, and food. In makeshift homes people are busy preparing meals. Nearby, more permanent quakeproof residential buildings are under construction.
    On a rusty bicycle, clutching a borrowed camera and two months worth of savings, I arrived at Yingxiu around noon on the day of the Qingming Festival, a traditional time in China to mourn the dead. I didn't come to admire the heroes whose stories have flooded the media. I came to pray for those who have no-one left to pray for them, and to pay my respects to those who have survived intense loss and grief and are striving to heal their wounds for the future.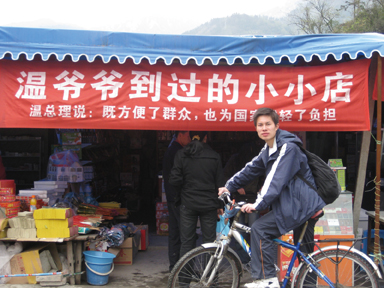 The author in front of a store run by a quake victim, which Premier Wen Jiabao praised for "bringing convenience to locals and easing the burden on the state" during his visit to the region. 
A Narrow Escape from Death
    About two kilometers from Yingxiu, I encountered Mr Lin, a villager in his 80s. He was weeding a little vegetable patch near his ruined house. "I was near the epicenter collecting bamboo shoots when the earth began to shake and stones fell everywhere like bullets. Even small ones the size of your finger could kill you," he told me. He clutched a tree and tried to sit as the earth shook and the sky was darkened by dense clouds of sulfur. Stones squeezed from beneath the earth began to flow down the valley, flattening everything in their path. Three big families and their houses disappeared in seconds, leaving not even a brick or a piece of wood. "Fortunately, my family is intact despite our close proximity to the epicenter. Our house was completely destroyed, but I don't feel too bad about that. My family now lives in a tent, and has received food, clean water, living necessities and cash subsidies from the government. Earthquake-resistant houses are being built, and before long we will move in and enjoy our later years in peace."
    Mr. Lin spent all his years before the earthquake in an isolated village deep in the mountains and had little contact with the outside world. His reclusive life made him believe he was living in a forgotten corner of the planet. The 2008 earthquake, however, convinced him that people all over the nation and even the globe are fundamentally interconnected, even though we are not aware of this most of the time. A highway from Dujiangyan City to Yingxiu is scheduled for completion before the quake's one-year anniversary on May 12, giving concrete form to Mr Lin's newfound sense of connection.
    As his wife called him to supper, I quickly snapped a photo of Mr Lin, with his house as a backdrop. On his withered face I saw returning confidence and pride in a nation pulling together with common beliefs and shared values.