The Road from Communal to Owned Housing
By WU NA
    Homes in China have transitioned during the past sixty years from government-allocated to commercial housing. The change has brought immense improvements to people's living conditions.
Waiting for Welfare Housing
    The novel The Happy Life of Talkative Guy Zhang Damin by Liu Heng, an account of the real lives of everyday Beijing residents, won the Lao She Prize for Literature. The main character is Zhang Damin. He, his widowed mother and four siblings share a crowded quadrangle with several other families. Their living room is also their bedroom. In it are one double and one single bed, a desk, a folding table, a washstand and a few stools – the extent of the family furniture. The inner room is the width of a train sleeping compartment.
    Residential conditions in the 1980s were often even worse than those depicted of the character Zhang Damin and his family. As China's population skyrocketed after the 1950s, formerly one-household quadrangle houses were often occupied by dozens of families. Each lived in one room and all shared a toilet, courtyard and whatever other facilities existed. The common people of Shanghai lived in similarly poor conditions in shikumen or tenement housing.
    Zhang Damin's story describes how, after Zhang and his brother marry, everyday life in the 16 sq meter room deteriorates from being cramped to downright embarrassing. Zhang Damin has no choice but to build a room around the pomegranate tree in the small yard. He names his son shu which means tree in Chinese.
    The old saying, "a good neighbor is better than a brother in the next village," defines the close bond among residents of neighborhoods composed of crowded quadrangles. But bonding does not always compensate for the absence of personal privacy under these conditions.
    People sharing a quadrangle envied those living in the storied dwellings of the time. These basic tubular apartments were originally student and worker dormitories which gradually evolved into family residences whose tenants used public toilets and bathrooms. Each family had a small stove outside their room, and at mealtimes the corridor transformed into a mass kitchen.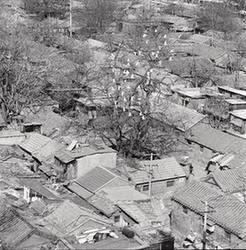 Hutongs and crowded quadrangles in Beijing. 
    People living in individual apartments were regarded as highly privileged, by virtue of their 30 to 50 sq meter area and self-contained kitchen and toilet.
    Government housing was formerly an aspect of social welfare. But the time lapse between applying for and actually moving into a place of one's own could be anything from a few years to a whole lifetime, even when fulfilling the requirements of preferred occupation and married status. At first only married cadres qualified for allocated housing. Many people would wed for the express purpose of having their own home. The alternative was living with parents or colleagues. Candidates for housing assignments were ranked according to work, seniority, and any commendations, such as performance rewards. But these requirements often changed.
    Before 1949, 70 percent of urban families lived three-to-five people under one tiled roof. Upon establishment of the People's Republic of China the government priority was on production rather than consumption and life quality; there was consequently low residential investment. From 1949 to 1978, the government expended RMB 37.4 billion on residential construction, which worked out to less than RMB 10 per capita per year. During this period, the total residential area in cities and towns was just 500 million sq meters. In the early years after the founding of new China, the per-capita living space was 4.5 sq meters. But by 1978 this had fallen to 3.6 sq meters. Half of the urban population lacked adequate housing.
Goodbye to Welfare Housing
    Housing reform soon became imperative, as people could not properly function in these wanting living conditions. China tried various methods of housing reform, following the examples of Singapore and Britain of raising rentals and selling ownership, according to Gu Yunchang, vice president of China Real Estate and Housing Research Association. Given the relatively low salaries at the time, however, the government finally decided to carry out thoroughgoing property rights reform.
    Since 1980, Chinese citizens have been allowed to build and purchase housing individually. But even though the price of housing was initially just RMB 120 to 150 per sq meter, few people showed interest. One reason was their aversion to the idea of owner-occupied homes. Another was that to common people buying a home seemed a huge financial transaction, even though they needed to pay just one third of the purchase price, according to the new policy.
    China's real estate made little headway until Deng Xiaoping's Southern Inspection Tour of 1992, when he urged the people to follow the example of the Pearl River Delta and stimulate economic development (according to the landmark legislation allowing legal persons to transact land use rights). Realty investment soon doubled that of the same period the previous year. The average housing prices grew so rapidly that the government adopted macroeconomic regulations as a means of control.
    Housing reform began six years later. Commercialized housing ended the welfare-oriented public housing distribution system, and real estate investment surged, becoming an important economic impetus in China. In the meantime, living conditions rapidly improved. The per capita building area of the registered population in cities and towns is now 28 sq meters according to figures from Qi Ji, vice minister of Housing and Urban-Rural Development. Taking into account migrant workers in urban areas, however, the figure is actually 22 sq meters per capita.
    Li Changxiu, a 73-year-old retired worker, now lives in Beijing's Wangjing District. In the 1980s he and the three generations of his eight other family members all lived in one room. Carried along by the reform and opening-up policy, his children went into business. Their former dwelling was demolished five years ago, and with the compensation he received plus his offspring's financial support, Li was able to buy the 120 sq meter apartment where he now lives. It would have been impossible under the former welfare housing allocation system for senior workers like Li to have such a large home. Li Changxiu is happy with the layout, ample light and large kitchen. The only drawback, Li says, is that the residential community is so large that Li and his wife sometimes lose their way home.