Serfs Emancipation Day Set
On March 28, 1959, the State Council of the People's Republic of China announced the dissolution of the local government of Tibet and reorganization of the Preparatory Committee for Tibet Autonomous Region to exercise the powers of local government. This is a milestone in the history of Tibet. On January 19, 2009, Tibet Autonomous Region made March 28 Serfs Emancipation Day.
Some foreigners regard Tibet as Shangri-la, the wonderland described in Lost Horizon by British novelist James Hilton. But few could imagine that in the 1950s it remained a feudal serf society akin to the Middle Ages in Europe.
During the democratic reform, emancipated serfs obtained land and political rights that their ancestors had longed for. In 1961, the first general election took place in Tibet. For the first time, emancipated serfs and slaves enjoyed the right to elect and be elected. They voted for deputies to the people's congresses at various levels, and participated in the administration of national and local affairs through their representatives. In 1965, Tibet Autonomous Region was formally established.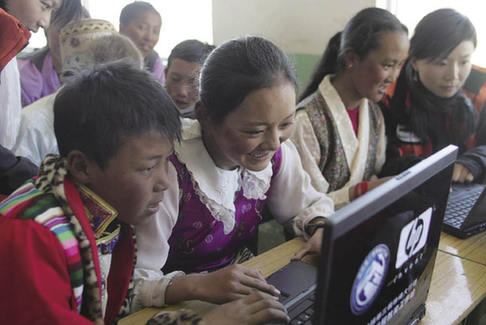 Students receive remote education via the Internet.