Food in China: From Getting Enough to Eating Right
By WU NA
    WHEN the People's Republic of China was founded in 1949, the US Secretary of State Dean Acheson commented that Chinese dynasties had all come to grief over their failure to solve the food problem, and the Communist regime would be no different. According to John Leighton Stuart, before 1949, 3-7 million Chinese people died of hunger each year. Providing enough food for 550 million people was the key question faced by new China.
Food Coupons and "Substitute Food"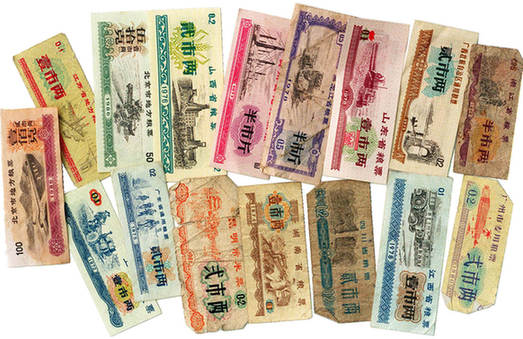 Food coupons from various localities from the era of the state monopoly over the purchase and distribution of grain.
    In 1953, China began to institute a state monopoly over the purchase and distribution of grain. This lasted 31 years, making food coupons a necessity in people's daily lives. In addition, until the late 1970s, meat, eggs, milk and aquatic products were in short supply. Cai Yuanchao, aged 58, a food coupon collector, recalled that during this period grain and meat were rationed for every household, making food coupons the nation's "lifeblood." He clearly remembers eating coarse grain and water-boiled vegetables pickled with salt for almost every meal during his childhood. Per capita daily meat consumption was less than 50 grams. Therefore, people preferred fatty meat, since people could extract lard by boiling down the fat, which was then used to cook vegetables. The dregs of fat were considered a rare delicacy. In rural areas life was even harder. The staple food was steamed corn bread, vegetable porridge and pickles. Farmers seldom had stir-fried meat dishes. Even so, this was a great improvement over life before liberation, when average landlord families, let alone tenant farmers, could not afford to eat steamed wheat bread and meat dishes very often.
    Even state leaders led frugal lives. Premier Zhou Enlai's staple food was coarse grain, plus one meat dish, one vegetarian dish and soup. Famous writer Bing Xin and her husband were invited to have dinner with Premier Zhou, and stir-fried egg was the only "good dish." Bing Xin recalled, "What surprised me was that the Premier's food was so simple."
    People longed for Spring Festival, because the family reunion dinner was the most sumptuous meal of the year. An article in the Beijing Daily newspaper recorded the reunion dinner of an ordinary family in 1957: "I bought several jin of pork, one chicken, and one fish, plus some vegetables and bean curd – enough for my family to eat happily for several days. In addition, we made two basins of jiaozi."
    Due to wrong policies and natural disasters, starting in 1959 China entered a three-year "difficult period." Famine was seen in both urban and rural areas. Farmers in certain areas had to go begging for food, and in some localities people starved to death. A "substitute food" was launched, comprising ground stalks of tomato, eggplant and maize, and ground sweet potato vines. It could allay one's hunger, but was difficult to digest. One ballad described it thus: "When steamed breads of substitute food are served, people give precedence to one another modestly. Taking a look at it, it looks like horse dung. Biting it, it tastes strange. And after three mouthfuls, everyone vomits."
    Chinese people's diets did not improve greatly until the 1970s. Zhao Zhanling, who went to the countryside to live and work as a "sent down youth," recalled that in 1978, when he was a farmer in Shanxi Province, all three meals a day comprised mainly corn. Breakfast was steamed cake made from corn flour plus pickles, lunch was steamed corn bread plus boiled Chinese cabbage and potato strips, and occasionally a few pieces of bean curd, and supper was a big bowl of corn porridge, two pieces of steamed corn bread, and pickles. He always felt hungry by midnight.