The Plight of China's Breast Cancer Screening Program
By LI HUJUN
PROFESSOR Xu Guangwei, 74-year-old former chairman of the Chinese Anti-Cancer Association (CACA), worked as a surgeon his whole life. He has various regrets, but nothing arouses more complicated feelings than the "Breast Cancer Screening for One Million Women" project that he initiated after retirement.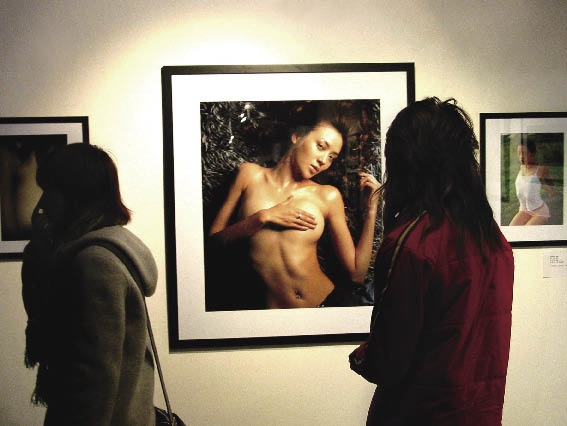 Artists use photos to show the importance of breasts to women, and raise public awareness of breast health.                             Cnsphoto 
How Did the Project Start?
    On April 21, 2005, when the official start-up ceremony for the breast cancer project was held in the Great Hall of the People in Beijing, Gu Xiulian, vice chairman of the Standing Committee of the National People's Congress and president of the All-China Women's Federation, and Zhang Meiying, vice chairman of the National Committee of the Chinese People's Political Consultative Conference, both delivered a speech to express their support. Other leaders also voiced encouragement.
    Xu Guangwei contributed greatly to the project's launch. "I worked as a surgeon my whole life, but in fact few of my patients recovered. Treatment can just help lessen their symptoms or give them some comfort," says Xu sadly. "However, the situation is that there are more and more cancer sufferers."
    It was the realization of the limitations of cancer treatment that made Xu switched his focus to cancer prevention. He decided to start by conducting breast cancer screenings.
    Breast cancer is often referred to as a "woman killer." An investigation released by the Ministry of Health last April showed that the breast cancer death rate had almost doubled in the past three decades, a growth rate second only to that of lung cancer. Breast cancer screening in Western countries has proven effective in reducing the number of deaths, as early detection greatly improves the chances of effective treatment.
    As early as the late 1980s, Xu and his colleagues conducted breast cancer screening trials in Beijing. There were also small-scale screening programs in Tianjin, Shanghai and other cities. However, these projects had common problems, namely old-fashioned examination methods and no long-term follow-ups.
    After retiring from his position as director of Beijing Tumor Hospital, Xu and some professional friends sponsored a grand project named "Breast Cancer Screening for One Million Women." The project intended to select 100 high-quality hospitals nationwide as designated institutions offering four standard mammary gland examinations over six years for 1 million women aged 35 to 70.
    At the end of 2003, Xu and other organizers presented a project proposal to Wu Yi, then vice premier of the State Council. In March 2004, the Department of Disease Control of the Ministry of Health gave approval for CACA to start the project.