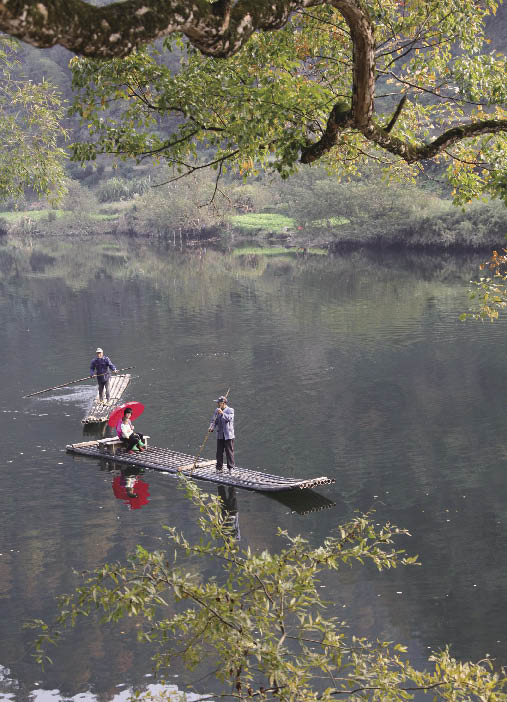 Qimen in Anhui Province grows good-quality black tea. 
    Every spring when it is time for tea harvesting, women pickers can be seen everywhere on the green mountains. These diligent women, singing tea-picking songs, form part of a beautiful scene. Men also work busily during this season, processing tea day and night. Visitors can smell the fragrant tea everywhere. In the past, local schools arranged holidays for students during tea-picking season, allowing students to help their parents with the harvest. Even today many schools in Qimen's rural areas still have these unique "tea holidays."
    Most people in Qimen drink tea, particularly on special days such as the beginning of the new year, when they drink to bless their business. When spring comes they mark the start of transplanting rice seedlings with a cup, and when summer begins, they drink for relief from the summer heat. On the Mid-Autumn Festival they drink tea and appreciate the full moon, and in winter they drink tea to keep warm.
    Besides sipping fine tea, tourists in Qimen are also attracted by the beautiful scenery. There is a nature reserve called "Guniujiang" on the western branch of Yellow Mountain, which has the same wonderful scenery as Yellow Mountain. Plentiful plants can be found here, including towering rare trees, vines, pteridophyte plants on the ground, and unknown flowers and grasses on the mountain paths. At the foot of Guniujiang there are a lot of teashops, providing a good place for visitors to appreciate a tea ceremony. As well as Keemun, there is another famous local green tea called "Wuliqing." In addition, wild tea made by local farmers are also very popular with tourists.