Tea from Tianxin Temple on Wuyi Mountain enjoys an equally high reputation. Built during Emperor Dezong's Zhenyuan reign (785-804) in the Tang Dynasty, the temple has a history of over 1,200 years. It is the largest temple on Wuyi Mountain, and sits not far away from the six original Da Hong Pao tea trees. In fact the trees used to belong to the temple and were protected by its monks. Every year they would pick a few leaves and make tea for themselves. It is said they were very skillful in their processing, and the tea they made was praised and adored by emperors of several dynasties. This was how Da Hong Pao won its reputation.
    Viewed from afar, the temple often looks indistinct under a cloud of fog. Around the temple are green pines and bamboo groves, giving a secluded and restful feeling, though these days there are many visitors. If they are lucky, they can not only drink fine five-year-old Da Hong Pao, but also have the opportunity to talk about tea and study Buddhist scripture with masters in the temple.
    Xiamei Village is another place that has gained fame for tea making. It is situated on the east side of Wuyi Mountain. Surrounded by green mountains dense with streams, the ancient village is quite charming. Visitors could be forgiven for thinking they are in a southern water town. It is picturesque for its small bridges, clear streams, lovely houses and richly ornamented ancient architecture.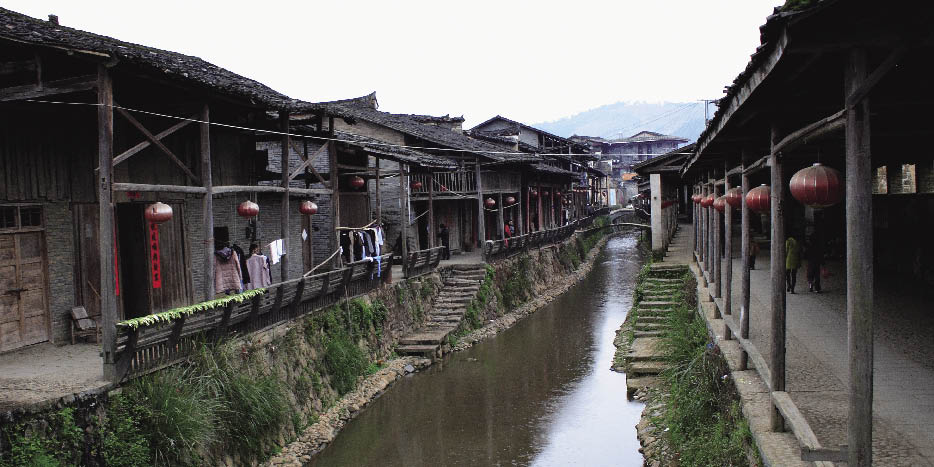 Xiamei Village, a distribution center for Oolong tea produced in the Wuyi Mountain.
    The village used to be a collecting and distribution center for Oolong tea produced on Wuyi Mountain. Tea dealers gathered here to load the tea onto ships and transport it to countries in Southeast Asia and Europe. According to local historical records, in 1681, the 19th year of Kangxi's reign in the Qing Dynasty, there was a large amount of tea transported from Xiamei Village; on busy days around 300 ships a day came and went.
    At that time horse caravans from Shanxi Province also came here and transported tea northward, inaugurating a tea trade road that led to Kyakhta, on the then Sino-Russian border.
    The tea business brought Xiamei Village prosperity and attracted many rich tea merchants. It is said that the Zou Family, the biggest tea trader in the village, was able to lend the court 500 million taels of silver, an amount almost equivalent to half the national treasury at that time. No wonder Kangxi and Qianlong, two famous emperors of the Qing Dynasty, both traveled south several times and chose concubines from the Zou family. This was rare in the Qing Dynasty, since intermarriage between the Manchu and the Han people was forbidden. Today visitors can still get an idea of the Zou family's prosperity and glory by taking a look at the beautiful and magnificent Zou Family Ancestral Temple.
Black Tea from Qimen County of Anhui Province
    Keemun from Qimen, Darjeeling from India, and Uva tea from Sri Lanka are considered the world's three major black teas. Keemun won the gold prize in the 1915 Panama Pacific International Exposition and thereafter became famous around the world. On the international market, Keemun was especially favored by England's nobility for afternoon tea. They think keemun has a sugary flavor with a flowery scent.
    Qimen County is in the Yellow Mountain Scenic Area in Anhui Province, which is a cultural and natural UNESCO World Heritage Site. About 90 percent of the people here are tea producers.