A Tea Village Tour
By staff reporter ZHANG XUEYING
    In most Chinese tea villages, March is the time of year in which locals start to pick and process tea. The usually tranquil villages suddenly become bustling centers of activity, as people take out special tools and prepare for tea processing. In some villages, local residents hold traditional ceremonies, thanking heaven for its blessing. The price of tea picked in March is extremely high because it is fresh, tender and contains multiple trace elements.
    China has been famous for tea production since ancient times. Of the goods transported and traded along the Old Silk Road linking China to the Middle East and Europe, the importance of tea was matched only by silk. China produces Oolong, black, green, white, yellow and dark (aka post-fermented) tea. The Oolong, green and black varieties are most notable for their high quality.
    Most of China's tea villages are found in remote mountainous areas in the country's south and southwest, where the beautiful scenery is often hidden under clouds.
Pu'er from Xishuangbanna of Yunnan Province
    The folk customs of the Dai people and the charming natural beauty of Xishuangbanna Dai Autonomous Prefecture in southwest China have long made the area a tourist mecca. In recent years, with Pu'er tea becoming increasingly popular, tourists have started including the Six Famous Tea Mountains in their itineraries, as well as other tea-related spots such as Jinghong, Yiwu, Xiangming, Mansai and Mengyang.
    The Six Famous Tea Mountains represent the splendid history of Pu'er, dating back thousands of years. The peaks are six conjoint mountains with a height of around 1,000 meters above sea level. In the flourishing forests at around 800 meters above sea level, many wild tea trees can be found. It is said that the 20,000-square-kilometer area is the origin of all the world's tea trees, and since the mid-20th century, the oldest known tea trees in the world have been successively discovered here. A tree some 3,200 years old is now known to exist.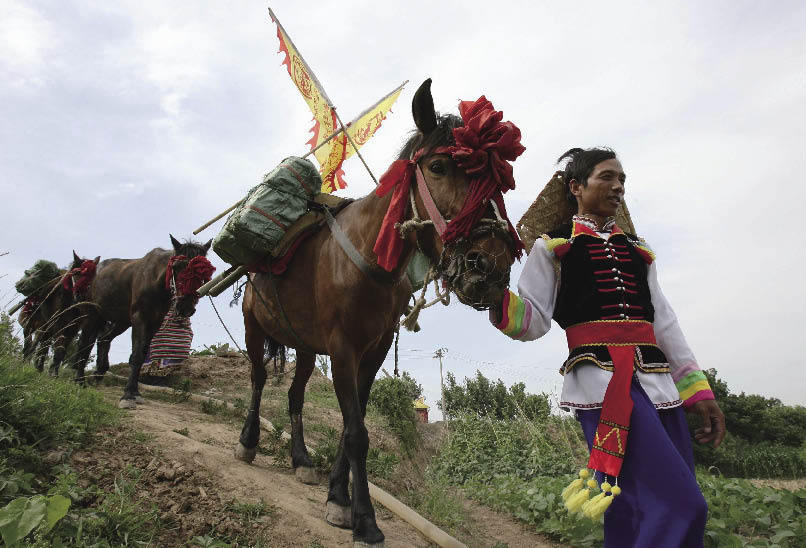 Pu'er tea has been transported by horse caravans for hundreds of years.