The Recurring Shanzhai: a Phenomenon
By staff reporter XI WEN
    SHANZHAI, a phrase that entered Chinese Internet-speak in 2008, has split over into everyday commerce, manifest in shanzhai mobile phones, cosmetics, handbags and watches – even shanzhai movie stars and blockbusters. Although disgruntled at the shanzhai onslaught, most people maintain an attitude of genial bemusement.
   But what exactly is shanzhai? Its literal meaning, "mountain camp," originates in ancient Chinese history. It refers to camps set up in remote locations by ancient Chinese fugitives from justice, as in the famous classical novel Outlaws of the Marsh set in the late Northern Song Dynasty (960-1127), about a band of outlaws who flee deep into the mountains and establish a base and a hierarchy based on brotherhood, but eventually submit to a government amnesty and return to civil life. Since the phrase was first coined, shanzhai has had multiple meanings: escape from authority; rising against social injustice; developing a set of rules parallel to those of the government; or submitting to a government amnesty and returning to the established order.
Linguistic Origins
   The contemporary use of the term shanzhai originates in the Cantonese dialect. It refers to unlicensed or fake-brand cell phones, and hence has unofficial or illegal overtones.
   "To avoid inspections by the authorities we had to set up our workshop on a hilltop outside Shenzhen, and provide transportation there for our workers," said Mr. Zhang, who has worked in the mobile phone production business for eight years. The dozen or so workers that this OEM (Original Equipment Manufacturer) of sorts employs produce a thousand or so sets a day.
   There are thousands of similar operations in Shenzhen, mostly in the electronics business. Some are OEMs, but the majority work in the illicitly grey area of replicating big-name mobile and MP3 sets. They are generally private small and medium-sized enterprises.
   "My business is good, in spite of intensified market competition," Zhang said, but was unwilling to comment on exactly how much he makes. Observers say that a workshop like his is capable of earning RMB 5 million a month.
   According to government regulations, only "license holders" are permitted to manufacture mobile sets, generally big national and international brands. Certain scholars regard this set-up as a "monopoly of Titans" that freezes OEM small plants and businesses out of the game, simply because they cannot stump up the exorbitant license fee. The only mode of operation open to them is a shanzhai underground replication outfit.
   There are many advantages to shanzhai production: no license fee, no 17 percent added-value tax, no RMB 30-40 per set checking fee to the relevant government departments, and no sales and receipt tax. Shanzhai running costs are further minimized by the absence of marketing and after-sales service. It would otherwise be impossible to buy cell phones at such unbelievably low prices.
   Shanzhai operations respond instantly to market demand by producing new cell phone models every one or two months. Legal OEMs must go through a lengthy, and consequently expensive, quality checking and rechecking procedure. "We have no way of combating shanzhai products," a sales manager from a big-name manufacturer said. "Once designed, it takes at least six months for one of our new models to appear on the market, by which time it's out-of-date."
   Shanzhai mobile sets represent serious market-share competition to both foreign and domestic manufacturers. They chalked up sales figures of 150 million in 2007, a figure that continued to rise throughout 2008 and which is likely to rocket when shanzhai sets enter Chinese localities, urban centers and eventually the foreign market. One street in Dubai looks like an exhibition center for the latest shanzhai models, and they are a hot favorite on the Indian market. Shanzhai sets are also taking Europe by storm, having debuted, ironically enough, in Finland, home of Nokia.
   The shanzhai market is thus no longer strictly low-end. As the distribution supervisor at a consulting company said, "Consumer concepts have changed. High-end customers used to steer clear of shanzhai sets because they were not sure of their quality and wary of losing face if they went wrong. But once they discovered that certain shanzhai products, particularly those at the high end, are of equal or even better quality than those manufactured by international big names, they choose shanzhai models."
   Low prices are the main selling point of shanzhai products. The cost of the most basic Nokia model buys a shanzhai cell phone with all the trimmings of super-large screen, long standby time (one shanzhai model that needs a single charge to maintain its 32.8 thousand MA for two-whole years deservedly earned an Internet best-of-all-time rating), million-pixel lens for both photographs and video filming and, it goes without saying, a GPS capability. Shanzhai producers also take into account that young adults like to play music on their mobile phones as they gain considerable kudos from walking along the street to the loud accompaniment of the latest pop sensation. Certain shanzhai models are hence installed with anything from four to 25 speakers. The creative marketing ingenuity of shanzhai producers goes on and on. Products come in the shapes of fancy sport cars, famous brand watches, cigarette packs — even the Water Cube and Bird's Nest Olympic venues. "Most shanzhai producers and designers have a solid professional background, having worked for licensed manufacturers," Xie Linzhen, honorary chairman of Shenzhen Mobile Phone Association, said. "Owing to low salaries and victimization in the form of national brand monopolies, the cream of the electronics trade — who know all there is about state policies and market demands — now run their own manufacturing businesses based on illicit workshops."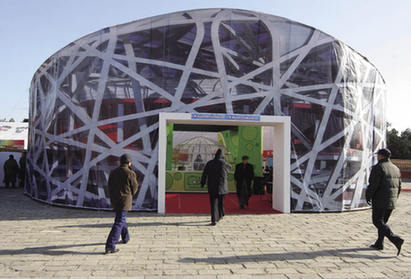 A shanzhai edition of the Bird's Nest in Beijing's Ditan Park attracts curious visitors.