People's Communes
By SHUANG SHUANG
    CHINA's individual agricultural economy based on private ownership was transformed into cooperative economy based on public ownership between 1949 and 1956. During this time span the "communistic commune," the "collective farm" and the "people's commune" successively appeared in rural areas. In 1958, shortly after Chairman Mao Zedong said, "It is good to establish people's communes," the Central Committee of the Communist Party of China established people's communes throughout the country. Documents at that time stated: "The realization of communism in our country is not a thing of remote future. We must actively establish people's communes and explore a concrete way to communism." By the end of October 1958, more than 26,000 people's communes housing 120 million rural households — 99 percent of all rural households in China — had been set up.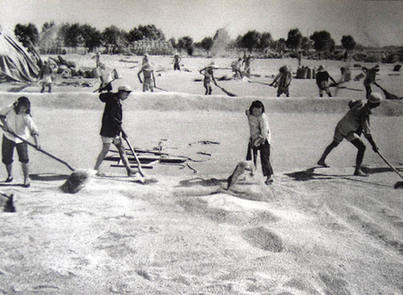 By the end of October 1958, people's communes had been set up in most rural areas. 
    The people's commune was a collectively owned economic organization representing the grass-roots organ of state power in rural areas. It was involved in agricultural, industrial and commercial activities. Agricultural technology was popularized in the two decades during which the people's communes operated, and more than 87,000 reservoirs and many embankments were built that harnessed China's major rivers and lakes. Most important, the health care system covering the country's entire rural areas was formed.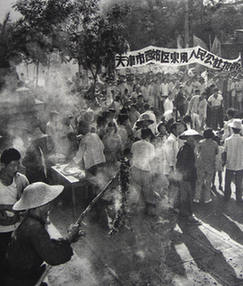 Farmers in Tianjin celebrate the establishment of Dongfeng People's Commune in 1958. 
    The equalitarianism and ultraleft policies prevalent in people's communes that took no account of economic development level, however, severely encroached on farmers' economic interests and hampered rural productivity. Members of communes also lacked decision-making power. China carried out dramatic rural reforms in 1978 in the form of the household contract responsibility system that acted as an incentive to farmers. People's communes had vanished by the early 1980s.