Changes at Panjiayuan Flea Market
By staff reporter LI YAHONG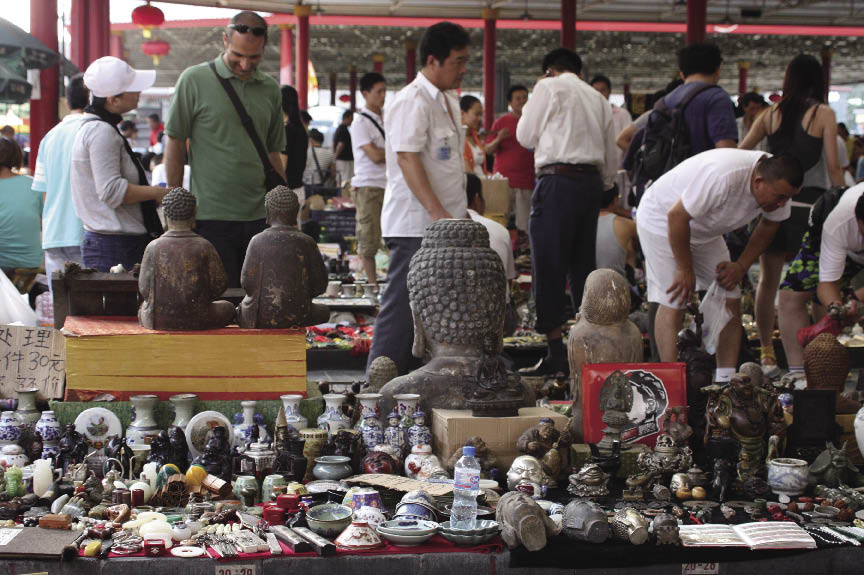 Panjiayuan Flea Market has become a popular tourist site for visitors from home and abroad.
    EVERY morning before 9 o'clock, Shu Jianjun gets to his shop in Beijing's Panjiayuan Flea Market. He displays a wide variety of seals in the counter beside the shop's door and waits for customers. Shu is greatly skilled at engraving people's images on small rocks. As well as handicrafts made by craftsmen like Shu, visitors to Panjiayuan market are dazzled by the endless array of products on sale.
How Did the Market Form?
    Panjiayuan Flea Market existed in embryonic form in the 1980s. At that time people who were fond of collecting antiques and second-hand goods voluntarily gathered together and traded their collections in Panjiayuan. However, it was not until 1992 that the market was formally established. At present, it is the largest second-hand market in China.
    Back in 1985, Shu Jianjun was a mobile seal vendor wandering Beijing's streets. In 2000 he set up a stand at Panjiayuan market. The oldest seals in China can be traced back to the Zhou Dynasty (1046-771 B.C.). Seal making requires great calligraphy and engraving skills, to achieve excellence in the general structure of each character, their relative positions and the space between lines. Seals also feature delicate inscriptions on their sides.
    China boasts many colorful indigenous cultures in its vast territory, but they are gradually disappearing as the country modernizes. There has been a fundamental restructuring of the economic system since China introduced its reform and opening-up policy in 1978. In the 1990s, some businessmen with a sharp mind found there was a market for Chinese cultural relics. Antique furniture and jade items with local characteristics, as well as artifacts unearthed while constructing roads and buildings, were collected by mobile vendors and sold in Panjiayuan market. Zhou Wensheng, who is engaged in publishing work, is a regular visitor to Panjiayuan. He says that many distinguished cultural relics were transformed into merchandise once there was a market.
    According to Wang Limei, director of the Administrative Office in Panjiayuan Flea Market, nowadays the annual turnover of the market stands at RMB 400 to 600 million. Panjiayuan is divided into four districts based on the goods sold: furniture, porcelain, textiles, and calligraphy, painting and jade. In addition, there is a large space for temporary vendors to display their goods.
    Panjiayuan is busiest on weekends, when many temporary vendors swarm into the market. Most of them are typical Chinese farmers, with swarthy complexions and feet clad in cheap leather shoes worn without socks. They sit casually on the ground. It's as if they would like to convey the message that "my goods are really handed down from my ancestors" through their speech, deportment and clothing.
    Shu Jianjun says with frankness that most of the seals in his shop are newly made. "A precious seal made in ancient times would be worth more than RMB 1,000," he says. In Panjiayuan, there are many craftsmen with unique skills. Shu has been praised as the best engraver for his artistic seals. He charges RMB 680 for engraving an image and RMB 50 for a single character.
    "In 1985, you could spend less than RMB 100 and buy a piece of precious blue-and-white porcelain made in Emperor Qianlong's reign (1736-1795) during the Qing Dynasty," recalls Zhou Wensheng. In that period, the goods displayed in the market were mainly hardwood furniture, celebrities' scripts and paintings, porcelain pieces and decorations made in the Ming or Qing Dynasty. As time goes by, more and more vendors come and sell goods in the market as more expats become interested in collecting Chinese folk artworks. "Here you can find many treasures, but reproductions are abundant too," says Zhou. Sometimes a big porcelain vase can be had for RMB 50, despite a price tag of RMB 380.
Disappearing Culture
    To some extent, Shu Jianjun is passing down a traditional Chinese craft. He says many seals are precious because they are related to specific historical events. But he adds that few of his customers are really interested in collecting seals. They just buy them for fun.
    Most of the goods sold in Panjiayuan are cultural relics, or their reproductions. Any item that proves popular with buyers soon shows up in large quantities in the market. Zhou Wensheng recalls that in the early 1990s, a friend of his paid a lot for a huge engraved door made in the Ming Dynasty, because he didn't want the item to be lost to an overseas collector. But later a large amount of similar items appeared in the market.
    "Once there are buyers and opportunities to make money, it becomes difficult for folks to hold onto their heirlooms," sighs Zhou Wensheng. He believes that the entry of old style vanity cases into the market indicates their disappearance from people's lives even in rural areas, and that the appearance of woodblocks for making New Year prints at Panjiayuan signals woodblock New Year prints are gradually disappearing from the countryside. As Zhou says, "The number of folk relics is limited. If one day you can't see them anymore in Panjiayuan, it shows this kind of culture is in danger of extinction."