Sixty Years of Chinese Icons
By XIN XIN
Mao Zedong: Super Icon
Red Guards wave their copies of the "Little Red Book" on Tian'anmen Square to pledge loyalty to Chairman Mao Zedong during the "cultural revolution."
    Mao's leadership of the Communist Party of China (CPC) was entrenched in 1945, when Mao Zedong Thought was incorporated into the Party's Constitution as its guiding principle, together with Marxism and Leninism. With the advance of the revolution, admiration for Mao grew into blind faith. In the 1960s he was acclaimed the "greatest genius on earth" and it was declared that "every word of his is golden truth and is worth 10,000 words from others."
    Mao Zedong was the only God of the Chinese people in those years. During the "cultural revolution" (1966-1976), tens of millions of youths flocked from all over the nation to Beijing in the hope of seeing Chairman Mao in person. When he waved from the Tian'anmen Rostrum to the densely packed square below – the largest in the world – he was met with thunderous applause and cries of "Long live Chairman Mao" from the excited crowds.
    The "Little Red Book," or Quotations from Chairman Mao, was carried by all Chinese, and was supposed to guide them through life in much the same way as the Bible guides Christians. Frenetic followers invented varied ways to express devotion to their leader, including songs and dances expressing the theme of loyalty, and a form of taiji boxing that wished Mao an infinitely long life. Li Weihan, a senior scholar of Communist theories, said in the 1980s that the mania for Mao derived from a residue of feudal mentality, which transformed a man into a god.
    Since the 1990s a large number of biographies and investigative books on Mao Zedong have been published in China, marking the late leader's descent from the pedestal he was once placed on. Yet despite the much-diminished halo around his head, Mao Zedong remains a figure of veneration.
    A 1995 survey by China Youth Daily revealed that Mao Zedong ranked first among idols of young Chinese. More than 60 percent of those surveyed were born during or after the 1970s. In a 2005 national poll among middle school students, Mao was still deemed the greatest hero by Chinese teenagers. And in October 2008 a stainless steel statue of Mao standing a record 37.4 meters high (pedestal included) and weighing 46 tons was erected in the college town of Chongqing in southwestern China.
Lei Feng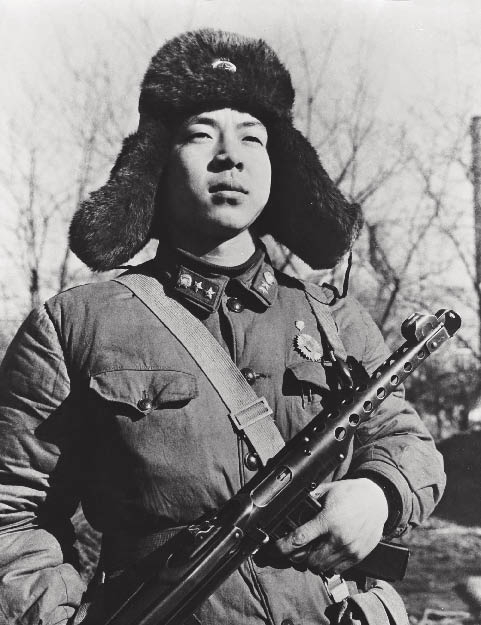 Perfect CitizenAn orphaned farmboy, Lei Feng (1940-1962) harbored genuine and deep love for the new China. 
    Lei Feng (1940-1962) was cast as a moral beacon for Chinese people in his day. He joined the army in 1960, and died on duty two years later. After his death the young soldier's diary was made public, revealing his lavish devotion to helping others and affirmative attitude toward life. He spent the minimum on himself, but never hesitated to give every penny to those in need. Many poetic lines in his diary were soon widely quoted and chanted, such as "If you were a drop of water, would you have nourished an inch of land? If you were a beam of sunshine, would you have dispelled a spot of darkness? If you were a grain, would you have nurtured useful life? If you were the tiniest screw, would you always be where you are supposed to be? As you are alive, will you endeavor to secure a better life for future generations and build a more beautiful world?"
    In 1963 Mao Zedong made the inscription "learn from Comrade Lei Feng," and launched a massive campaign to promote the Lei Feng Spirit, which was interpreted as "serving the people heart and soul." A song entitled Following the Good Model of Lei Feng was soon composed, and immediately became a national hit. March was designated the month of Lei Feng, and featured many free aid programs, mostly organized by young people.