"My statistics show that barely 10 percent of Chinese parents are able to accept that their offspring are gay," says Wu. "I think cctv.com gets much higher percentages because most of the interviewees understand gays, and some of them are homosexual themselves." In fact, the most common reactions of parents are either to force their children to seek psychological counseling, or to grudgingly accept the truth, but nonetheless force them into a conventional marriage.
    The dominating power that the patriarchal tradition wields in China is manifest in the case of Zheng Yuantao's former partner. Despite knowing of his sexual orientation, his parents insisted that he leave Zheng and marry a young woman of their choice. His sense of filial piety compelled the young man to comply. As Wu sadly points out, "His parents consciously deceived the young woman and her whole family."
    Online TV host Didier Zheng obtained his Master's degree in educational psychology at the Sorbonne in Paris. Encouraged by the liberal attitudes to homosexuality he encountered in France, he came out to his family while studying there. But his decision hinged largely on the reaction he expected from them.
    As Didier points out, "Many people presume that coming out is less traumatic for gays in the fashion and arts fields than for those in more conventional occupations. But it is the likely familial reaction, rather than that encountered in the working environment, that motivates the decision."
    He recalls, "My parents were distressed at first, but gradually got used to the idea. Today, my being gay in no way influences my relationship with my family, friends or colleagues."
    Still, Didier is aware of just how lucky he is in this respect. Around 70 percent of his gay friends who made the same decision were totally rejected by their parents. Didier consequently agrees with Wu Youjian about the results of the Website survey. In his view, "That over 70 percent of parents could accept homosexuality in their offspring is believable in France, but extremely doubtful in China."
    Li Yinhe is a well-known and outspoken sociologist who specializes in sex, marriage and the family. She cogently points out that just 20 years ago homosexuality was a crime in China, and that less than 10 years ago it was deemed a mental disorder. She also agrees with Wu Youjian and Didier Zheng that the family unit, traditionally representative of all Chinese society, is the mainspring of homophobia in China.
Online Demystification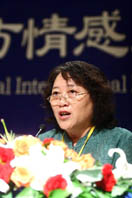 Prestigious sociolodist Li Yinhe, who has advocated legalizing gay marriages.
Didier Zheng hosts the weekly program Connecting Homosexual People. He and his team produced 12 video reports in 2007, which were broadcast on Ifeng.com.
    The program in 2008 extended its focus from familiarizing the population with the gay phenomenon to soliciting public advice on such issues as social interaction and gay marriage, which has evolved since 2007. Didier stresses repeatedly that the program is inspired by a sense of social responsibility rather than a desire to entertain. As he says, "It puts the issue of homosexuality on the table."
    Much to Didier's regret, his plan to interview Paris Mayor Bertrand Delanoe, who is openly gay, failed to materialize for various reasons. "Bertrand Delanoe's frank gayness, rather than impede his public career, has won him respect."
    Wu Shu, the mastermind and director of the program, had no idea just how large China's gay community was until she began production. Finding gays willing to speak on the program is never a problem. Many voluntarily come forward, and gay groups frequently recommend representatives to speak on their behalf. But she confesses, "Given the scruples of conventional media as regards excessive air time on this topic, for the meantime we shall confine the program to the Internet."
    The Chinese government released the results of its first in-depth research on gays in the country on December 1, 2004. The report put the number of sexually active male homosexuals at over 10 million. Experts, however, have a far higher estimate. They maintain that there are 40 million homosexuals in the nation, of whom men constitute two-thirds.