Reconstruction from the Ground Up
By staff reporter LU RUCAI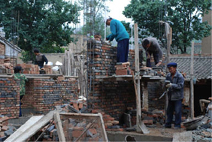 Reinforcing steel bars are a must for new houses in rural areas.
    It takes over eight hours to drive from Gansu's provincial capital Lanzhou to Longnan City, which was hit hardest in the province by May's earthquake. The winding mountain road looked crowded due to destruction of some sections and increasing numbers of heavy-duty trucks loaded with construction materials.
    In Longnan there were signs of the earthquake everywhere. Bulldozers squatted beside large piles of sand and cement on both sides of many roads. Government aid tents, marked with "Jiuzai," the Chinese word for "disaster relief," were pitched along the roadside and at the foot of mountains. Banners reading "Bear President Hu and Premier Wen's trust in mind and devote yourself to reconstruction work" could be seen in streets and lanes.
Prioritizing Construction of Quakeproof Schools
    The P&G Hope Primary School in Longnan's Bolin Township, Wudu District lost all its classrooms in the earthquake. In September, 609 students returned to a new temporary school after the summer vocation.
    "Now there are 14 temporary classrooms and 10 offices. Although the conditions are not very good, the school can operate on a normal schedule," Headmaster Zhao Wenxue said. Mobile classrooms were donated by P&G and built by a construction team from Beijing.
    Despite rain and mud, children were playing outside under umbrellas during breaks. Inside the classrooms, wooden desks and chairs were laid out in orderly rows, while the encouraging slogan "Study hard and make progress everyday" was on the wall beside the national flag. "Any classroom is ok for us as long as we can continue our study," the children said. "Those temporary classrooms will be very cold in winter. We are working out solutions," said Headmaster Zhao.
    As in Sichuan, schools were the most severely damaged buildings in Gansu. Among all the schools in the province, over 6,500 were affected by the disaster to varied extent. Classes were suspended in middle and primary schools in Longnan City's Wudu District and Wenxian County, where the damage was severest.
    Qiu Yingqi is director of the Commission for Discipline Inspection of the Gansu Provincial Committee of the Chinese Communist Youth League. Since the earthquake, she had been working as the coordinator for the Mobile Hope School Construction Project, responsible for selecting construction companies, light steel plank procurement and transportation. "Purchasing light steel planks is quite difficult, because few people use them in daily life. We collect existing light steel planks from around the province and transport them to Lanzhou, then on to quake-hit areas at night," explained Qiu.
    At the same time, Wang Yongqian, secretary of the Gansu Provincial Committee of the Chinese Communist Youth League, led a group of designers to assess suitable sites for reconstruction. Designers then drew up reconstruction plans based on these assessments. The first Mobile Hope School in Bikou Town, Wenxian County, was built and became fully operational only ten days after assessment work began on May 19. "During the school's opening ceremony, children were cheering, but all the cadres and children's parents there were crying," recalled Qiu, choking at the memory.
    More than 20 quakeproof Hope Schools have been built, including about 400 mobile classrooms, in Wenxian, Wudu, Kangxian and Xihe, with a total investment exceeding RMB 10 million.
    "The most important thing is to build permanent replacements," said Qiu Yingqi. The construction expenditure for each permanent school was raised from RMB 200,000-250,000 to RMB 500,000. "We need to guarantee the quality of each classroom building, even if we can't build enough schools due to a lack of money," said Qiu. After the earthquake the Construction Department of Gansu Province issued quakeproof building guidelines and construction standards, requiring that all buildings be able to withstand quakes of at least magnitude eight.