Tips in Qingdao
Zhanqiao Bridge
Also known as Damatou (Big Pier), Zhanqiao Bridge in the north of Qingdao Bay is a city landmark with more than a century of history. The first man-made pier in the city intended for military use, it was converted into a cargo berth after the Germans took over the city.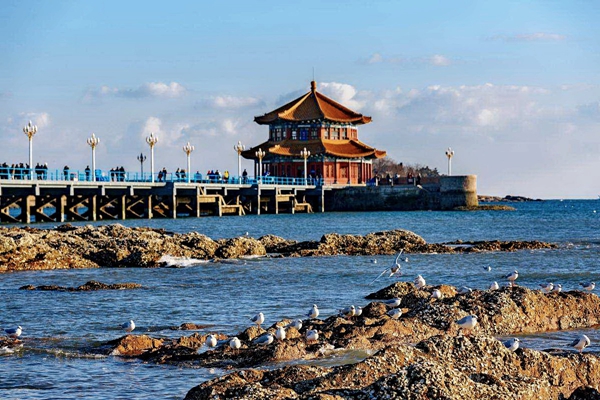 A traditional Chinese-style octagonal pavilion stands at its southern end, covered with yellow-glazed tiles and supported by 24 columns. Covering a total area of 340 sq meters, the two-story pavilion provides a fine platform to look out on to the sea. If you take the 34 spiral staircases to the top, a marvelous view ranking among the city's top 10 sights will await you.
How to get there: Zhanqiao Bridge is within walking distance of Qingdao Railway Station.
Former German Governor's Office
Situated on the southern slope of Guanhai Mountain, this compound was built during the German occupation and serves as a guesthouse today.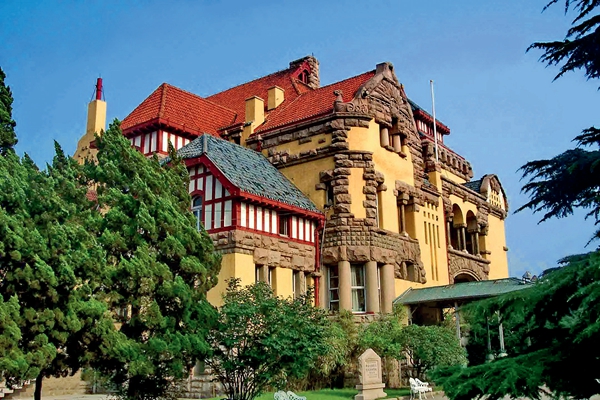 It was designed by German architect Werner Lazarowicz and its construction took three years, eventually completed in 1908. The four-story house, which also features an annex, combines the styles of the German Wilhelmine period and Jugendstil. The magnificent interior decoration is reminiscent of European palaces. Treasures collected from around the world are now on display inside the building.
Transportation: Take Bus No. 220 to Longkou Road.
Tsingtao Beer Museum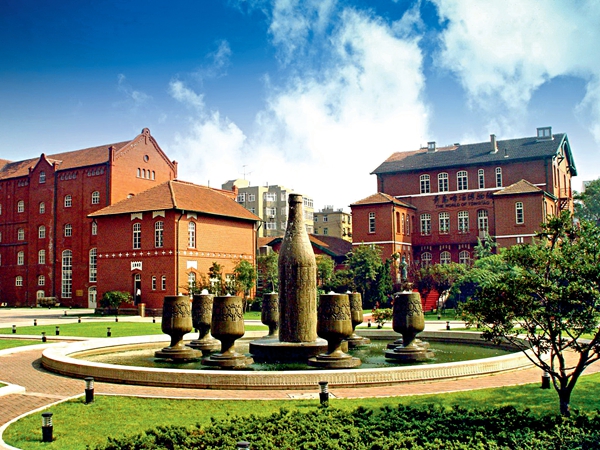 Covering an area of more than 6,000 sq meters, the Tsingtao Beer Museum is the only museum dedicated to beer in China. Located on the site of the original Tsingtao Brewery, the museum charts the development of Tsingtao beer and China's beer industry. Archives and pictures give visitors an insight into brewing history and techniques, while artifacts donated by the descendants of some German and Japanese staff of the old Tsingtao Brewery make the exhibition even more appealing.
Transportation: Take Bus No. 205, 217, or 604.
Laoshan Scenic Area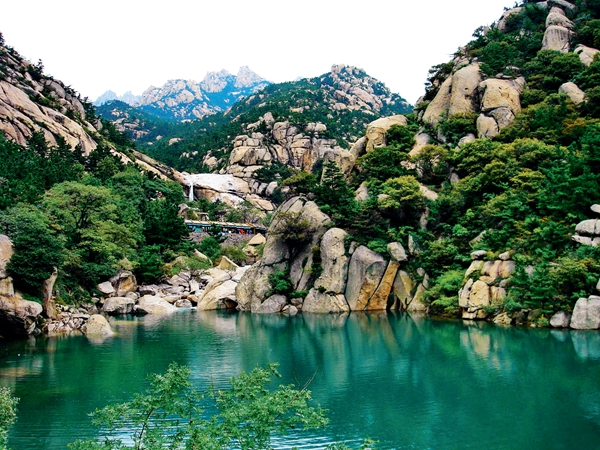 The area is one of China's top scenic attractions, known for its stunning mountain views and coastal landscape. It has a coastline of 87 kilometers and 18 islets lie nearby.
Taiqing Palace
Facing the sea with hills to its back, the Taiqing Palace is a highlight of Laoshan. First built during the Northern Song Dynasty (960-1127), the palace features a simple architectural style and three majestic central buildings – Sanguan, Sanhuang, and Sanqing. The smaller scenic spots and stone carvings in the immediate vicinity are also worth a visit.
Watching the moon rise above the sea at Taiqing Palace is particularly impressive – and one of the 12 great sights on Laoshan. As quietness descends on the region, the bright moon glows on the sea, a breeze drifts across the mountain and waves lap the shore.
Services