China, Sri Lanka Strengthen Cooperation on Maritime Silk Road Interview with Sri Lankan Ambassador to China Karunasena Kodituwakku
By staff reporter ZHOU LIN
THE year 2017 marks the 60th anniversary of the establishment of diplomatic relations between China and Sri Lanka, and the 65th anniversary of their signing of the Trade Agreement on Rubber and Rice. The Sri Lankan Ambassador to China Karunasena Kodituwakku observed during an exclusive interview with China Today that the two nations have maintained their friendship throughout history, and enjoyed mutually beneficial business and trade. Fruitful achievements form a solid foundation for their strategic cooperative partnership, and also provide broad development opportunities.
Old Friends
Chinese President Xi Jinping and Sri Lankan President Maithripala Sirisena expressed the great importance each attached to the bilateral relationship in their exchange of telegrams on the 60th anniversary of diplomatic relations between their respective nations. Both heads of state voiced the desire to consolidate political mutual trust, expand cooperation, and strengthen friendship between their peoples. They agreed that the Belt and Road Initiative has opened a new era of bilateral relations, and that the ancient Maritime Silk Road will add vigor and vitality to the strategic cooperative partnership between the two countries.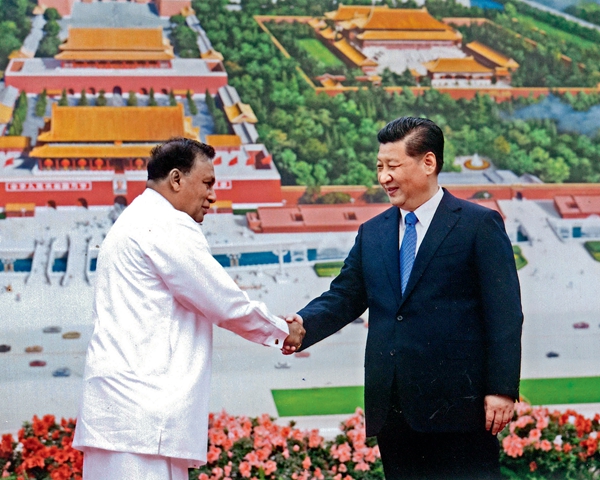 Sri Lankan Ambassador to China Karunasena Kodituwakku met with Chinese President Xi Jinping at the Great Hall of the People.
China and Sri Lanka are both heirs to millennia of recorded history and grand civilizations. In 1952 – after Sri Lanka's independence in 1948, and the birth of the People's Republic of China in 1949 – the two countries formally signed the Trade Agreement on Rubber and Rice, without having established formal diplomatic relations. In the decades since, China and Sri Lanka have made great achievements in their cooperation in the areas of economy, politics and culture. 
Throughout the past 60 years, despite changes in the international community, China and Sri Lanka have been constantly mindful of one another's core interests and concerns. They are good neighbors, friends, and partners. As Ambassador Kodituwakku remarked, "Successive Sri Lankan governments have pursued friendly policies towards China, regarding China as a reliable and sincere friend. This mutual political acknowledgement is essential, and lays the fundamental basis for our further cooperation on trade and economy."
Win-win Cooperation to Boost Free Trade
China is now the world's second largest economy, while Sri Lanka remains the "Pearl of the Indian Ocean." The countries' respective economies are highly complementary.
Ambassador Kodituwakku was upbeat about bilateral trade achievements, "China has kept close ties with Sri Lanka for centuries, and made crucial contributions to its modernization." China is indeed the biggest investor in Sri Lankan real estate and infrastructure, having embarked on large-scale projects involving high-speed railways, ports, and energy.
"To deepen our trade cooperation, both leaders advocated signing the China-Sri Lanka Free Trade Agreement." Ambassador Kodituwakku revealed that the fifth round of negotiations had been completed without a hitch, and that the final agreement is expected to be inked by year end.
Sri Lanka, located along the 21st Century Maritime Silk Road, is a strategic hub linking Africa and Asia. Outbound trade is a main feature of Sri Lanka's economic development, and China is one of its biggest global trading markets. Therefore, the China-Sri Lanka Free Trade Agreement will become a major driver of Sri Lanka's export of high value-added products.
Vibrant Maritime Silk Road
When talking about the Chinese government's initial proposal of the Belt and Road Initiative in 2013, Ambassador Kodituwakku commented, "Since ancient times, Sri Lanka has been a vital transportation hub on the Maritime Silk Road. The new initiative revitalizes Sri Lanka and other developing countries."
Ambassador Kodituwakku said that, having agreed to this initiative, the Sri Lankan government had, moreover, "actually, benefited from it, as it has greatly promoted our trade and investment advantages, and attracted more international investors."
"The proposal has brought abundant investments from Chinese enterprises," Ambassador Kodituwakku said, adding that they range from tourism, to trade in agricultural products, food processing, infrastructure, energy, and telecommunications. Chinese companies' leading technology both compensates for Sri Lanka's disadvantages in that respect and enhances its environmental protection and resource utilization in a far-sighted way.
"Supporting facilities will create more beneficial conditions for building an international logistics and trade hub, and create more opportunities for an export-oriented economy," Ambassador Kodituwakku said.
Taking the port cities of Colombo and Hambantota as examples, the ambassador observed that China and Sri Lanka have made great endeavors to promote the ports' economic development and infrastructure construction. 
"Colombo, a 400-year-old port city, now has one of the world biggest artificial harbors, and is an intermediate port on the global navigation route to the Eurasian Continent, the Pacific Ocean, and the Indian Ocean." Ambassador Kodituwakku told the reporter that, apart from the construction of the port city, many Chinese enterprises and banks have also invested in Hambantota. "Sri Lankan Prime Minister Ranil Wickremesinghe and Chinese Ambassador to Sri Lanka Yi Xianliang jointly witnessed the historical ground-breaking ceremony of the newly established China-Sri Lanka Industrial Park. In the coming years, the industrial park will create 100,000 job opportunities and generate around US $5 billion."
Mutual Learning Promotes People-to-People Exchanges
Since taking up his post in China, Ambassador Kodituwakku has visited various cities, municipalities and provinces, including Beijing, Tianjin, Hebei, Yunnan, and Guangzhou, as well as Hong Kong SAR, all of which impressed him with their vibrancy and vitality. China's distinct cultural customs, as well as achievements in various areas, have all left him deep impressions.
"Some 30 years ago, Shenzhen was still a small fishing village, but it is now one of the most prosperous cities in the world," Ambassador Kodituwakku said. He concluded, "The Chinese government's economic reforms have helped millions of people escape poverty. And China's achievements, in contrast to those of the Western market economy, also benefit others. They showcase economic development with Chinese characteristics."
Ambassador Kodituwakku hoped that the anniversary celebration activities, including exchanges of touring theatrical troupes, photo exhibitions, movies, and student and cultural exchanges, might enhance understanding between the two peoples, and deepen their traditional friendship, as well as promoting mutual learning to create sustainable development.
Statistics from the Sri Lanka Tourism Promotion Bureau show that Chinese people made 270,000 travels to Sri Lanka in 2016, a volume second only to India, its much larger neighbor. Director of the bureau's China department said that Sri Lanka does its utmost to fulfill the expectations of Chinese tourists. During the seven-day Chinese New Year vacation, large numbers of Chinese tourists traveled to Sri Lanka to luxuriate on its sunny beaches and admire its castles and tea plantations.
Sri Lankan Airlines now has direct routes from Beijing, Shanghai, Guangzhou, Kunming, and Hong Kong to Sri Lanka. In 2015, Air China also launched direct flights from Chengdu, making a total of six Chinese cities now offering direct flights to Sri Lanka.
"We aim to bring the number of visits made by overseas tourists to 2.5 million in 2017, 25 percent of them from China." Ambassador Kodituwakku revealed that tourism promotion activities will be held in Shenzhen this year in efforts to attract more Chinese tourists to Sri Lanka.
Services