Peter D. Harper's First Music Tour in China
By staff reporter DENG DI
SINGER-SONGWRITER Peter D. Harper is an Australian-American who now lives in Detroit, U.S. He has a band called Harper and Midwest Kind, whose album Show Your Love (2016) remained in the Billboard Top 10 for six consecutive months. Their music has won numerous awards in the U.S., U.K., Canada and Australia.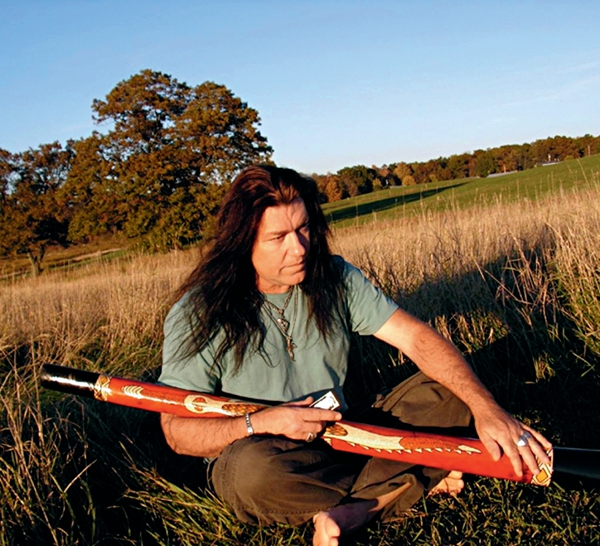 Harper and his didgeridoo.
At the invitation of his friend and music promoter Eric de Fonteney who is now settled in China, Harper and his band journeyed east to play their first China shows. In March, when spring had just begun and the north of China was still cold, Harper and his band arrived in Beijing, and then went all the way down the country on a 12-day tour.
Amazing Experience
 "It's really an amazing experience!" Speaking of his first tour in China, Harper did not hesitate to praise it.
"This was my very first tour to China. I really didn't know what to expect. I knew the country would be very advanced, but nothing prepared me for the amazing Chinese railway system." The country's high-speed railway extends in all directions from north to south, from east to west, linking almost all big and medium-sized cities. Harper was so amazed, calling it "really superb, very fast and efficient!"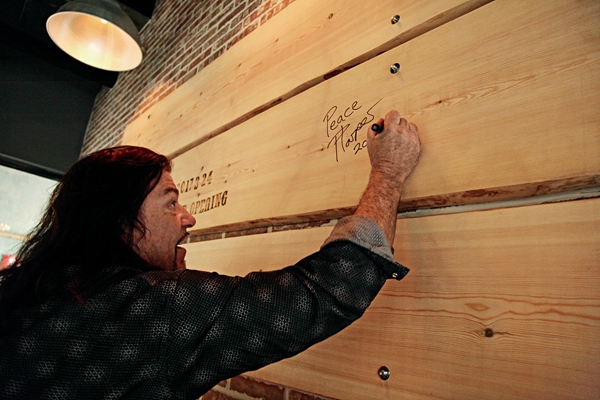 Harper signs his name on a wall of the Barn bar in Chaoyang District, Beijing on April 2, 2017.
Harper and Midwest Kind made their debut at the Communication University of China (CUC) in Beijing. Then they went to Tianjin and Shijiazhuang, two other cities in northern China, after which they went down south to two more metropolises, Wuhan and Shanghai. At the end of the tour they went back to Beijing and rounded off their tour at Temple Bar.
"Cities such as Beijing and Shanghai are very large and vibrant. Lots of great restaurants and music clubs. We all LOVED the food! The people were very friendly and very helpful. Since none of my band, including myself, could speak any Chinese, it was great to see so many people able to speak English well, and when they were not, they were also very good at sign language," he laughed.
Communicating with people through music has become a habit to people like Harper. To him, it's really memorable when he finds someone who understands and enjoys his music from deep inside.    
"Regarding the music industry I was really excited to see so many fans at our shows. All the clubs we performed at, such as DDC and Temple Bar in Beijing, Legendary Pearl in Shanghai and Vox in Wuhan, were a lot of fun. We saw great crowds and cooperated with excellent sound engineers. What I noticed most of all was that the Chinese people really love music and in particular my Australian indigenous instrument of the didgeridoo! This is really encouraging."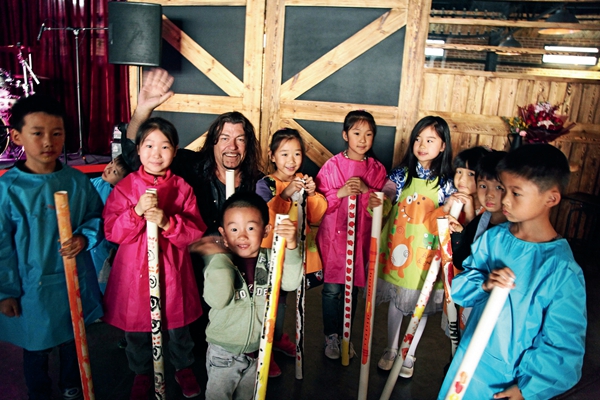 Children from the didgeridoo crafting & performance workshop in Beijing hold didgeridoos they made themselves, on April 2, 2017.
In addition to performing in clubs, Harper and his group also tried a new media approach, cooperating with two Chinese live-streaming music websites: yemalive.com and haibaotime.com. They were interviewed by the hosts of these online platforms and their performances were broadcasted to Internet users in real time. At present, China's live-streaming platforms are becoming increasingly popular with tens of millions of web users. This time, with these new publicity methods, more and more music lovers could watch their performances.
Passion for Australian Indigenous Music
A unique charm has been added to their performance with Harper's playing of the didgeridoo. The instrument, resembling a hollow tree trunk, is a wind instrument developed by indigenous Australians and is still in wide use. It is played with continuously vibrating lips and a special breathing technique (circular breathing), which will give listeners the sound of a trembling land.
Harper is pretty familiar with it, and while he lives away from Australia in the U.S., he is dedicated to introducing the sound of the didgeridoo to more people and incorporating the rich Australian culture it bears into the mainstream English music world.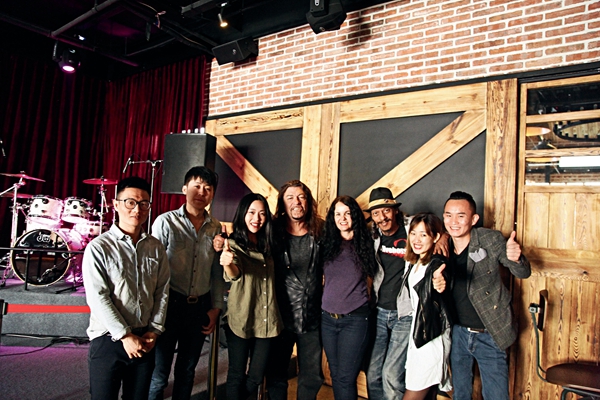 Harper and Midwest Kind meet Chinese music lovers during their visit.
 "I'm a promoter of didgeridoo, and enjoy playing it. I think it's really important to learn about ancient cultures in our modern life. I like to teach children about Australia and the didgeridoo. In my eyes, the best way to do this is to have a hands-on approach since kids will understand more about it when they put interest and time in it."
This time during his tour, Harper managed to squeeze in time to hold a one-day didgeridoo crafting & performance workshop at a bar in Chaoyang District, Beijing. He invited local parents and their kids to participate and have fun together. The workshop encouraged participants to create their own didgeridoos. They introduced Australian indigenous animals to kids and showed them how to paint water holes, animal tracks and Australian animals.
 "So I demonstrate the didgeridoo and show children how to make the instrument drone and make animal sounds. I teach about Australian aboriginal art and its relation to the land and its animals. I then ask the children to create their own artistic designs on didgeridoos made of PVC pipe. Once the paintings have been completed, the children are gathered in a circle and we all have a big jam on the didgeridoos. It's a lot of fun but also very educational."
In Harper's eyes, experiences give you memories. One of the best ways to learn about a totally strange culture is to have a "hands-on" experience. Australian culture has left its impression upon him; this impression has always inspired him to put new cultural elements into world music.
 Harper is also very fond of Chinese culture. "At present, I don't have a great deal of contact with Chinese musicians. I now live in Detroit, Michigan, USA. But I really don't look at race.  Either you are a good musician or you aren't, it really doesn't matter where you come from."
 "I'm Tired but Very Happy"
In retrospect, Harper said they noticed that except for the difference in language and food preference, Harper and his band all found China to be not that different from Europe or the U.S. China is very advanced, and the people are very friendly with a real love of music and life in general.
 "I could feel the love of Chinese music fans during our tour. I think my music and my band are very welcome in China. Now I am planning a return tour in April, 2018."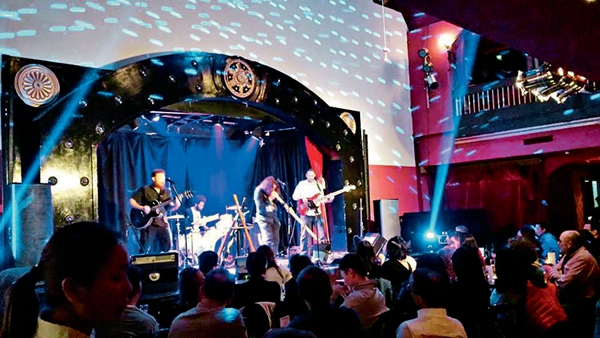 Harper and Midwest Kind perform at Pearl in Shanghai.
When asked if there was anything he regretted about this tour, he replied that he was too tired. Before each show, the band needed to do their rehearsals and interviews; during the show, they also need to be energetic to interact with fans. "I'm really too tired and don't have time to go out to see the cities. But I guess the lack of sleep is part of living the life of a musician. I think I'll have opportunities to come back again to have more personal experiences of this country."
Harper has loved blues and soul music since he was young as they are, in his own words, "honest, raw and from the heart." As he grew older, he explored other cultures and had more understanding of the differences, which makes him broad-minded and his music broad. His humanistic care for nature and humans constitute the most touching part of his music. He pursues love, peace and freedom with lyrics and hopes to influence people to make the place we live into a better one.
Karyn Albano from America's Modern Rock Review said this about Harper's pursuit: "Harper is an original, playing the harmonica like an authentic Chicago bluesman, singing about unity and love like a member of peacenik jam band, belting crisp vocals like a straight-up classic rock performer, and then pioneering the didgeridoo into these popular forms of modern music. Unique and quality music of this kind is truly a rare treat."
Services