Tips in Kunming
Yunnan cuisine is similar to that of neighboring Sichuan Province, but distinctive for incorporating ethnic specialty ingredients into Han dishes.  
Signature Yunnan dishes include Xuanwei Ham, Crossing the Bridge Rice Noodles, Steamed Pot Chicken, Yiliang Roast Duck, and also fare incorporating Netted Stinkhorn mushrooms and black fungus. These culinary delights are spicy and piquant, sweet and sour, highlighting the original flavor of their local ingredients.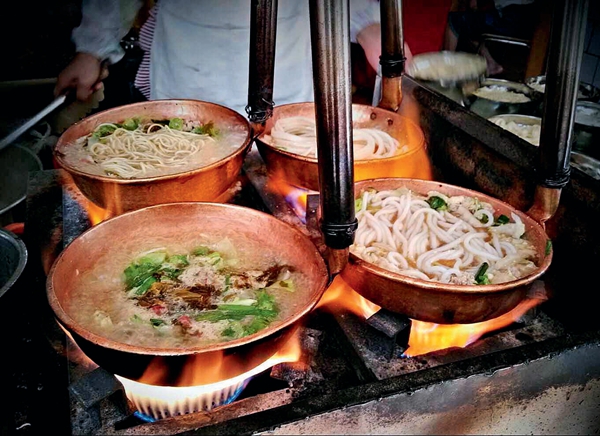 Xuanwei Ham originates in mountainous northeastern Yunnan, known for its lofty terrains and chilly weather. Its preparation, including seasoning, fermenting, and curing – starts every winter, and is not complete until the Dragon Boat Festival in early June the following year. Xuanwei ham features in various dishes, most popularly among locals when added to a clay pot stew.
Small Pot Rice Noodles is among Yunnan's broad array of rice noodle snacks. The rice is fermented, grounded, sifted, steamed, compressed and rinsed before being cut into fine, vermicelli-like strips. Small Pot Rice Noodle is a clay pot soup heated on charcoals to which rice noodles, meat and a choice of vegetables are added.
Yunnan Military Academy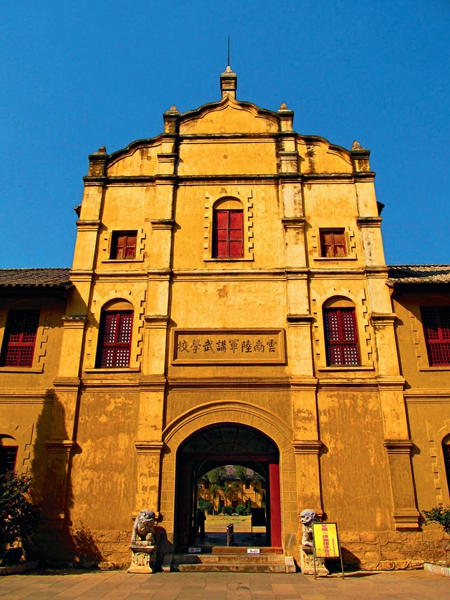 A military school famous in the history of modern China, the academy was founded in 1909, and was equal in importance to Tianjin's Beiyang Military Academy and the Fengtian (now Shenyang) Northeast Military Academy. After the Revolution of 1911, many of the students enrolled there joined the Yunnan Army and fought bravely in the ensuing civil wars. The PLA Commander-in-Chief Zhu De (1886-1976) graduated from here, and the academy also assisted Dr. Sun Yat-sen in his founding of the Huangpu Military Academy.
Transportation: Take Bus No. 139 to Cangyuanxiang Station.
Yunnan Railway Museum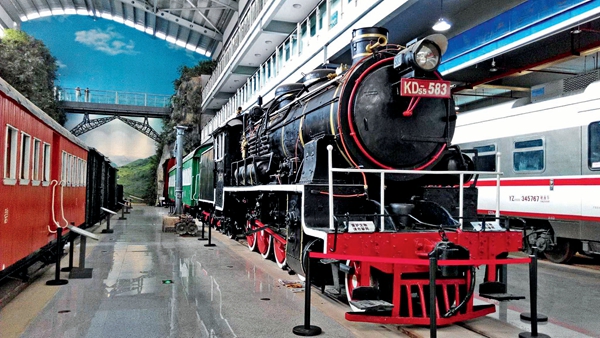 Formerly the waiting room of Kunming North Railway Station, it marks the starting point of the Kunming-Hekou Line, and showcases the history of Kunming's rail industry. This one-meter-wide gauge railway is the earliest and longest of its kind in China, and hence carries great historical significance. The museum has a floor space of 3,176 sq meters and houses 9,500 historical photos and documents.
Transportation: Take Subway Line 2 to North Railway Station.
Kunming World Horticultural Expo Garden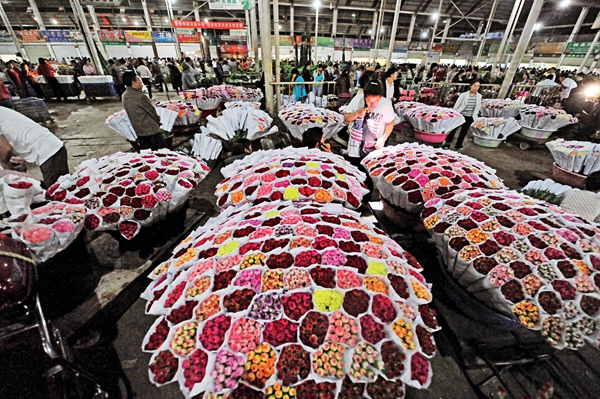 An exhibition base for the Kunming World Horticultural Expo, the garden is situated in Kunming's northeastern suburbs, six km from the city center. It showcases world horticultural glory. The Expo Garden consists of five pavilions, and six gardens with varied themes – bamboo, melons and fruits, herb, potted plants, trees, and tea. It also has three major outdoor exhibition areas: one devoted to the native flora of China, one to non-native species, and one to commercial horticulture.
Transportation: Take Bus No. 68 or 71 to the garden.
Dianchi Lake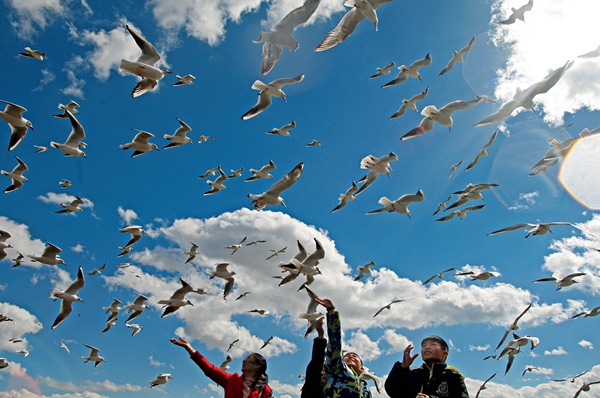 Also called Kunming Lake, Dianchi Lake is in southwestern Kunming, and covers an area of 330 sq km. It is the biggest freshwater lake in Yunnan Province, and nicknamed the Pearl of the Plateau. The result of an earthquake, Dianchi Lake is crescent-shaped. Each winter, tens of thousands of black-headed gulls roost here, and their swooping flight above the lake is a spectacular sight. There are several scenic spots near the lake, including Yunnan ethnic village, Yunnan Nationalities Museum, Huating Temple, and Taihua Temple.
Transportation: Take Bus No. 24, 44, or 73 to Haigeng Park.
Services