A Change in Mentality – China Explores New Paths to Poverty Eradication
By staff reporter VERENA MENZEL
WHAT does being "poor" actually mean, especially in a country like China where there is a growing gap between the incomes of the rich and poor? And how may China and other developing countries successfully overcome poverty in a long-term and sustainable way?
Poverty Is Relative
If you walk through the main gate of the small red-brick community where I live in west Beijing, you first pass the tiny bedsit belonging to the neighborhood caretaker, a man around the age of 45 who always greets me with a friendly nod.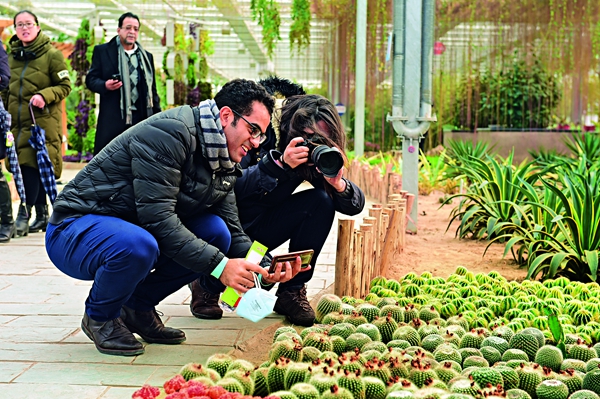 Nanhe Agricultural Carnival Project promotes agricultural research while serving as a tourist attraction.
The room he lives in is approximately eight square meters and is a living room and bedroom in one. Inside, there is just enough space for a bed, a small chest of drawers with a television on top and some personal effects. Summer or winter, the caretaker cooks outside on a small electric hotplate. He told me once that there was no heating inside his room and no bathroom either. When he needs to wash or go to the bathroom he has to take a short walk to the public toilets near the community rubbish dump.
I have just been out with friends near the Workers' Stadium. In the polished, meticulously designed atmosphere of the bars and clubs in this trendy neighborhood, children from wealthy families sip champagne while listening to house music and techno beats. Outside there is an endless parade of luxury cars: Porsche, Maserati, Ferrari, you name it – all custom made, of course. The really wealthy ones, I've heard, party in even more exclusive areas around the capital. 
 My neighborhood caretaker never goes to the Workers' Stadium, but he might say that he isn't doing too badly really, compared to people living in regions of China where the fruits of progress grow much more slowly.
Poverty is relative. According to international standards, a person qualifies as "absolutely poor" if he or she has only US $1.90 (purchasing power parity) or less to live on per day. "Relatively poor" is a person whose income is significantly lower than the medium income of the country as a whole.
Various forms of relative poverty are found almost everywhere on earth, while absolute poverty is almost exclusively a feature of developing and emerging countries. Absolute poverty means that the basic needs of everyday life, like clothing, food and accommodation, are insufficiently met or not met at all.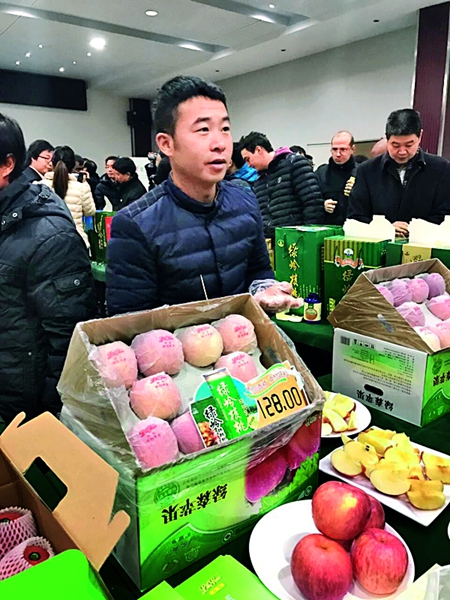 Lüling Manor brings organic agricultural products from local farms to the national market.
Since the process of reform and opening-up began at the end of the 1970s, China has achieved astonishing results in the fight against poverty. In 1981, 835 million Chinese – the vast majority of China's population at that time – lived in absolute poverty. By 2008 this figure had shrunk to 173 million, and by 2015, the figure had further decreased.
According to China's national standard for absolute poverty – which sets the boundary at an income of US $1.10 per day or below – there are 55.75 million poor people in China according to 2015 statistics, which is almost as large as the population of France.
These people earn less than RMB 2,855 a year (around 410 dollars). Middle-class people in large Chinese cities might easily spend this small sum on a single smartphone or a dozen meals at popular hotpot-chain Haidilao.
Regional Imbalances
For the duration of the 13th Five-Year Plan period (2016-2020), the Chinese government has put the fight against poverty at the top of its agenda. It has promised to lift all Chinese people out of poverty by 2020, especially those in rural areas.
To reach this goal, the Chinese government has designed a series of measures to better identify those in need and properly register them, analyzing the reasons behind existing poverty to improve the lives of poorer people in a targeted and sustainable way.
Since Xi Jinping took office, China's poverty eradication fund has seen an annual increase, even though China's economic growth has slowed down in recent years.
In 2015 alone the Chinese government invested RMB 46.7 billion in welfare measures: the highest amount China has ever spent on poverty alleviation.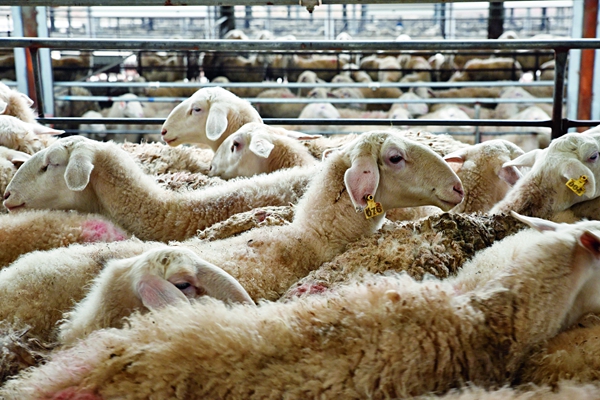 Hebei Runtao Husbandry Company helps local farmers supplement their incomes through sheep breeding.
Despite the enormous economic boom that China has experienced in recent years the country still faces many challenges in eradicating poverty. Not all Chinese citizens have been able to profit from the fruits of economic growth, and this is exactly what the country's leadership wants to change.
"In 2015, there were a total of 128,800 villages and 592 counties classed as 'poor' according to the national poverty standard," said Tan Weiping, vice director of Beijing Center for Poverty Eradication. "The problem is that we are seeing highly imbalanced development. There are huge differences, not only between the eastern regions and western and central China, but also between urban areas and the countryside. Even within bigger cities, there are vast differences in the distribution of wealth," he said.
If you look beyond the familiar horizons of China's major cities it becomes obvious just how big these differences actually are. This becomes clear when I take the high-speed train to the city of Xingtai in Hebei Province, around 400 km south of Beijing.
The concourse of Beijing Railway Station is crowded with hundreds of migrant workers carrying heavy bags. During the journey, the barren, ashen land unfolds outside the train window. Each step further away from the capital seems to turn back time. What is not commonly known is that here, just outside the gates of the huge metropolitan area which includes Beijing and Tianjin – one of the most important sites for development in China – lies one of the poorest regions in the entire country.
Hebei, a province of around 188,000 square km – roughly half the size of Germany – is home to more than 74 million people. Around 3.1 million of them (5.4 percent of the province's population) are classed as absolutely poor. Hebei has 45 poor counties. Some of the worst poverty-stricken areas can be found in Xingtai City, which is where I am going.      
Xingtai has a total population of around 7.3 million people, if you take the city center and all counties under it into account. Xingtai's proximity to the metropolitan region of Beijing-Tianjin is both a blessing and a curse. Xingtai had hoped to ride the wave of development of nearby major cities; however, reality is painting a different picture.
Many workers and talented young people are capitalizing on Beijing's economic development by migrating to the capital, lured by higher salaries and better career prospects. Those who stay behind are mainly old people, women and children.
Xingtai is experiencing the knock-on effects of environmental protection measures recently implemented by the Chinese government, which limit opportunities and slow down the growth of the region's traditional industries.
How will poor regions like Xingtai ever be able to catch up with more developed regions? This task is one of the biggest challenges facing the Chinese government today.
The problem is that financial aid and government subsidies alone are not enough to change the picture in the long run; at least this is what the experiences of other countries have shown so far.
Subsidies may help temporarily but they do not give poor people control over their own lives. Nor do they encourage poverty-stricken people to act on their own initiative – for example by trying to enter university – which would not only help lift them out of poverty but also improve the lives of future generations. 
Change Starts with Mentality
What is needed to turn the tide for poor people in Xingtai and elsewhere in China is a change in mentality. And this is exactly the direction indicated by recent government measures. However, in Xingtai these efforts are still very much in their infancy.
"When Deng Xiaoping implemented the reform and opening-up policy in 1978, the strategy was clear and widely accepted throughout the whole nation," Tan explained. At first, the planned efforts for promoting China's development concentrated only on the eastern and southeastern coastal regions, as they offered the best structural preconditions for rapid growth and prosperity.
The next step in the big picture on the government's drawing board is for regions in central and western parts of the country to gradually catch up with the eastern regions. This can be achieved with the support of the economic strength, resources and know-how gained by people, businesses, and government institutions during the first period of development.
"Today, this strategy is already being implemented through initiatives like '1,000 companies support 1,000 villages.' This project involves successful companies from eastern regions assisting poor villages in other regions with investments," said Dong Guoping, director of the Department for International Affairs at the State Council Information Office of China, and one of the organizers of my trip to Xingtai.
Here in south Hebei, the plan is to connect these essential factors. Financial aid plus government assistance and help from businesses and NGOs should go hand in hand with a change in mentality, driven by innovative concepts which actively involve poor people in the process of economic development.
An excellent example of how this two-pronged strategy has been implemented is the Agricultural Carnival Project in the county of Nanhe. Here, a huge greenhouse complex was built on an area of 47,000 square meters. It comprises six themed halls growing local fruits and vegetables, traditional medicinal herbs and other plants. This is a joint project between the local Nanhe County Jinyang Construction Investment Co., Ltd. and China Agricultural University in Beijing, which also designed the buildings. The greenhouse complex in Nanhe is the fourth of its kind nationwide.
The project not only promotes agricultural research, but also serves as a local tourist attraction offering an educational recreation space. Revenue comes not only from entrance fees but also from rental fees for using the halls as the backdrop for wedding photos.
But what exactly has this to do with poverty eradication? Besides creating new job opportunities for locals, the Nanhe Agricultural Carnival Project also inspires the entrepreneurial spirit of local farmers. In 2016, each farmer was given RMB 4,000 from the local fund towards poverty eradication.
"We offer farmers the opportunity to invest this sum of money in the Agricultural Carnival Project by allowing them to purchase shares in the project," a Carnival employee explained. "We sign a five-year contract with them and every year they receive a dividend of RMB 400, which is 10 percent of their investment." After five years the farmers then can decide whether they want to continue their investment or get their RMB 4,000 back. "This way, we encourage local people to think long-term and to invest their income in a profitable way, instead of spending it all in one go."
The project targets not only material poverty, but the whole "culture of poverty," a term coined by the American anthropologist Oscar Lewis in the 20th century. His theory states that in the process of poverty eradication one must change and overcome traditional patterns of thought and behavior within the poor communities. Otherwise the "culture of poverty" will simply be passed on to the next generation.
Two other key projects in the program for poverty eradication in Xingtai are working towards the same goal. Both of them are located in Lincheng County.
One is the recently established Hebei Runtao Husbandry Sci & Tech Co., Ltd. – a sheep breeding company which has been running since 2012. This project allows local farmers to become shareholders with the investment of a RMB 6000 subsidiary paid by the local government. Every year, shareholders receive an annual dividend of RMB 480. The company buys sheep fodder from local farmers for more than the common market price. In addition, the company has created new jobs for local people.
The next step is to provide training to local farmers in the field of sheep breeding, giving them the opportunity to start up as entrepreneurs in the sheep breeding industry.
Hebei Lüling Manor Co., Ltd. follows a similar approach. Since it started in 1999, the firm has become one of the leading producers of organic walnuts in China. Lüling Manor is also a company that ensures local farmers become part of its success story.
Today the firm grows walnuts in eight villages around Lincheng County. The company covers the whole production chain from research and development, through breeding and cultivation, to processing, online marketing and nationwide distribution. It currently employs over 8000 people, most of them locals.
"Some of the young people who migrated to the big cities have found their way back to Xingtai and are now working for us," said Gao Shengfu, founder and director of Lüling Manor. "These young professionals bring back up-to-date knowledge and valuable working experience and we offer them good opportunities for their personal development."
However, it is not just entrepreneurial success stories and share-holding models for local farmers that give poor people in Xingtai hope for the future. The government is also introducing groundbreaking methods of allocating funds.
These new means of support reach far beyond traditional forms of financial safeguarding, like health insurance or pensions. The municipal government of Xingtai, for example, has installed solar energy plants in all poor villages. These plants not only provide enough electricity to meet the villagers' needs, but also make a profit that is shared with the villagers, giving them long-term income support.
Through innovative measures like these, the local government managed to lift five million people out of poverty during the 12th Five-Year Plan period (2011-2015). By 2020 (the end of the 13th Five-Year Plan period) the government aims to make significant progress in this area and lift all people out of poverty.
American psychologist Martin Seligman once put forward the hypothesis that many people who live in poverty, whether they are from the Western world or developing countries, suffer from so-called "learned helplessness." Their circumstances and life experience confuse their way of thinking, perhaps making them feel that their personal decisions are irrelevant.
To break this vicious circle, capacity-building activities should be organized to enhance the overall knowledge of poor people and thus enable them to help themselves in the long term. This is exactly what Chinese government is now aiming for. Recent successes in China concerning these efforts have shown that a change in mentality is able to move mountains.
This mental shift might be crucial to overcoming the existing imbalance in development in China. However, this process of changing mentality does not concern the poor alone. A real change – and this is true for China as well as for the rest of the world – can only be made, if the same conditions for development are provided for all members of society.
For China, this means that results depend on the fulfillment of a promise made at the start of the period of reform and opening-up; a promise given by people in the more developed eastern and coastal regions to the people in the less developed central and western areas; and a promise to give a helping hand to these left-behind regions.
To achieve this goal, a change in mentality is necessary for everyone. People might then realize that coming from Beijing instead of Xingtai, or being born into a family of academics instead of coming from a working-class background is not something one should take for granted. It is necessary to realize that certain conditions go hand in hand with particular social responsibilities, no matter where you are in the world.
Services