Chinese Manufacturing Sector Rides Fourth Industrial Revolution Wave
By staff reporter ZHOU LIN
FACING the pressure of a downward global economy together with many other uncertainties, the question being asked is how a new drive for economic development can be provided. The eye-catching Fourth Industrial Revolution and "Made in China 2025" have become hot topics for the 2017 Boao Forum for Asia.
Equal Competition Among All Nations
Indeed during China's "two sessions" in March, the New York Times and the European Union Chamber of Commerce in China expressed the same concerns, worrying that the US $300 billion subsidies that "Made in China 2025" provided to 10 major domestic industries would wipe out foreign enterprises from the Chinese market.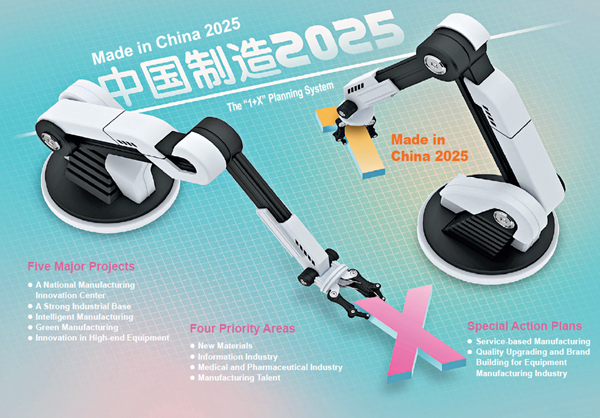 Last March, the World Economic Forum (WEF) and A.T. Kearney jointly published a white paper called "Shaping the Future of Production," the product of a wide-ranging investigation into various industries, leading research institutes, and non-governmental organizations in 25 countries.
According to the report, five major technologies – the Internet of Things, artificial intelligence (AI), advanced robotics, wearable devices, and 3D printing – will accelerate value creation. Manufacturing exerts an influential impact on the economic structure and employment at the international, regional, and national levels, and keeps a close relationship with environmental protection and sustainable development.
The white paper also noted that many nations and regions have recognized the importance of manufacturing and have launched their own plans in domestic industries. Representative strategies include the Industrial Internet Consortium established in the U.S., Germany's Industry 4.0, the EU's Factories of the Future Program, and Made in China 2025. Among them China's new plan will invest US $3 billion into the advanced manufacturing sector, and the EU's Factories of the Future Program will invest €7 billion.
"Never before has China been so close to the world's leading technologies," Li Daokui, dean of the Schwarzman College of Tsinghua University, wrote in an article.
Over the past decade, China's manufacturing has achieved remarkable progress in such fields as high-speed rail, construction equipment, telecommunications, and drones, all areas in which China has taken a firm lead. In the next five to 10 years, China is expected to make further breakthroughs in military and civilian aircraft engines and airliners.
Furthermore, the enormous size of China's market for vehicles, high-speed rail, power transmission and transformation, and power generation is projected to render the country an unprecedented advantage in the Fourth Industrial Revolution. A huge market means that China can set its own standards; and the standard setter usually takes priority in technical breakthroughs and industrialization. Also, the huge market is able to give birth to large-scale enterprises.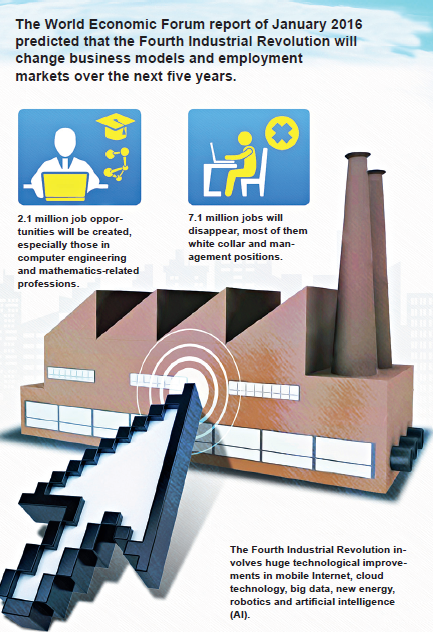 If we look back to the first three industrial revolutions, whether it was when James Watt invented steam engines in 1775 or the electrical revolution in the late 19th century, China always fell behind and suffered from a backward economy. Although the computer revolution, which started in the 1950s, awakened the Chinese, we could only catch up from the "rear section of the train."
In the era of the Fourth Industrial Revolution, however, China has the upper hand in the number of engineering professionals, market size, and momentum in economic growth. "Made in China 2025" aims to transform China from the so-called factory of the world into a high-end manufacturer. The 10-year action plan is expected to drive China's economy to develop at a medium to high speed, and more importantly, to raise the country's status in the global value chain.
Opportunities and Challenges for All
Justin Yifu Lin, professor and honorary dean of the National School of Development at Peking University, pointed out that "the Fourth Industrial Revolution will, like the previous three revolutions, expedite the development of productivity and materials, but also present challenges to individuals and the overall development of the economy, society, culture, and politics."
If we were asked to give a nickname to the Fourth Industrial Revolution, Volvo Group's Chief Sustainability Officer, Niklas Gustafsson, would call it a "Green Revolution," while the President of Guangzhou Automobile Group Co., Zeng Qinghong, prefers to call it an "Artificial Intelligence Revolution."
Against the backdrop of the new industrial revolution, the huge demand for intelligent manufacturing and low carbon development of intelligent technology will reform the modes of production and organization. Resource factors will be integrated, industrial chains reshuffled, and a new global industrial distribution formed in the wake of intelligent and green manufacturing.
"With the help of AI, nanotechnology, and robotic technologies," Niklas Gustafsson said, "the Fourth Industrial Revolution will lead human beings toward sustainable development – for instance, to solve the problem of traffic congestion in green and creative ways."
"Traditional manufacturing is now facing a great opportunity with intelligent manufacturing, but also some big challenges. Since the use of AI in automobile driving will lead to the decay of traditional industries, there is a risk of network security and competition between humans and AI," Zeng Qinghong predicted. "Another big challenge is a reduction in job opportunities. In the next five years, approximately seven million jobs will disappear owing to the application of AI and automation. "
Talking about the challenges new technology brings to traditional manufacturing, Niklas Gustafsson shared his thoughts. "Why do we carry out technology research? My understanding is because of connectivity. Humans play a leading role in society; therefore, robots and machines should all support people and link them together. In the future, we should link the economy, environment, society and people together in a sustainable way. And humans are definitely the key."
It is imperative, therefore, to build an innovative system in which people are able to develop innovative thoughts, so as to cope with the upcoming challenges, and to work out solutions in a fast manner. This is sustainable development and also creates mutual opportunities and challenges for all nations in the world.
Cooperative Innovation A Wise Choice
Throughout all these years of development, it is inevitable that China will elevate itself from the low end to medium and high end of industrial chains, and go global to embrace the international market. In today's market, everyone is dependent on one another.Chinese enterprises should cooperate with foreign companies to innovate.
On December 23, 2015, the State
Council of China approved the China-Germany (Shenyang) High-end Equipment Manufacturing Industrial Park Construction Plan. The park is the first strategic platform in terms of high-end equipment manufacturing cooperation, signifying the correlation between the two key programs, "Made in China 2025" and "German Industry 4.0."
This industrial park is located in Tiexi District of Shenyang, an old industrial city and capital of Liaoning Province. There are 482 enterprises above a designated size, over 100 transnational companies, and 50 companies listed in the world's Top 500. Some of Germany's best-known companies such as BMW and BASF have chosen to set up in the park. BMW has established an exclusive research and development center here with its most advanced vehicle factory and engine plant.
As part of the national strategy, the industrial park is expected to become a world-level equipment manufacturing cluster through deep cooperation with the German high-end manufacturing sector, renovating traditional industries with information technology, and picking up pace in this new type of industrialization.
Up till now, 35 programs are operating in the industrial park, while 74 are under construction. Among them, 10 programs are engaged in intelligent manufacturing, 14 in advanced machinery manufacturing, 30 in auto manufacturing, and 14 industrial services.
Intelligent manufacturing is the strength of the industrial park. Through intelligent simulation and sensing technologies, enterprises can incorporate individual operations with their orders, and are able to provide high value-added services to clients.
Golan Kwok, chief specialist of manufacturing of SAP, said that Chinese and German enterprises should make full use of the Fourth Industrial Revolution to accelerate the transformation from manufacturing into intelligent manufacturing. Zhang Tianjun, president of the European Company of Shenyang Machine Tool Co., Ltd., observed that turning traditional manufacturing technologies into intelligent operations through the Internet is at a crucial phase.
As Chinese Vice Premier Zhang Gaoli noted in his keynote speech at the 2017 Boao Forum for Asia, China will unswervingly persevere in its opening-up. China's gate is always open to the outside world, he reaffirmed, and the Chinese government will further optimize the investment environment for foreign businesses, lower the threshold for the service, manufacturing and mining industries, and encourage foreign investment enterprises to go for an initial public offering and issue bonds on China's domestic market. All domestic and foreign companies should be treated equally in terms of qualification licenses, standard settings, and government procurement, as well as enjoying preferential policies of "Made in China 2025."
Services