Forging a "Two-Wheel Drive" for Sino-U.S. Economic and Trade Relations
OVER the last 30 years, economy and trade have always been a stabilizer of the Sino-U.S. relationship. However, in recent years, differences between the two powers have increased and concerns are rising as to whether that stabilizer is still solid enough. Seen from the deeply interwoven bilateral ties in economy and trade, as well as the complementary statuses of the two countries in the global industrial chain, cooperation is indispensable for China and the U.S. in order to improve their economic structures and boost progress.
The "Make America Great Again" slogan espoused by U.S. President Donald Trump probably cannot be fully realized without China – a vast and vibrant market. Meanwhile, China has been striving to maintain and propel mutual benefits to achieve win-win outcomes. A "two-wheel drive" is needed to establish a new bilateral economic and trade relationship. Building mutual trust and respect is not only necessary for economic restructuring, but also facilitates a global economic rebalance and a sustainable development of bilateral economic and trade ties featuring equality and mutual benefits.    
U.S. Harvest from Bilateral Trade
China is America's third-largest export market in terms of commodities and services. Statistics released by Oxford Economics last January show that bilateral trade supports roughly 2.6 million jobs in the U.S. The export of Bombardier medium-sized business jets, Cessna aircraft, and Hawker and Beechcraft aircraft to China generated 14,000 jobs in Wichita, Kansas, accounting for more than six percent of local private sector employment. Additionally, over 31,000 positions at the Boeing Company in Seattle are involved with Chinese businesses, taking up more than two percent of local private sector employment. World-leading aircraft engines manufacturer Pratt & Whitney in East Hartford, Connecticut has indirectly created nearly four percent of local private sector employment by pursuing business with China. Among the purchasers of business services offered by the U.S., China's state-owned enterprises take the major part. Their demands account for around 40 percent of China's imports of business services from the U.S. while stimulating employment in such areas as Los Angeles, Seattle, New York, Cook and Harris, Illinois, and Houston, Texas. Furthermore, business with China has created about 85,000 jobs in high-tech clusters including Greater Boston (Suffolk County, Middlesex County, and Norfolk County) and Silicon Valley (Santa Clara County, San Francisco, and San Mateo County). More importantly, Chinese companies investing in the U.S. obey local labor laws and therefore do not provoke many labor disputes. Until 2015, Chinese enterprises had generated over 90,000 full-time positions across the U.S.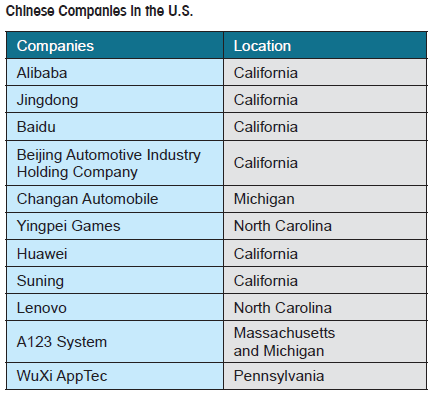 Furthermore, China has grown into a major impetus for U.S. technological innovation. Thanks to the considerable size of the consumer market in China, American trade products to China have been continuously upgraded. The vibrant and quick-changing market of China never lacks consumers who are passionate about new technological products. This encourages the U.S. manufacturers, who always focus on clients, to constantly launch new products while keeping on improving, based on market feedback.
The large amounts of suppliers and the size of the labor force, along with the relatively completed infrastructure for logistics in China have facilitated innovation from American manufacturers. Efficiency-driven innovative products are particularly on a fast rising learning curve. More efforts are being made to advance new manufacturing techniques while China's huge economy continues to benefit this sector.
Innovation clusters and favorable policies on intellectual property in the U.S. are attractive to investors from China. To some extent, Chinese companies have become key contributors to American innovative development. China's leading e-commerce platforms Alibaba (cloud computing service) and Jingdong have established their data centers and research centers in Santa Clara, California. What's more, Baidu, China's search-engine giant, has also opened its artificial-intelligence lab in California. Meanwhile, the Beijing Automotive Industry Holding Company has set up a research and development (R&D) center in Fremont, California.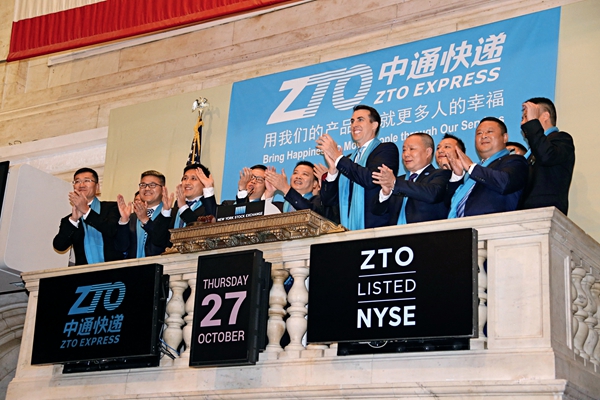 China's ZTO Express began trading on the New York Stock Exchange on October 27, 2016, making it the biggest Chinese company IPO in the U.S. since Alibaba in 2014.
On the other hand, the two countries benefit from their highly complementary trade relationship. For China, consumer goods make up the major part of its exports to the U.S. Today's Chinese suppliers reposition their goods in the market instead of simply relying on a price advantage, giving themselves such strengths as fast turnover, good infrastructure, and prompt market response. American consumers have always benefited from China's capacity to provide a good variety of commodities at lower prices.  
Plant products account for 11 percent of U.S. exports to China. Take soybean for example. In the crop growing season of 2016 to 2017, it is estimated that China will import 86 million tons of soybeans, 30 million of which will be from the U.S. Business involving soybean exports has generated more than 10 percent of employment in Mississippi, Missouri, Tennessee, and Arkansas.
Trade in services with China, a particular strength of the U.S., has generated a large net income. Statistics from the U.S. Department of Commerce reveal that bilateral trade in services reached US $63.55 billion in 2015, US $48.4 billion of which was made from U.S. exports to China. What's more, the increasing number of China's investors has established a closer connection between American manufacturers and the Chinese market and has stimulated exports of commodities that are made in the U.S. to further balance bilateral trade. For instance, methyl alcohol produced by the plant of China's Yuhuang Chemical Co., Ltd. in Louisiana is mainly exported to China.        
China's Potential in Bilateral Trade Cooperation
Despite the tendency of protectionism in the U.S. and rising concerns and disturbances regarding China-U.S. trade relations, the U.S. public is not opposed to free trade. But why is it that last year's presidential election seemed to reflect people's support for anti-globalization? The reason lies in such swing states as Michigan, Ohio, and Pennsylvania which are long-standing manufacturing industry bases. Local residents are dubious about international trade as their local automobile industries are seriously challenged by imports. This gives an excuse to some politicians to adopt a reserved attitude to free trade or even to call for a boycott. However, it is not a genuine expression of public opinion. According to a Gallup poll, 58 percent of Americans saw international trade as an opportunity for U.S. economic growth in a survey in February 2016 while 34 percent considered international trade a threat to the economy. From 2013, the positive viewpoint on international trade began to prevail compared to the 1990s. The result is shared in a survey jointly carried out by the National Broadcasting Company and The Wall Street Journal in July 2016.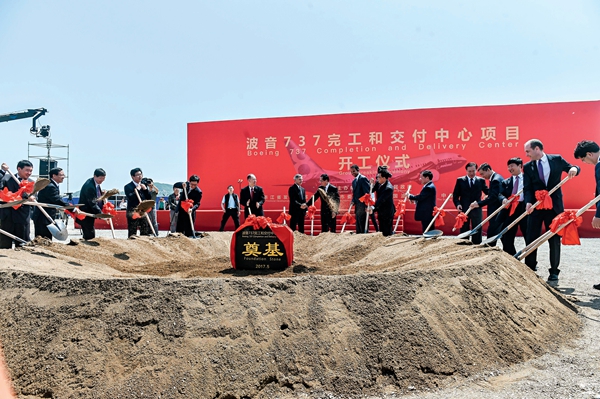 The groundbreaking ceremony for the Boeing 737 Completion and Delivery Center at Zhujiajian aviation industry park in Zhejiang Province took place on May 11, 2017. The center will be Boeing's first overseas facility.
President Trump pledges tougher policies which aim to stimulate economic growth and employment, rather than a disruptive trade war. China's trade and investment with the U.S. have been playing an active role in boosting the economy and creating jobs. The contribution Chinese companies make in employment will be helpful to fulfil Trump's promise of generating 25 million jobs and will give a positive impression to key senators. Meantime, it is advisable for Chinese companies to avoid touching the raw nerve of some American groups or causing a revival of anti-Chinese forces to relieve the complexity in bilateral trade relations.  
China continues to encourage enterprises to venture into greenfield investments which are favored by American officials and investment organizations. It is expected to generate considerable numbers of jobs as the Trump administration lays stress on traditional manufacturing industries. According to Rhodium Group, Chinese spending on U.S. greenfield projects increased rapidly in 2015 and has outpaced M&A growth. Investment totaled US $1.8 billion in 2015, representing an increase of 34 percent from 2014 levels, and a doubling of that in 2013. Greenfield investment boasts the advantages of rapid implementation and a long-term impetus to the local economy. Tourism and the hotel industry in the U.S. are believed to have the strongest investment potential in view of the increasing interest in overseas travel of the rising Chinese middle class. Chinese companies may consider more investment in these two industries. Hotels, golf courses, tourism logistics, film productions, auto racing, comic books, Texas Hold'em Poker, and endurance exercises are promising projects in this regard.
In his election campaign, Trump vowed to advance the country's infrastructure. In the constructions of railways, harbors, and expressways, Chinese enterprises have advantages both in technology and capital. Successful projects have been made by Chinese construction companies in the U.S. Hence, they may better seize the opportunity offered by Trump's infrastructure plan if they could carry out more cooperation with American companies, purchase more American commodities, and employ more local people.
Fully tapping the potential of bilateral trade will certainly bring mutual benefits. China has always attached importance to trading agricultural products with the United States. Former Premier Wen Jiabao frequently stressed the significance of China's market to American agricultural interests groups. In American political circles, their roles can never be ignored as they are influential in congress. The Republicans pay gret attention to the interests of ranchers in central and western parts of the country. These groups are expected to play an active role in stabilizing and advancing bilateral economic ties. Besides, against the backdrop of petroleum consumption shrinking around the world, China, still in need of large amounts of petroleum, is a sought-after market for oil producing countries. The shale gas revolution has facilitated the U.S. to become a supply center for new energy. Meanwhile, Trump's administration has loosened policies on exploiting traditional energy sources including petroleum, natural gas, and coal, which will expand the country's energy output. Energy cooperation between China and the U.S. will become a new highlight. Enhancing trade in petroleum and natural gas to a higher level, the two sides are expected to increase trade volumes and relax the competitive bilateral relationship. On top of that, it will stimulate China to take part in bidding for petrol and gas projects in the U.S. while facilitating the two parties' energy cooperation in a third country.  
MA XUE is a research associate at the Institute of American Studies with the China Institute of Contemporary International Relations.  
Services