Traditional Culture Nurtures and Broadens Horizons
By staff reporter JIAO FENG
THE Zhenquyuan Museum of Intangible Cultural Heritage is located in Beijing's Zhaodengyu School. Green bamboo flanks its old-style "moon gate" – a circular opening in a garden wall, and a pebble path leads to the exhibition hall. A small craft studio occupies the outer section, and at its core is an exhibition space for the traditional handicrafts on display. Students often spend their lunch breaks looking at these works which acquaint them with the workmanship of China's various custodians of intangible cultural heritage.
Xu Wei, the school principal, sees the museum as a platform for students' deeper understanding of Chinese history and traditional Chinese culture.
Interest Educates
Sadly, this array of intangible cultural heritage has evolved from folk handicrafts that bear little relevance to contemporary urban life. Seventh grader Xun Zhichao is a Beijing native. But she admits to having had complete ignorance of traditional local handicrafts before the museum opened.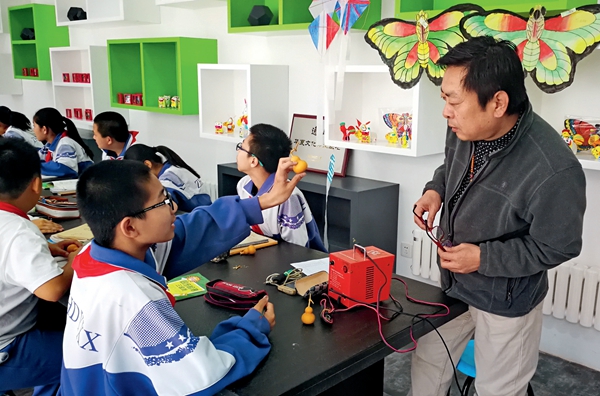 Handicraft custodians are invited to give weekly lectures designed to interest students.
"Now I can see and even touch these skillfully crafted items. I particularly like the hairy monkey toys. Their delicate workmanship is fascinating." Hairy monkeys are made of cicada slough and magnolia buds. They are positioned in scenarios representative of street culture and social conventions. "We have courses on intangible cultural heritage at school, and I immediately signed up for the one on how to make hairy monkeys," Xun said.
Xu Xiaoxiao, the advisor on the school's intangible cultural heritage programs, spoke of the extracurricular craft courses that include seal cutting, new-year woodblock printing, gourd pyrography, and making kites, clay rabbits, and hairy monkeys. Handicraft custodians are invited to give weekly lectures designed to interested students.
After a six-class program, Xun can now fashion simple hairy monkeys. "My grandfather is thrilled, because they remind him of his childhood," Xun said. "The teacher also gives us background information. I now know the four Chinese herbs that are among the materials needed to make hairy monkeys and also that their history goes back hundreds of years – longer than that of some countries." Xun has since signed up for the clay rabbit-making class. When she becomes adept she can present another gift to delight her grandfather.
The people of a country should be well versed in its history and culture. "It requires only the kindling of students' interest for them to become keen to learn," Xu Wei said. "We aim to provide a base that helps them discover what truly interests them. If they desire to learn more, we can help them to pursue their interest. But this is entirely up to them, because craft classes are optional."
Growing with Confidence
Zhang Ai is a student leader in the school's seventh grade. She speaks clearly and succinctly, and excels at giving presentations. She started dancing and singing classes in the first grade and studied Peking Opera in Grade Four. She is, along with certain fellow students, in the school's Peking Opera group. In 2014 the group performed in France at the 50th anniversary celebration of diplomatic ties between China and France. A student leader usually helps teachers organize various activities. In addition to being busy with her studies, therefore, Zhang is also active in other ways at school. But she doesn't find extracurricular activities any hardship. "I thought of studying Peking Opera as an enlargement of my hobbies. Performing on stage has taught me to keep a cool head when facing challenges, and has helped my confidence when handling complicated problems," Zhang said.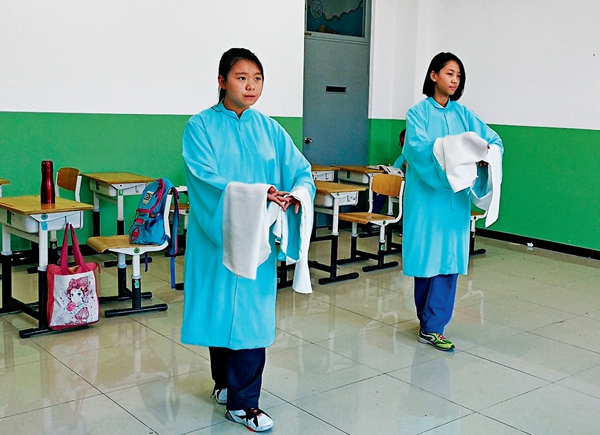 Professionals from Beijing Jingju Theater Company not only teach artistry to students in the Peking Opera group, but also impress the children with their hard-working attitude.
Xu Yifei is one year Zhang's junior. But she has been a member of the Peking Opera group for more than two years, and taken part in more performances than Zhang. "I was terrified of making mistakes at first, but not anymore," Xu said. "I want to display myself to perfection on the stage or in front of a camera." Stardom has always been her dream. Traditional Chinese opera has given her the confidence to pursue it.
Zhao Changfu, a director of the principal's office, is in charge of the school's extracurricular activities. She spoke of one of her students, a girl whose academic performance seemed below her potential. Behind in her class, the student suffered from low esteem and was withdrawn. She had a good singing voice and joined the Peking Opera group in Grade Seven. After just two years she became a competent performer within the group. Memorizing lines – a staple requirement of this art form – greatly enhanced her memory and so improved her studying aptitude. She made such excellent progress that she eventually joined a professional troupe.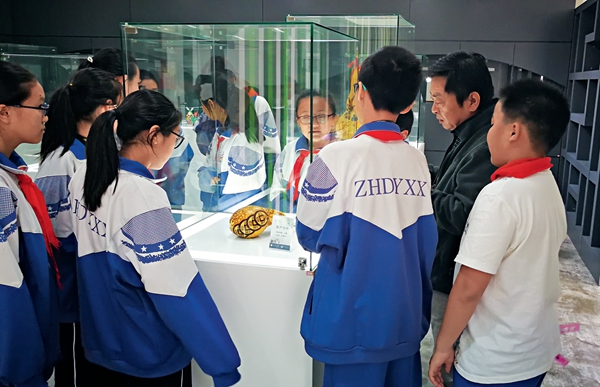 Zhenquyuan Museum of Intangible Cultural Heritage serves as a platform for students' deeper understanding of Chinese history and traditional Chinese culture.
"Exams are not the sole criterion for evaluating a student's capabilities. Everyone has their strong points and should be encouraged to bring them into full play," Zhao said. "Each child is a good seed. As teachers, we must plant them in the appropriate soil." She pointed to pictures students had drawn hanging on the corridor walls, and the calligraphic couplets they had painted on classroom and office doors, saying, "All of us need approbation as well as a platform to present ourselves. For a student, drawing or calligraphy achievements are no less significant than outstanding academic performances, and equally worthy of pride and commendation."
Incremental Influence
Zhaodengyu School currently offers more than 10 extracurricular programs. They include not only traditional Chinese culture, but also pursuits that range from flower arranging to sports. "In my opinion, schools should create a greater scope of choice for students," Principal Xu Wei said. Today students in Zhaodengyu School are exposed to traditional Chinese culture through the use of media that includes exhibitions, videos, and lectures.
Zhenquyuan Museum represents the fruits of the collaboration the school has with the No. 93 Courtyard Museum. Dedicated to passing down Beijing's intangible cultural heritage and folk art, the museum helps the school devise relevant courses and software, and invites cultural custodians to give handicraft classes. According to its curator Lin Yi, they hope more children will be able to perceive the culture embodied in craftsmanship instead of simply learning these skills. "Each type of handicraft showcases the history and lifestyle of a particular period. These memories are the most valuable aspect. For children, learning time-honored workmanship brings the same joy as playing, and interest in traditional culture can be cultivated in the midst of leisure pursuits. This is incremental influence," Lin said.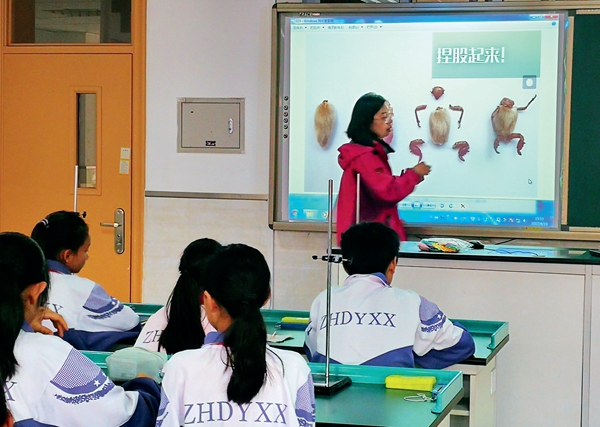 The traditional method of making hairy monkeys is taught on an extracurricular craft course. Photos by Jiao Feng
Zhao Changfu considers cooperating with professional organizations to be a way of strengthening education. "After all, a school's resources are limited. Therefore, cooperation benefits both the school and its students," Zhao said. "Another example is the collaboration between the school's Peking Opera group and the Beijing Jingju Theater Company. Professionals from the company not only teach artistry, but also provide the venue, costumes, makeup and the other necessities that enable our students to give performances."
Zhao emphasized how popular the school's extracurricular programs are among students. Each student, on a first-come-first-served basis, may sign up for two courses. "Interest is their sole motivation for attending these classes," Zhao said. "This is the pleasure of acquiring knowledge without pressure. As they grow and learn, they will better understand the significance of cultural inheritance." Zhao raised the example of performers from the Beijing Jingju Theater Company. "They are always on time when coming to give classes to our students. Some are respected artists. If they arrive ahead of the scheduled time, they practice acting techniques while waiting for the students. Their hard-working attitude helps students understand that success is borne of diligence and unremitting efforts."
The school principal agrees. Xu Wei understands that traditional Chinese culture might be too abstract and deep for primary and middle school students to appreciate. "But we do not intend to train professionals in this field, and nor do we require the students to reach certain levels. We simply provide opportunities for them to experience the enjoyment that traditional culture brings. They can at the same time learn to appreciate beauty in all aspects of life. I believe fulfillment in this sense can be deemed success," Xu concluded.
Services