Beijing – Heart & Soul of Old and New China
WE were shocked five years ago when our eldest son, Shannon, who had lived in Xiamen most of his life, moved with his Xiamenese wife Miki to Beijing. But we couldn't really blame him. We too have fallen in love with this 3,000-year-old city that is the heart and soul of both old and new China.
We first visited Beijing in 1992 but didn't really explore the city until the summer of 1994, when we drove through Beijing on our 40,000 km trip to Tibet and back. The Xiamen to Beijing leg took 10 exhausting days. Today, it's only a two-day drive or a three-hour flight which puts Beijing right in our backyard.
Even after dozens of visits, sometimes for weeks at a time, we've yet to run out of places to explore. Beijing has one of the world's greatest concentrations of historic and cultural attractions, including six UNESCO World Heritage Sites.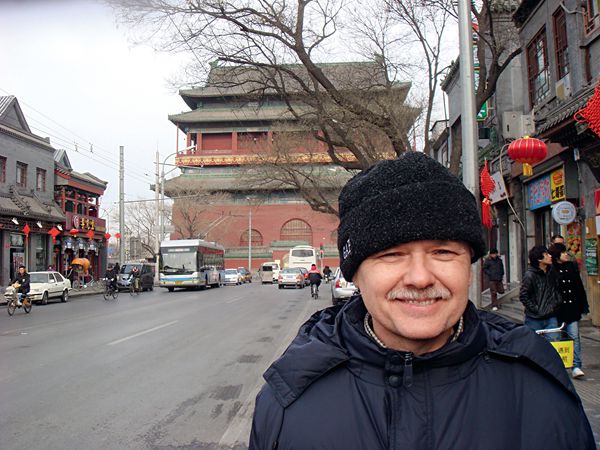 Bill Brown against the backdrop of Beijing's Drum Tower.
Our favorite, of course, is the Great Wall. It is said that you're not a true Chinese man until you've climbed the Great Wall. If that's true, I'm more Chinese than most locals because I drove either across or through the Wall a dozen times on our trip west. Each time I thought I'd seen it for the last time, the Wall reared up, slinking like a serpent across mountains and deserts until petering out in the lonely wasteland of Gansu's Jiayu Pass (Jiayu Guan).
In addition to iconic sites such as the Forbidden City, Temple of Heaven, and Tian'anmen Square, Beijing has almost 150 galleries and museums, but who needs the latter when Beijing itself is a gigantic open-air museum? I could spend weeks just exploring the 1,463 hectare historical buffer zone around the Forbidden City. My favorite sites include Imperial College (Guozijian) Street, the classic courtyards and hutong, and the 800-meter-long, 800-year-old Southern Drum and Bell Lane (Nanluogu Xiang). In 2008, Time magazine rated the lane as one of Asia's Top 25 must-see sites.
With more than 21 million people crammed into a city that has so much history, Beijing must be creative in balancing modernization with protection of both cultural and natural heritage. For example, Beijing's Dongcheng District has 2,476 protected ancient trees, as well as tens of thousands planted by volunteers. I specially love the white ash, painted maple, Japanese Pagoda trees (which are native to China and Korea but not Japan), and gingko trees. I was surprised to read that gingko helps the memory, but I can't remember where.
After greening every inch of land, Beijing went vertical, with rooftop gardens and lush vines on buildings, overpasses and pedestrian crossings. This widespread greening and protection of both cultural and natural heritage gives Beijing a unique beauty which changes with each season.
In the summer, we enjoy Beijing Zoo and its giant pandas, roller skating, and flying kites in the parks and listening to retirees sing Beijing Opera and play the erhu (an ancient Chinese string instrument). The erhu only has two strings instead of the violin's four, but after hearing one played, I realized two more strings would be superfluous – like "painting feet on a snake," as the Chinese put it.
My sons and I enjoy Beijing Opera, with its singing, dancing and stylized combat, and we won the "Best Singing Family" trophy in a BJTV opera competition. Friends in Xiamen were immensely proud until I told them we were the only family that had competed, but one friend laughed, "You scared off the competition!"
Bill Brown and his sons with their "Best Singing Family" trophies.
In 2022, Beijing will become the first city to have hosted both the Summer and Winter Olympics, which is not surprising. The city is as much fun in winter as in summer. We especially enjoy skating and sledding on its frozen lakes, and thawing out by huddling around a steaming hot pot full of veggies and paper-thin slices of frozen beef and mutton – though our favorite dish, year-round, is Beijing Roast Duck.
In 1330, Beijing duck was recorded in a cookbook by Hu Sihui, the imperial doctor, and in 1416, the Bianyifang Restaurant began serving Beijing duck and chicken. Today, the Xianyukou Bianyifang Restaurant claims to be descended from the original, but they face stiff competition from the newcomer Quanjude, which opened in 1864.
Beijing Roast Duck is like a Chinese taquito, with its meat and crispy skin, shredded cucumbers, scallions and a dab of sauce rolled in a thin, crepe-like wrapper. And happily for us, Beijing Roast Duck is now served all over China as well as abroad – though nothing beats the ambience of authentic Beijing Duck in the eponymous capital.
While on the subject of food, my favorite breakfast is jianbing. I love Chinese food, but not three times a day. For breakfast, I crave the familiarity of coffee, toast and eggs – unless I'm in Beijing. Jianbing, which originated 2,000 years ago in Shandong, is inexpensive, tasty and never precooked. Each jianbing is made to order on the spot – a large crpe with eggs, a crispy cracker, cilantro, green onions, and my choice of sauces (I prefer spicy) and jams. The unique mix of flavors and textures is so addictive that jianbing is catching on overseas as well. If I ever find authentic jianbing in Xiamen, I'll probably gain 20 pounds from breakfasts alone.
Our sons love Chinese food (they grew up on it), but they were happy to try some of the many foreign cuisines in Beijing – and delighted that Beijingers eat ice cream even in the dead of winter. When I told them that Chinese invented ice cream, Shannon laughed. "You say Chinese invented everything, Dad!" But maybe Matt, our younger son, does believe that. When we visited the U.S. in 1995, he asked, "Dad, does America have KFC?"
Although Sue and I would prefer that Shannon still lived in Xiamen, we see why he loves Beijing. But he'd better get a larger apartment because when I retire he'll have lots of visits from his venerable Beijing-loving parents!  
DR. BILL BROWN is a professor at the Xiamen University MBA Center and Academic Director of its OneMBA program.
Services