China and Mauritius: An Enduring Friendship
By staff reporter LU RUCAI
THE China-Mauritius relationship is moving ahead in a stable manner," said Chinese Ambassador to Mauritius Li Li during an exclusive interview with China Today. This year marks the 45th anniversary of the establishment of China-Mauritius diplomatic relations, which is an important occasion for both countries. "We should review the history, share the benefits of development, and look forward to the future to explore more opportunities," the ambassador stressed.
Since the establishment of diplomatic relations on April 15, 1972, bilateral relations have seen smooth sailing. Today China is Mauritius's second largest trade partner and Mauritius is now a popular African destination for Chinese tourists. Li Li explained that Mauritius enjoys a superior location as it is situated in the main shipping channel of the Indian Ocean, and will play a key role in the implementation of the Belt and Road Initiative. The government of Mauritius has always emphasized that Mauritius should serve as a bridge to connect Asia and Africa. Li believes that the government of Mauritius is willing to further support the Belt and Road Initiative.
Promoting Economic and Trade Cooperation
Mauritius, as an island nation in Africa, features a relatively developed economy and is very different from the stereotype that most Chinese people have of African countries. Mark Twain wrote: "Mauritius was made first and then heaven; and heaven was copied after Mauritius." This nation has become very attractive to Chinese tourists. Since 2013 when China and Mauritius signed an agreement on mutual visa exemption, the number of trips made by Chinese tourists has grown from less than 10,000 to nearly 100,000 per year. Now Air Mauritius has launched several direct flights to Mauritius from a number of major Chinese cities such as Hong Kong, Shanghai, Beijing, Shenzhen, Chengdu, and Guangzhou.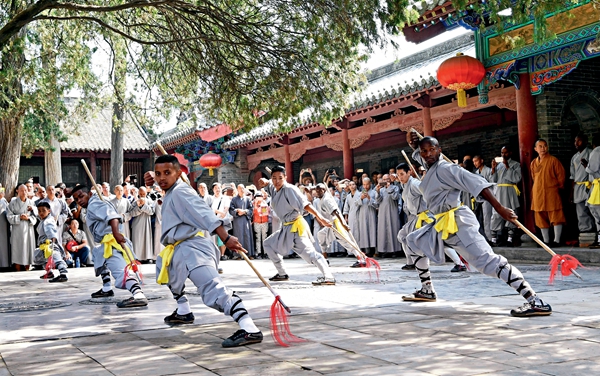 A group of apprentices from the Republic of Congo and the Republic of Mauritius put on a Shaolin Kung Fu performance on September 23, 2016, after finishing their three-month training at the Shaolin Temple in Fengdeng, Henan Province.
Cooperation in economy, trade, and technology also continues to develop at the same fast pace. The two governments signed agreements on tax, economic and technological cooperation and established the Sino-Mauritian Joint Commission on Economic, Technical and Trade Cooperation in 1983, in a bid to explore more potential for cooperation and solve the problems they encountered during the process. In 2016, the total trade volume between China and Mauritius hit US $778 million, with exports from China reaching US $759 million. Faced with the problem of trade deficit, Lee Hong Chong, the ambassador of Mauritius to China, told China Today that Mauritius has a long coastline. The country has vast area for sugarcane cultivation and is experienced in this regard. He pointed out that Mauritius can enhance trade cooperation with China in fisheries and sugarcane-related products. He hoped that the feasibility study on the free trade agreement between China and Mauritius that has been carried out will bear fruit as soon as possible, because that will boost bilateral economic and trade cooperation.
Since taking office, Lee has visited at least 15 Chinese provinces. He admitted that he was deeply impressed by China's rapid growth. He said that China has made great strides in economic development over the past three decades and he hopes Mauritius can get some inspiration from China's experience.
The symposium with the theme "Enhancing Mauritius-China Relations and Exploring the Future" in commemoration of the 45th anniversary of the establishment of diplomatic relations between Mauritius and China was held on April 19, in Rose Hill City, Mauritius. Politicians and scholars from the two countries were invited to share their views on the current situation and the future of bilateral economic and trade cooperation. The Prime Minister of Mauritius, Pravind Kumar Jugnauth, said at the opening ceremony that the economic development mode of Mauritius has been improved, with multiple industries now booming, such as the sugar industry, the export processing industry, the tourism industry, and the financial services industry. Mauritius is also striving to further transform and upgrade its development model to attract more Chinese investment and achieve innovation in technology. Chinese Ambassador Li Li hoped that through the symposium, experts will be able to figure out how to coordinate the Belt and Road Initiative and the "Vision 2030"strategy of Mauritius and discover the comparative advantage of Sino-Mauritian relations, so to better explore areas of cooperation. Special Representative of the Chinese Government on African Affairs Xu Jinghu pointed out that China and Mauritius should enhance friendly and mutually beneficial cooperation in marine economy, free trade zone development, financial services, tourism, and new energy, making Mauritius an important link between the Belt and Road Initiative and the continent of Africa.
Attracting Chinese Investment
At the symposium, experts emphasized Maritius's superior location, excellent environment for investment and many talents. The government of Mauritius said that Mauritius can act as a platform for foreign enterprises to explore the rest of Africa.
Liu Jiawei, general manager of Huawei Technologies (Mauritius) Co., Ltd., detailed Mauritius' advantages using Huawei's own experience. He said that Huawei is expanding its business from Mauritius to cover other parts of Africa. The company has made Mauritius a sharing hub for finance and services that can serve other teams in neighboring countries. "The official languages in Mauritius are French and English. This reduces the company's labor costs. The service center in Mauritius can provide support to other teams across Africa conveniently," he explained.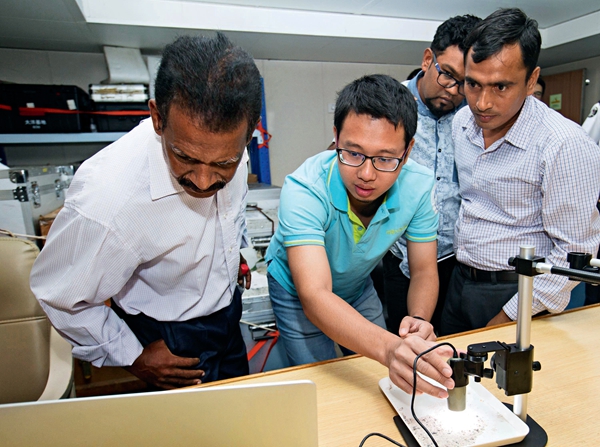 Experts from the Mauritius Meteorological Administration, the Marine Institute and the Coast Guard have a tour of the Chinese deep-sea research vessel Xiangyanghong 10 at the Port Louis docks, on April 21, 2016.
Yang Changhe, general manager of Jinfei Economic and Trade Zone, told China Today that the zone serves as a bridgehead for enterprises from China's Shanxi Province to enter Africa. The zone was one of the economic and trade cooperation zones proposed by Hu Jintao, former president of China, at the Forum on China-Africa Cooperation in 2006. It was also one of the first overseas cooperation zones approved by China's Ministry of Commerce. Yang said the zone consists of a finance and business area, a culture and leisure area and a port industrial area and they plan to transform the zone into an African financial center, a popular tourist destination that offers a one-stop travel service to Chinese tourists, and a base for developing port trade and warehouse logistics. So far there are 10 enterprises in the zone, with another 18 enterprises from South Africa, Madagascar, India, and Réunion intending to enter the zone.
At Tianli Spinning (Mauritius) Co., Ltd., over 300 workers from Bangladesh are busy with production in the factory. The company was funded and established by Shanxi Tianli Group in 2001 and launched production in August 2003. Currently it is the largest cotton yarn supplier in Mauritius, producing over 8,000 tons of cotton yarn every year, with an output value of US $28 million. "Tianli is one of the few Chinese textile companies to go global and we made it today," said Wang Zaijing, general manager of Tianli Spinning. He said that Mauritius enjoys exceptional advantages as it signed agreements with the EU and the U.S. to enjoy duty-free and quota-free treatment for its fabric products. In addition, the local financial industry is developed, so the cost of financing is relatively low. He pointed out that the only problem is that Mauritius is not the source of the raw materials, nor does it provide a market for the goods. Now Tianli has 300,000 mu (1 mu = 0.067 hectares) of cotton fields in Madagascar. About 60 percent of the cotton yarn it produces is exported to countries like South Africa, Madagascar, and Swaziland.
Differing from traditional enterprises, Bank of China (Mauritius) Ltd., which was opened for business in late 2016, marked the widening of Chinese financial enterprises' sphere of influence in Africa. According to Zhang Xiaoqing, head of BOC (Mauritius), BOC's branch in Mauritius will mainly engage in corporate financial business, such as deposits, loans, international settlements, trade financing, and financial institutions. It will actively carry out cross-border RMB transactions and strive to establish itself as a strategic platform for BOC's African business. Zhang said that the financial industry accounts for over 20 percent of the gross value of production in Mauritius, but competition is keen. More than 10 foreign investment banks, including HSBC and Standard Chartered Bank, have established branches in Mauritius. Now BOC Mauritius has 23 employees, half of them local people. In the space of six months, the company has already attracted over 30 clients, half of which are Chinese enterprises.
Promoting Cultural and People-to-people Exchanges
In 2018, the China Cultural Center in Mauritius (the first overseas cultural center established by China) will celebrate its 30th birthday. Song Yanqun, director of the China Cultural Center in Mauritius, said that over the past three decades the center has served as a window, a bridge, and a platform for local people to learn about China. The center provides regular classes on Chinese dance, martial arts, Mandarin, as well as training in Chinese calligraphy, the traditional Chinese tea ceremony, Chinese embroidery, Chinese painting and some traditional Chinese musical instruments such as the erhu and guzheng, providing a wide range of ways to access Chinese culture.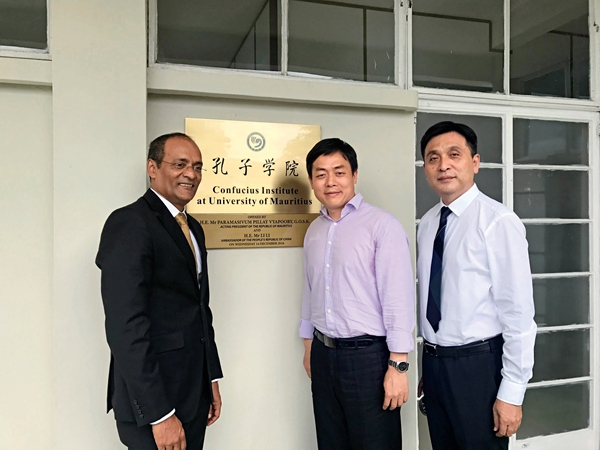 Naraindra Kistamah (first left), the Mauritian Dean of the Confucius Institute, and Tan Xudong (first right), the Chinese Dean, hope to make the institute a platform to promote cooperation between China and Mauritius.
As part of the celebrations for the 45th anniversary of the establishment of diplomatic relations between China and Mauritius, Mandarin classes were launched at the Confucius Institute at the University of Mauritius. The first intake of students are all from the University of Mauritius. By studying the Chinese language they will better understand Chinese culture and further promote cultural exchanges between the two countries. Naraindra Kistamah, the Mauritian Dean of the Confucius Institute, said the number of Chinese tourists to Mauritius is growing every year, so it is important to understand China and its people. Therefore, it is the right time for the University of Mauritius to cooperate with Zhejiang Sci-tech University and establish the first Confucius Institute in Mauritius. Tan Xudong, the Chinese Dean of the institute, said the goal of the institute is not only to promote Chinese culture, but also to make the institute a platform for the promotion of cooperation between China and Mauritius in other areas.
Kistamah is also director of the Textile Department at the University of Mauritius. On April 18, he held a symposium attended by researchers from the Charhar Institute – a think tank from China – and deans from the various institutes of the University of Mauritius. He hopes such dialogue will promote exchanges and cooperation between Chinese research institutes and Mauritius. At the symposium, Zhang Guobin, secretary general of the Charhar Institute, announced that Charhar will donate books to the Confucius Institute at the University of Mauritius and establish a scholarship program to enable students to go and study in China.
At the opening ceremony of the Charhar Institute's African branch, Chinese Ambassador Li Li said the focus on China-Mauritius relations used to be on economic and trade cooperation, but now the establishment of Charhar's African branch in Mauritius shows that bilateral relations have been enhanced and enriched by the participation of more scholars and experts, and further cooperation will be conducive to enhancing mutual understanding and prompting the two sides to better help and support each other.
Services