Discover China through Its Rock Bands
By staff reporter DENG DI
I first met Eric de Fontenay one winter evening last year in a bar on Beijing's Nanluoguxiang (literally South Gong and Drum Lane).
I had gone there with a friend after work to see a Canadian band perform. We and the 20 or so other people in this small live music venue fell under the spell cast by band vocalist Jessica's singing, guitar playing and strumming on the koto, a Japanese zither-like instrument. Later we got chatting to Eric, the band's agent.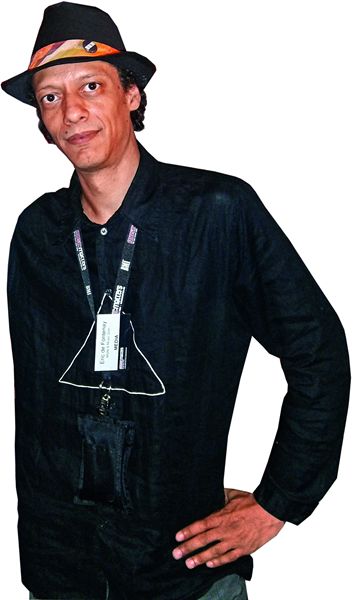 Eric first came to China at the end of 2008.
From New Yorker Eric's functional attire of sports shoes, bomber jacket, and backpack, he could easily be mistaken for a budget traveler in China. Exhibitions at the almost century-old China Institute, the oldest of its kind in NYC, along with Zhang Yimou's films from the 1980s, had whetted his curiosity about the Middle Kingdom.  
Eric's first trip to China was at the end of 2008. Invited, in his capacity as music impresario and founder of a music company, to be media sponsor at a Hong Kong music festival, he flew over from the Big Apple. His curiosity further piqued, he headed north after the festival, and his first trip to the Chinese mainland soon brought him to the ancient "Northern Capital" – Beijing.
 "A Little Stir-fry, Anyone?"  
Eric checked into a hotel near the Temple of Heaven in southern Beijing. He felt thrilled to be walking along the street with Chinese people of all ages in various styles of dress. He said he felt like exclaiming, "Wow! I'm really here in Beijing!" 
Eric had no interest in visiting popular tourist destinations during his 10-day trip. He was instead intent on surfing the web to find where the local indie bands were playing. It was by sheer chance that this newly arrived traveller, who could not read a single Chinese character, came upon the douban.com platform, which told him all he could possibly hope to know about the local indie musical talent.   
 "After finding loads of info on band performances, I listened to some songs online and downloaded a few. Even though I didn't understand the lyrics, I could relate to the emotions inherent in the music. It was so amazing. I fell totally in love with the scene here! And all this intelligence was readily available at the mere touch of a button."
"If you feel passionate about something, you'll find the way to it." This is Eric's explanation of how he came by all he wanted to know about local music on a Chinese website. He was overwhelmed at the number of young Chinese musicians out there keen to express themselves. Whether in their 20s, 40s or 50s, they acted totally off their own bat in forming bands and writing their own songs. He discovered through them how China's burgeoning economy and emerging metropolitans collide with long traditions and the great store its citizens set by stable work and food on the table. Having broken out of the conventional mold, the lives of the youth are now infinitely more colorful. Eric couldn't wait to seek them out in this rapidly developing city and listen to stories about their lives.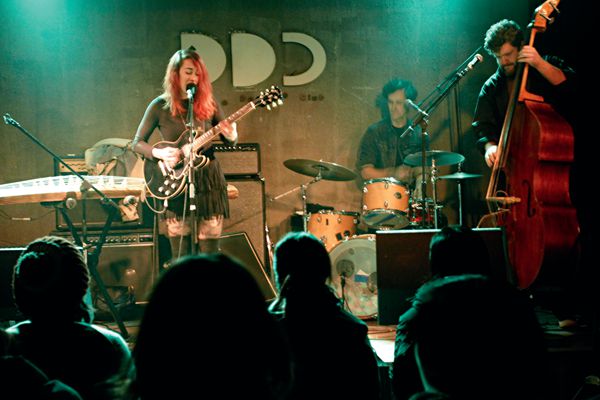 On November 24, 2016, the Jessica Stuart Few band, whom Eric manages, performed at DDC in Beijing, kicking off their second China tour. Deng Di
Eric spent his flight back to the U.S. planning how he would bring his music company, Music Dish, to China. It was this that motivated his second trip to Beijing the following year, and his long-term stay thereafter. To make Music Dish more accessible in China, Eric and his team decided on the Chinese name "duli xiaochao," meaning independent stir-fry, for two reasons. The first is the Chinese people's deep love of dining. They like talking about food just as the British like talking about the weather. "Stir-fry" is a very popular cooking method across China. The second phrase endorses the first, as Eric found that many music platforms in China, including douban.com and xiami.com, are names of dishes. His hope, therefore, is to serve stir-fried fare to music lovers here.
Delight in Rock from China's Northeast
Eric stayed. He lived in the 798 Art Zone and frequented live music houses in the houhai bar area. In the course of seven years, his music business has gradually expanded. Eric helps bring western musicians to China. Jessica Steward, earlier mentioned, is a vocalist he has worked with for two years. He released her last two albums in China.
He has also promoted his favorite Chinese bands, among them Secondhand Roses, Hedgehog, NAMO band, and Gemini, and helped them go global. In 2015, Eric brought some of them to play at the Paleo music festival in Switzerland, and also organized Gemini's performance in Korea.
Among all the indie bands he has worked with and his Chinese friends, most of them northerners, Eric finds he has most in common with people from Dongbei, China's three northeastern provinces of Liaoning, Jilin, and Heilongjiang. The band Secondhand Rose is a prime example. Eric is a close friend of the lead singer's. His co-worker, a designer who organizes fashion shows of Chinese-style clothes on the street of NYC, is also a young woman from the city of Shenyang in Liaoning.
"They are hospitable and outgoing. The girl from Dongbei I work with is even more independent than she is beautiful. The way the people there speak reminds me a little of Brooklynese, the dialect of my home district in New York. I want to speak Chinese with a Beijing or Dongbei accent," Eric declared.
While on the subject, we spoke of the regrettable decline of China's Northeast, a former hive of heavy industry. "We can only hope they can make a transition. But it takes time. The same goes for the Rust Belt of America, where manufacturing was once the pillar industry. People from places in Middle America, such as Michigan, are nostalgic about the good old days. This is the downside to the modern globalization trend. Progress is always hard, and so is change."
In 2015, with Eric's help, the Dongbei rock band Secondhand Rose went to perform at Paleo, a grand music festival in Switzerland. East and West collided head-on when the band members, dressed in Dongbei-style clothes, sang in Chinese to exuberant English- and French-speaking audiences.
To Eric, China's yaogun (rock 'n roll) differs from western rock music. "It has so many influences from Michael Jackson and other western pop singers… but it's not just about taking a guitar and doing what is done in the West. It's reinventing rock with Chinese characteristics. Young and middle-aged performers sing about love, their dreams, and their opinions. The music itself bridges audiences of different cultures."
For Eric, the contemporary Chinese yaogun inherits the spirit of the first-generation rockers of the 1980s, epitomized by so-called godfather of Chinese rock Cui Jian, and at the same time boldly incorporates folk, heavy metal, punk, Shaanxi Opera, and even the song and dance duets of Northeast China, fusing the best of everything, in a way that could be compared with Beijing Opera.
Eric has been to Shenyang, capital of northeast province of Liaoning, where temperatures often fall below -15 degrees centigrade in winter, and dined there with local friends and their families. He feels at great ease with the outgoing elderly residents of the city. As winter grows colder, the city reminds him more and more of where he grew up.
In January 2016, he promoted the event, "Serve the people, serve the rock" to celebrate 30 years of China's yaogun. It was held at the China Institute in NY. Eric held an exhibition there of everything he had collected about Chinese rock – CDs, posters, and books – at festivals and concerts. The exhibition gave a glimpse of China in the 1980s, from a rocker's perspective, and attracted around 200 people.
"I had one friend who came and said to me, 'I've been in America for five years and have been trying to find Chinese events. This is the first time I feel like I'm back in Beijing.'" Eric said that was the biggest compliment he could ever have hoped for.
"To China, I'm like a Five-year-old" 
"You know what? I'm only a five years old here." Eric said there's still a lot out there for him to learn about China, especially when it comes to eating. He needs to be courageous enough to try everything. 
To him, drinking Erguotou (a kind of stilled spirit) and trying different Chinese food are rituals for foreigners who want to know China. It's easy to judge others but less so after gaining a thorough understanding. He will pluck up courage to try something ostensibly inedible in the eyes of many from outside China.
Pidan (preserved egg) is one such item. Most Chinese people like it better than regular eggs, but it's always deemed gross, and has even been rated as "one of the worst foods on earth" by some western food magazines. Eric said that at first he didn't like the idea of it. But after the first bite, he wanted a second one.
"When I come to your house, I have to accept your rules and learn how things work. The same goes for America. When you go there, you need to try to understand why America is the way it is. That's how you get to discover and understand the people and culture. But if you don't, and instead think 'Oh it should be like this,' then you won't understand anything. It's no use judging, you must just try to understand why something is the way it is. Once you do, you can accept it and maybe even appreciate the difference. The world is full of differences." 
Edward Said (1935-2003) pointed out in his groundbreaking book Orientalism the existence of a subtle yet persistent Eurocentric prejudice against Eastern peoples and their culture. Eric comes from West, but I found his open-mindedness, politeness and respect for China really impressive.
Maybe this has something to do with his cutural background. His mother is from the U.S., and his father from France. He was brought up in Canada. At the age of 17, he left home to go to New Zealand and work on a farm. This experience showed him that real communication between different cultures can be achieved only through understanding.
In 2015, he won an award from Mandarin Leader, a media brand dedicated to recognizing excellence in North America's Chinese community, for his contribution to people-to-people exchanges. 
As we talked about holidays and vacations, Eric seemed to come over a bit wily. He grinned and said he never went travelling across China during the Spring Festival. He would rather stay with friends in Beijing. And why ever not? Isn't Beijing a cool place to stay when everywhere else is crowded with tourists? 
And now he stays here in his beloved Beijing which "never ceases to amaze" him. He's positive about the future of China's indie bands, and lives here to savor the joy they bring him.
Services