Belt and Road Forum for International Cooperation: A Meeting of Great Minds for a Better, Shared Future
CHINESE President Xi Jinping put forward the Belt and Road Initiative (which encompasses the Silk Road Economic Belt and the 21-Century Maritime Silk Road) during his visits to Kazakhstan and Indonesia in late 2013.
 China's unremitting endeavors and joint efforts with the international community in the form of bilateral and multilateral treaties, business cooperation and trade, and people-to-people exchanges, have enriched the initiative, imbuing it with substantial content. It has thus become an international, inclusive platform characterized by extensive consultation, joint contributions and shared benefits.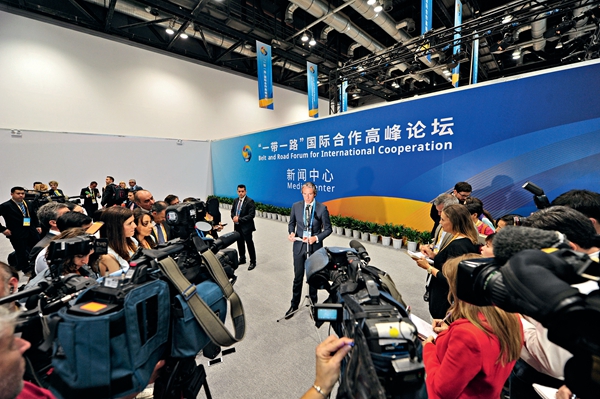 The Spanish delegation holds a press briefing after the opening ceremony of the Belt and Road Forum for International Cooperation on May 14, 2017. Dong Ning
Four years on, the vision of the Belt and Road Initiative is becoming a reality, and bearing rich fruit. More than 100 countries and international organizations have expressed their willingness to support the initiative and become involved.
 Specifically, the Chinese government has reached cooperation agreements with over 40 countries and international organizations. It has also signed cooperation documents with the UN Development Programme, the UN Economic and Social Commission for Asia and the Pacific, and the World Health Organization. On November 17, 2016, 193 UN members adopted a resolution embracing economic cooperation initiatives including the Belt and Road, and called on the international community to provide a secure environment for the construction of the Belt and Road.
Call of the Times
In his opening speech to the Leaders' Roundtable section of the Belt and Road Forum, President Xi Jinping elaborated on what had inspired his vision of the Belt and Road Initiative.
"The initiative stemmed from my observations and reflections on current world trends," Xi said candidly to his counterparts attending the Roundtable. He went on to say that the world has reached "an age of great progress, great transformation, and profound changes."
As nations are unprecedentedly interconnected, the times call for peace, development, cooperation, and win-win outcomes. However, deep-rooted development problems have inhibited the pace of economic growth, causing lackluster globalization prospects, so exacerbating unbalanced development, or in President Xi's words, creating "a deficit of peace, development, and governance."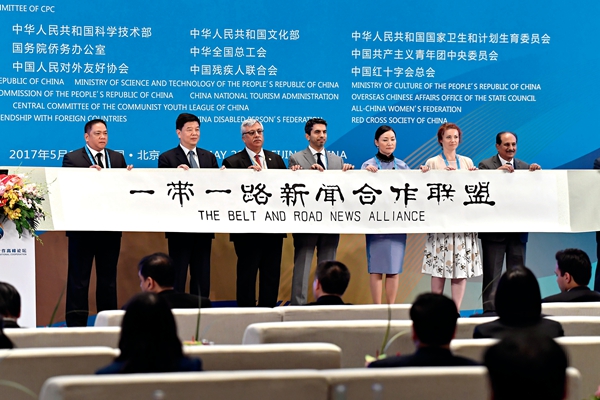 The Belt and Road News Alliance is inaugurated at a meeting with the theme of "People-to-People Connectivity," one of the six thematic sessions convened on May 14, 2017.  Dong Ning
The Belt and Road Initiative is the Chinese government's solution to current global problems. It was inspired by the ancient Silk Road and commercial sea routes which spanned thousands of miles, and which brought prosperity and peace to countries and regions along the routes. 
During the two-day forum, President Xi repeatedly reiterated the Silk Road spirit of peace and cooperation, openness and inclusiveness, mutual learning, and mutual benefit. It embodies values that have remained constant throughout the changing times, and which transcend differences of nationality, ethnicity, and religion. The current backdrop of "deficits" makes sustaining this spirit all the more important.  
From Vision to Action
In March 2015 the Chinese government issued "Vision and Actions on Jointly Building the Silk Road Economic Belt and 21st-Century Maritime Silk Road." The document identifies five key areas for cooperation: policy coordination, facilities connectivity, unimpeded trade, financial integration, and people-to-people bonds. Pragmatic actions have since rolled out, their aim to make this concept a reality.
China has so far signed cooperation agreements with over 40 countries and international organizations in efforts to enhance coordination with their relevant policy initiatives. "The pursuit of the Belt and Road Initiative is not meant to reinvent the wheel," President Xi said in his keynote speech at the Opening Ceremony. "Rather, it aims to complement the development strategies of countries involved by leveraging their comparative strengths."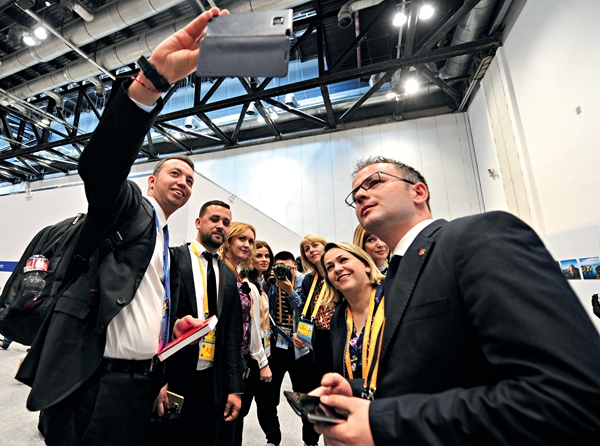 A group of journalists pose for selfies. It is estimated that at least 2,000 journalists came to Beijing to report on the forum.  Dong Ning
In the last four years, boosting infrastructure development has remained top of the agenda for implementing the Belt and Road Initiative. Working closely with those countries involved, China has promoted land, maritime, air, and cyberspace connectivity by concentrating on the construction of key passageways and projects, such as the Jakarta-Bandung high-speed railway, China-Laos railway, Addis Ababa-Djibouti railway, and Hungary-Serbia railway. It has also upgraded Gwadar and Piraeus ports.
Regional and trans-regional transportation networks have promoted logistics efficiency, and ironed out kinks in trade and investment, so laying foundations for further development and comprehensive cooperation.
From 2014 to 2016, total trade between China and other countries along the Belt and Road routes exceeded US $3 trillion. China's direct investment to these countries surpassed US $50 billion. Chinese companies have set up 56 economic cooperation zones in over 20 countries, generating some US $1.1 billion in tax revenue and creating 180,000 jobs.
Closer cooperation in the financial sector – including financial policy alignment and cooperation between financial institutions and markets, and currency swaps and cross-border settlement between China and participating countries – has created a stable financial environment. This has been beneficial, enabling various sources of capital to be channelled into the real economy and promoting healthy economic growth.
A multi-tiered Belt and Road financial cooperation network has now taken initial shape. For example, by the end of 2016 the Asian Infrastructure Investment Bank (launched in December 2015) had provided US $1.7 billion in loans for nine projects in countries participating in the Belt and Road. The Silk Road Fund, launched in November 2014, has invested a total US $4 billion; and in November 2016 the Sino-CEEC Financial Holding Company Limited, which offers a wide range of non-banking financial services, including the chances to purchase insurance products and invest in securities, was inaugurated in Riga, the capital of Latvia.
People-to-people exchanges are the key to sound state-to-state relations. A profusion of activities has been carried out in such fields as science, education, culture, tourism, and health. Each year, China provides 10,000 government scholarships to countries along the Belt and Road. The country has signed 46 agreements on scientific and technological cooperation with relevant countries, and has also implemented 41 medical cooperation programs, including the China-Africa Cooperation Plan on Public Health and the China-ASEAN Plan on Training 100 Health Professionals.
Consensus
Proposed by China, the Belt and Road Initiative pursues benefits for all nations. While its focus is on the Asian, European and African continents, it is open to all other countries. "All countries, whether in Asia, Europe, Africa or the Americas, can be international cooperation partners in the Belt and Road Initiative," President Xi said in his keynote speech at the opening ceremony. "The pursuit of this initiative is based on extensive consultation, and its benefits will be shared by us all."
A total of 29 foreign heads of state and government leaders, including Russian President Vladimir Putin, and representatives of major international organizations, such as UN Secretary-General Antonio Guterres, World Bank President Jim Yong Kim, and Managing Director of the International Monetary Fund Christine Lagarde, participated in this first gathering of Belt and Road countries. The United States sent a delegation led by Matt Pottinger, special assistant to the president, and senior director for Asia at the National Security Council.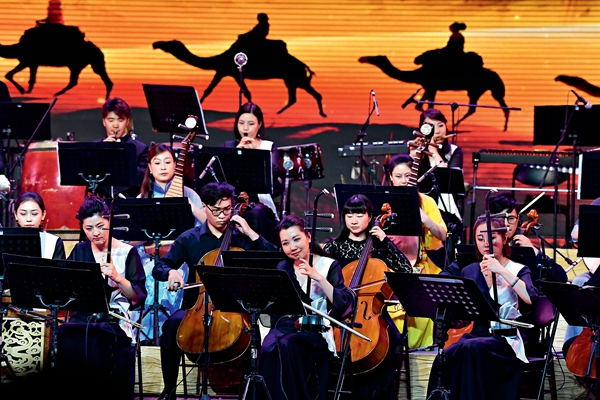 A special concert of music from countries along the Belt and Road takes place before the opening of the forum.  Dong Ning
World leaders at the forum also shared their views on how best to understand and advance the Belt and Road Initiative. Ethiopian Prime Minister Hailemariam Desalegn hailed the Initiative as the largest, peaceful economic cooperation of the 21st century. Greek Prime Minister Alexis Tsipras pinpointed the potential for cultural exchanges and tourism. Chilean President Michelle Bachelet said the breadth of the Belt and Road, the high level of participation and its strategic dimensions highlight its capacity to become the biggest economic cooperation project in the world today.
Peter Thomson, president of the UN General Assembly, believed the Belt and Road will bring enormous benefits to all involved and will serve as a strong catalyst for the global transformation detailed in the UN 2030 Agenda for Sustainable Development. IMF Managing Director Christine Lagarde expected the initiative to add new economic flavors by creating infrastructure projects that are based on 21st-century expertise and governance standards.
 These points of view are reflected in the Joint Communiqué of the Belt and Road Forum for International Cooperation, adopted by 30 heads of state and government leaders, and released after the Leaders' Roundtable.
The joint communiqué acknowledges that "the Silk Road Economic Belt and the 21st-Century Maritime Silk Road (The Belt and Road Initiative) can create opportunities amidst challenges and changes," and by providing important opportunities for countries to deepen cooperation, the initiative has achieved positive outcomes and has the potential to deliver more benefits.
In the joint communiqué, the leaders of 30 countries reaffirm their shared commitment to building an open economy, ensuring free and inclusive trade, and opposing all forms of protectionism. They also confirm that they will uphold the spirit of peace, cooperation, openness, transparency, inclusiveness, equality, mutual learning, mutual benefit, and mutual respect by strengthening cooperation on the basis of extensive consultation and the rule of law, joint efforts, shared benefits, and equal opportunities for all.
Outcomes and Outlook
After a two-day compacted schedule, the Belt and Road Forum yielded a list of deliverables, including 76 items comprising more than 270 concrete results in five key areas, namely, policy, infrastructure, trade, finance and people-to-people connectivity. 
The Chinese government also made a series of commitments during the forum. They include providing assistance worth RMB 60 billion (US $8.7 billion) over the coming three years to developing countries and international organizations participating in the Belt and Road Initiative, money earmarked for improving people's livelihood; providing emergency food aid worth RMB 2 billion to developing countries along the Belt and Road; and making an additional contribution of US $1 billion to the Assistance Fund for South-South Cooperation.
China also plans to offer young foreign scientists 2,500 short-term research visits to national institutions over the next five years, train 5,000 foreign scientists, engineers and managers, and establish 50 joint laboratories. China will also set up an ecological data service platform and an international coalition for green development on the Belt and Road, in an endeavor to support environmental protection in the countries involved and assist with adaptation to climate change.
To guarantee the forum's deliverables become concrete outcomes, the Chinese government will put in place a liaison office for the Forum's follow-up activities, as well as an umbrella organization engaged in financial policy research, capacity building, and cultural exchanges.
Well begun is half done. The Belt and Road Forum for International Cooperation is, by any standards, a success – consensus has been achieved, mechanisms laid out, and measures formulated. But Rome wasn't built in a day. As President Xi said in the concluding remarks of his keynote speech, "Let us pursue this initiative step by step, and deliver outcomes one by one."
Services