By staff reporter ZHOU LIN
SINCE proposing the Belt and Road Initiative in 2013, Chinese President Xi Jinping has visited 37 countries and introduced the initiative on various occasions. He advocated economic cooperation rather than trade protectionism. Over the past three years, a growing number of countries and regions on the Eurasian continent have achieved consensus on the initiative.
Official statistics from the 2017 Boao Forum for Asia show that, between June 2013 and June 2016, trade volume between China and countries along the Belt and Road reached US $3.1 trillion, accounting for 26 percent of China's total foreign trade. During the same period, China established 52 economic and trade cooperative zones with 18 countries, among which 13 have been given the go ahead, with an accumulated investment of US $15.6 billion. As of June 30, 2016, China had signed bilateral investment agreements with 104 countries; the accumulated investment from China to countries along the Belt and Road stands at US $51.1 billion, representing 12 percent of the country's total foreign direct investment (FDI) over the same period.
Interconnectivity for Understanding
Infrastructure along the Belt and Road has made substantial progress over the past three years, facilitating trade and people-to-people exchanges. According to incomplete statistics, 15 new airports have been built and 28 expanded or reconstructed in Chinese provinces along the Belt and Road routes. Abroad, as many as 38 demonstration infrastructure projects, contracted by large enterprises such as China Railway Group Limited and China Communications Construction Group, are under construction in 26 countries.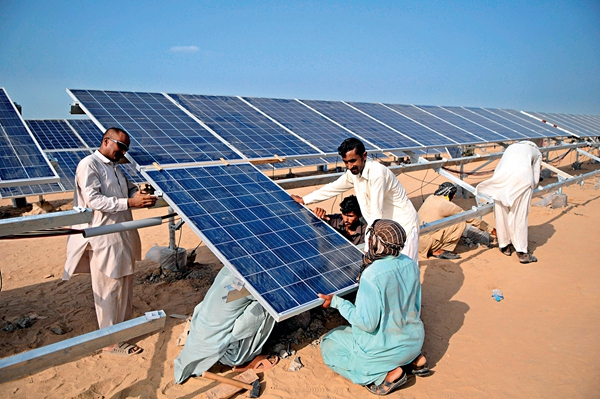 Pakistani workers install solar panels at the ZTE 900 MW photovoltaic power station in the Bahawalpur region of Punjab Province on August 27, 2015.
Pakistan is a key nation on the ancient Silk Road. The China-Pakistan Economic Corridor is regarded as the flagship program linking Kashgar, in China's Xinjiang Uygur Autonomous Region, and Gwadar Port in southwest Pakistan. It includes the construction of highways, railways, oil and gas pipelines, as well as cable channels.
Shaukat Aziz, former prime minister of Pakistan, told China Today that the Belt and Road Initiative has strengthened connectivity between the two nations, bringing their peoples closer. He noted that China-Pakistan relations have stood the test of time thanks to the two nations' commitment to developing bilateral relations on the basis of peace, mutual respect, and cooperation. His own experience of statecraft and diplomatic relations over the past 15 years has made it clear to him that China is a true friend to Pakistan, Shaukat Aziz added.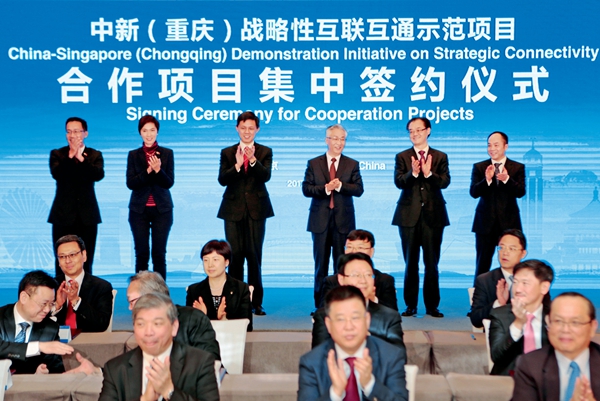 China-Singapore (Chongqing) Demonstration Initiative on Strategic Connectivity Signing Ceremony for Cooperation Projects is convened in Beijing on February 26, 2017.
The current new development drives are indeed attributable to China's proposal of the Belt and Road Initiative. The year 2016 saw the start of such major projects as the Peshawar-Karachi Expressway and the Gwadar Port Free Trade Zone. Pakistan's central bank statistics show that in the fiscal year 2015 to 2016, China's FDI to Pakistan reached US $ 594 million.
The emphasis of the Belt and Road Initiative is on connectivity among nations, whether through highway or railway, shipping or digital networks. Once the two peoples are connected, close ties may be established. "If we are dependent on each other, we are sure to maintain contact, and so improve our relations," Shaukat Aziz said. "Amity between peoples is the key to sound relations between states."
The initiative also represents the spirit of win-win cooperation. Chinese enterprises gain new business opportunities amid the globalization process, and this creates more jobs for the people of Pakistan. "Employment brings economic prosperity, and lifts people's spirits, making them happier," Shaukat Aziz said. "This helps to deepen the friendship between our two nations." He then concluded, "If the lives of the people of Pakistan can be improved through the construction of these projects, they will surely embrace the Belt and Road Initiative."
Mutual Benefits & Win-win Cooperation
Prime Minister Hun Sen of Cambodia was on the spot in June 2016 to welcome the 100 enterprises entering the 11.13-sq-km Sihanoukville Special Economic Zone.
Zhou Haijiang, vice president of the All-China Federation of Industry and Commerce and also president of Hongdou Group, recalled how his company envisaged building the Sihanoukville Special Economic Zone in Cambodia, making it an investment and trade platform, when the Chinese government encouraged companies to "go global" for more opportunities in 2007.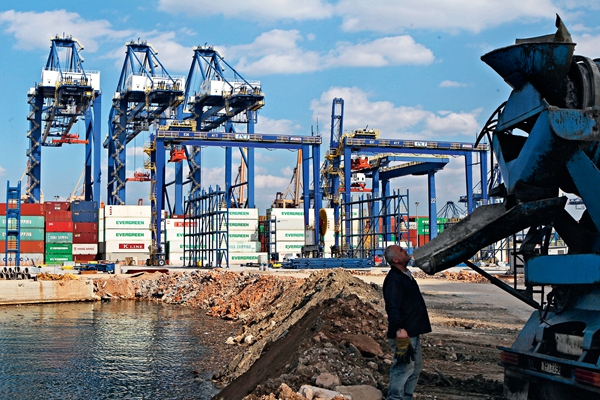 Cargo from China Ocean Shipping Company is unloaded at the container terminal in Piraeus Port, Greece.
Six years later, the program ushered in another development opportunity – the Belt and Road Initiative. On April 23, 2015, Chinese President Xi Jinping and Cambodian Prime Minister Hun Sen met in Jakarta at the 60th anniversary celebration of the Bandung Conference. There Xi proposed strengthening infrastructure connectivity within the Belt and Road framework to promote the building of Sihanoukville Special Economic Zone.
However, this was easier said than done. Building an economic zone overseas is such a big challenge. "Everything was hard-won. In the early days, all we had was a battered pickup, and we measured the land, inch-by-inch under the scorching sun. We negotiated and bargained with every household on this 11.13-sq-km piece of land," said Zhou Haijiang.
In addition to the absence of drinking water and electric power, Zhou had to deal with fierce opposition from local residents to the expropriation of this land. They feared it would leave no farmland for their herds of cattle to graze. At that time, one cow was worth US $300, equal to the annual income of an entire family. After talking and reasoning with the local residents, however, Zhou Haijiang and his team eventually won their trust and support.
A large number of factories have since been built in the locale, and growing numbers of people have come to live and work in the special economic zone. The monthly salary of management staff there is equal to the price of one head of cattle. Chinese enterprises have also built schools, run skills-training courses, provided job opportunities, and made charitable donations. All these efforts towards construction of the special economic zone have generated stable incomes for local people.
Within eight years, 100 enterprises have entered the zone, creating 13,000 jobs. The Chinese developers' concept of win-win cooperation has won the support of local residents. Zhou Haijiang believes that the key to win-win cooperation lies in safeguarding the interests of all parties.
Zhou Haijiang and other investors in Sihanoukville Special Economic Zone insisted on win-win cooperation from the moment they decided to build the joint-venture industrial park. They also agreed to take part in local community charitable activities, and cooperate with local government by providing jobs while at the same time speeding up the construction of facilities. This would raise living standards and ensure social security. All were keen to protect the local environment and accomplish development in harmony with nature. The concept of win-win cooperation enabled the special economic zone to become a demonstration project of the Belt and Road Initiative.
Sharing China's Experience
When discussing the significance of Chinese private companies' going global, Dong Wenbiao, chairman of the Board of Directors of China Minsheng Investment Group, observed that over the past 30 years of reform and opening-up, China has become the world's second largest economy, and is moving towards the manufacture of high-end products.
"China's proposal of the Belt and Road Initiative entails sharing the experience it has garnered over the past 30 or more years. This is of considerable significance, as it constitutes greater integration of the Chinese economy into the international community."
Regional economic cooperation and economic globalization have become two major trends that determine the development paradigm shift to cross-border cooperation and regional project clusters. As the Belt and Road Initiative follows the trends to encourage connectivity and regional economic integration, it is likely to receive keen responses from countries along the routes.
Sim Ann, senior minister of State Ministry of Trade and Industry of Singapore, remarked that the Singaporean government strongly supports the Belt and Road Initiative. To achieve the eventual goal of connectivity, she added, her government plans to invest in four areas – aviation, logistics, telecommunication technology, and finance. Currently, Singapore and China are building three platforms: the Suzhou Industrial Park, Tianjin Ecological City, and Chongqing Connectivity Program.
"ASEAN's economic growth is heart-stirring, and the middle class is fast growing. ASEAN shares complementary economies with China and other trading partners. The upgrading of connectivity will be beneficial to all nations open to foreign trade and investment," Sim Ann said.
Sim Ann observed that Singapore was among the earliest countries to apply to join the Asian Infrastructure Investment Bank (AIIB), with the aim of helping people benefit from interoperability and trade. "We hope companies understand that internationalization is an effective way to increase incomes, and helps to explore new markets. Therefore, we should encourage companies, chambers of commerce, associations, and education enterprises to understand the regional and global opportunities that globalization presents, and advocate the spirit of win-win cooperation."
"Singaporean Ministry of Trade and Industry has also organized various activities that inform enterprises about China's Belt and Road Initiative, and has promised to arrange pairing activities among companies that help them find more cooperative opportunities," Sim Ann said.
Indeed, under the pressure of a downward economy in the wake of the international financial crisis, each economy has to find its own way up. Emboldened by the Belt and Road Initiative, nations on the Eurasian continent have successively proposed their particular development strategies to promote cross-border cooperation and so boost the economic growth. They include Kazakhstan's Path of Light, Russia's Eurasian Economic Union, Mongolia's "Grassland Road" program, and India's Monsoon Action Plan. Meanwhile, on the other side of the Eurasian continent, similar plans have appeared, such as the EU's Juncker Plan, as well as the "Northern Powerhouse" by the U.K.
All these proposals, plans, and projects accord with the aim of China's Belt and Road Initiative to increase production efficiency through connectivity and the integration of various key production factors. China's proposal has now become the core plan linking various economies on the Eurasian continent in order to boost each other's development.