By staff reporter JIAO FENG
GLOBAL economic recovery since the international financial crisis of 2008 lacks momentum, while growth of international trade remains sluggish. Accelerated economic globalization and regional economic integration have wrought profound adjustments to the pattern of global trade and investment. For the countries that have reached a critical stage of economic transition, the need to spur on regional development and cooperation is now vital. 
The population of countries along the Belt and Road exceeds 4.4 billion, accounting for 63 percent of the global total. Their economic scale now stands at US $21 trillion, accounting for one third of global GDP. The radiation effect of cooperation along the Belt and Road will thus profoundly influence world economy, politics and culture, bringing brand new development opportunities for countries throughout the world.  
Huge Cooperation Potential
The Institute of Industrial Economics of the Chinese Academy of Social Sciences released in February its Annual Report on China's Industrial Competitiveness (2016).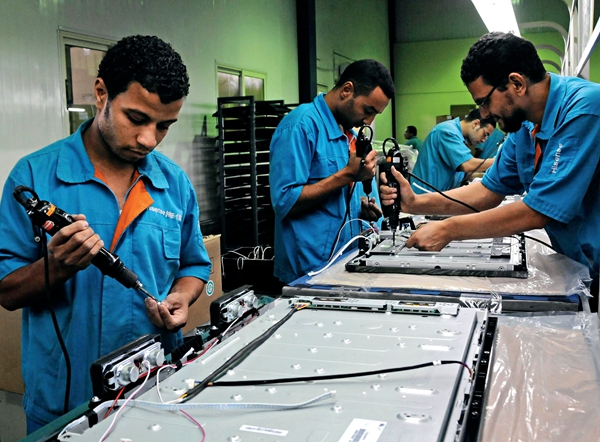 Egyptian Hisense Group workers assemble TV sets in the Suez Bay Northwest Economic Zone on September 21, 2011.
Southeast Asia, according to the report, is one of the world's most dynamic economic regions. In recent years countries there have enhanced their industrial competitiveness. Other than Singapore, however, the competitive edge of countries in the region mainly consists in low-end fields such as agricultural products and minerals. Although trading ties between China and Southeast Asia are growing stronger, deep cooperative development and industrial transfers are still lacking. From the perspective of resource endowment, industrial structure, and developmental level, there remains huge production potential for their promotion of trade cooperation via production capacity cooperation.
Among countries along the Belt and Road, China's level of industrialization is relatively high; it ranks 15th in that respect out of a total of 58 countries. Different stages of industrialization form three different competitive industries in three different grades, namely, technology-intensive and high value-added industries, capital-intensive industries, and labor-intensive industries. The industrial upgrading of first-grade countries is needed to drive the industrial upgrading of second-grade and third-grade countries, thus forming mutually complementary capacity cooperation. 
The limitations of China's exports to and specificity of its imports from countries along the routes underline the huge potential for production capacity cooperation in the region. According to Zhang Qizi, chief editor of the report and a researcher at the Institute of Industrial Economics, China and other countries along the Belt and Road possess strong low-end industry complementarity, but their complementarity is relatively weak in high-end industry. This presents the new task of enhancing cooperation between China and other countries in order to raise the developmental level of their high-end industry and enhance complementarity in this regard.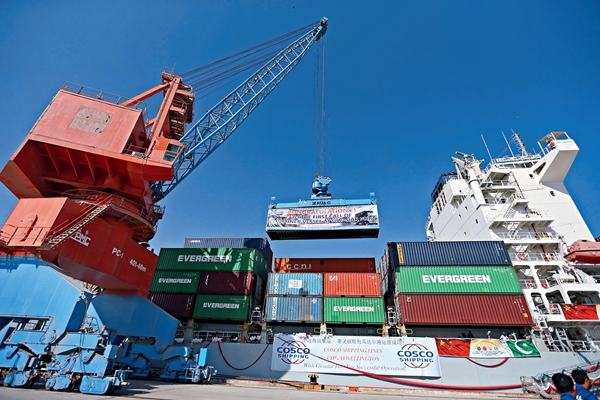 Gwadar Port Free Zone in the China-Pakistan Economic Corridor is a sample international capacity cooperation project.
Zhang holds that expanding the scale of trade is not simply a matter of grabbing other countries and regions' market shares, but rather of enlarging the market and achieving cooperation and mutual benefits along the Belt and Road.
International Capacity Cooperation
International production capacity cooperation is foremost in promoting construction of the Belt and Road. Overseas economic and trade cooperation zones have become development platforms for Chinese enterprises to conduct competitive industry cooperation, such as in autos, motorcycles, machinery, electronics, chemical engineering, textiles, and clothing. On the other hand, these cooperation zones will attract more Chinese enterprises to invest and build plants in host countries. This will increase employment, generate revenue, earn foreign exchange through exports, and also vigorously propel their industrialization process and industrial upgrading.
According to the plan, the future development of the Belt and Road includes nine economic corridors, as well as more than 20 major industrial parks in countries like Kazakhstan, Malaysia, Indonesia, and Singapore.
The Gwadar Port Free Zone in the China-Pakistan Economic Corridor is one such project. The overseas branch of the Linyi Shopping Mall is located there. The cornerstone laying ceremony for the shopping mall project, with a total investment exceeding RMB 250 million, was held in May 2016. Covering an area of 20,000 sq m, the first-stage project consists of the storage and exhibition of products such as building and ornamental materials, engineering machinery, hardware, labor protection appliances, and daily-use articles at construction sites. The second-stage project will be a logistics park, entailing an entire construction cycle of four to seven years. The zone will in future be an exhibition and trading center for Chinese commodities, a logistics center for Chinese commodities exported to South Asia, the Middle East and Central Asia, the Linyi Shopping Mall's overseas production and processing base, and the direct supply base for imports to Pakistan and the Middle East.
According to the Ministry of Commerce, by the end of 2016, Chinese enterprises had established 77 economic cooperation zones in 36 countries, with a total investment of US $24.19 billion. Of these, 56 are distributed in 20 countries along the Belt and Road, with an accumulative investment of US $18.55 billion, and host 1,082 enterprises that generated a gross output value of US $50.69 billion, paid US $1.07 billion in tax to host countries, and created 177,000 job opportunities.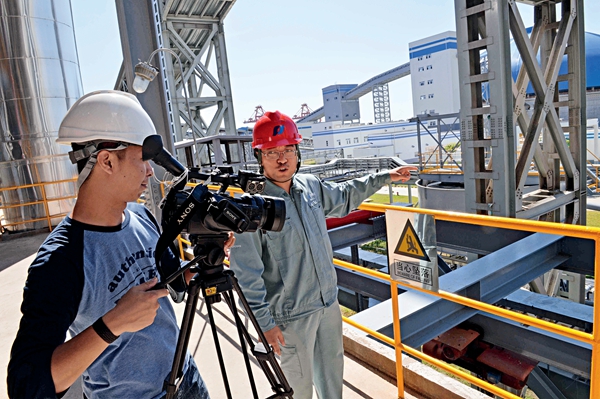 Technicians use monitoring equipment to measure functions at China Huadian Engineering Co., Ltd. Bali Coal-fired Power Plant in Indonesia on June 1, 2015.
In addition, based on their development advantages and functional orientations, about 50 node cities along four economic corridors will be chosen as sites to build industrial parks covering agriculture, industry and tourism.
Promoting Industrial Upgrading
Zhang Qizi maintains that low-and-middle-income countries must achieve industrial upgrading, through which to boost economic growth, before they can join the ranks of high-income countries. This necessity is shared by all countries along the Belt and Road, including China.
At present, most of these countries face the risk of being locked in the low-end part of the global value chain. Although emerging economies have steadily increased their participation in the value chain and gained economic growth, they are still in the development phase as regards utilizing resources and labor force, and must contend with the risk of deterioration of their balance of trade. To be specific, resource-oriented trade-benefit-structured countries have a mainly unitary economic structure, and rely heavily on external demand. They therefore inevitably face higher risks stemming from the international market. Stagnant international markets, slow world economic gains, and fluctuating energy prices all have strong impact on domestic economy. And the advent of new energy signals the end of a golden age for these countries.  
As labor-intensive economies mainly rely on foreign technology and capital they may easily become locked in the low end of labor division. Bearing in mind competition emanating from other developing countries, the benefits of international trade must be squeezed to the minimum. The high energy-consuming and heavily polluting manufacturing industry creates negative effects such as resource exhaustion and environmental deterioration. Moreover, recipient countries of labor-intensive service outsourcing must also contend with other risks, such as lagging domestic industrial development, being locked into low cost outsourcing, and low trade benefits. For agricultural countries, their relatively short domestic value chain inevitably causes problems like low export value-added and industrial employability capability, as well as risks like natural disasters, price fluctuations, and structural changes in market demand.
The cooperation between China and other countries can neither be restricted to lower-end industry nor totally rest on current level and scale. In addition to giving play to China's traditional advantages, it is necessary to jointly create and cultivate new superiority based on multi-cooperation, so creating greater impetus for high-end industrial development, exploit a new trade cooperation growth pole, and elevate trade level and quality.
In 2015, China's National Development and Reform Commission, Ministry of Foreign Affairs, and Ministry of Commerce jointly issued the document defining the "vision and action" on jointly building the Belt and Road. Based on the principle of mutual benefit and win-win result, it will promote deep cooperation between such emerging industries as information technology, biology, and new energy and materials, thus establishing an entrepreneurship and investment cooperation mechanism.
Zhang holds that, in addition to giving full play to its own advantages, China should expedite an open and innovative policy and introduce a third party to the construction of the Belt and Road. They can jointly cultivate new markets, develop new technologies, and promote the industrial upgrading and high-end industry of countries along the Belt and Road.