China-Kazakhstan Apple Friendship Parks Flourish
By staff reporter ZHOU LIN
THIS is just one of the 10 China-Kazakhstan Apple Friendship Parks in Shaanxi," said 27-year-old Hu Lingyun, as he applied pesticide to the saplings growing in a high-density apple orchard in Qianyang County, Shaanxi Province. "The high degree of mechanization here enables us to manage over 165 acres of orchards with only a dozen workers."
Hu Lingyun, a postgraduate in horticulture, works at the Shaanxi Haisheng Fresh Fruit Juice Co., Ltd., a high-tech enterprise. A total of 31 college graduates (among whom 17 have master's degrees) are employed at Haisheng's Qianyang Demonstration Orchard. They are responsible for the dwarf rootstocks growing in over 1,000 acres of apple orchards, more than 300 acres of seedling nurseries, plus fruit sorting lines and cold storage units.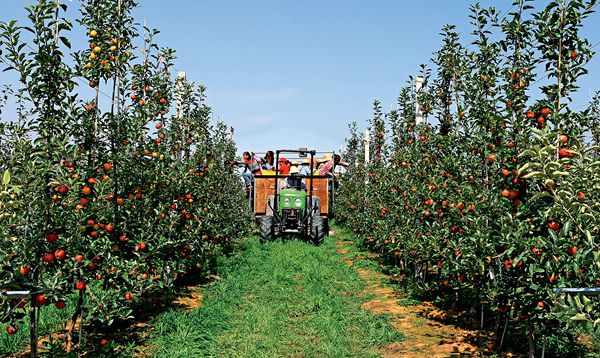 One of the ten China-Kazakhstan Apple Friendship Parks funded and operated by Shaanxi Hai-sheng Fresh Fruit Juice Co., Ltd.
Agriculture was one of the main features of economic trade and exchanges among countries and regions along the ancient Silk Road. Today, agricultural cooperation programs like the China-Kazakhstan Apple Friendship Parks have revived the traditional agricultural industry.
Apples and Friendship
When Chinese President Xi Jinping visited Kazakhstan in September 2013, he discovered that he and the Kazak President had both grown up in places which produce very similar apples. Shortly afterwards, at the Euro-Asia Economic Forum convened in Shaanxi, Sergey Terechshenko, former Prime Minister of Kazakhstan and Chairman of the International Integration Foundation of Kazakhstan, proposed the idea of establishing China-Kazakhstan Apple Friendship Parks in Shaanxi and Almaty – the respective hometowns of the two presidents – to Shaanxi Province Governor Lou Qinjian.
The blueprint for this proposal was finally drawn up last October at the First International Apple Symposium, held in Shaanxi. Haisheng Fresh Fruit Juice Co., Ltd., the CITIC Group, and the International Integration Foundation of Kazakhstan signed a Memorandum of Understanding on establishing approximately 165 acres of high density, water and fertilizer integrated dwarf rootstock apple orchards in Almaty in 2017.
President Nazarbayev's hometown in the Kaskelen District of Almaty is the site of the China-Kazakhstan Apple Friendship Park. It incorporates a modern industry chain of planting, nursery, cold storage, and fruit sorting.
Industrial production and advanced planting techniques, particularly in areas north of the Weishui River (the largest tributary of the Yellow River) have earned Shaanxi apples a sterling reputation worldwide. There are over 1.65 million acres of apple planting areas in the province. One in every seven apples in the world is grown in Shaanxi.
Since the Chinese government proposed the Belt and Road Initiative, the Shaanxi provincial government has done its utmost to promote modern agriculture exchanges and cooperation with countries along the Belt and Road routes. From January to November 2016, Shaanxi exported 287,200 tons of fruit, with a value of US $283 million, to 64 nations and regions, according to the provincial Inspection and Quarantine Bureau.
Wheat Yield Has Almost Doubled
Shaanxi is China's largest fruit-producing province. Not only abundant in apples, it also produces one third of the world's kiwifruit. It is one of China's four main Konjac-producing areas, and its red date output ranks fourth nationally. The province's traditional exports also include mung beans and buckwheat. Shaanxi's rich experience in agriculture and advanced technologies are outstanding advantages in its outbound cooperation.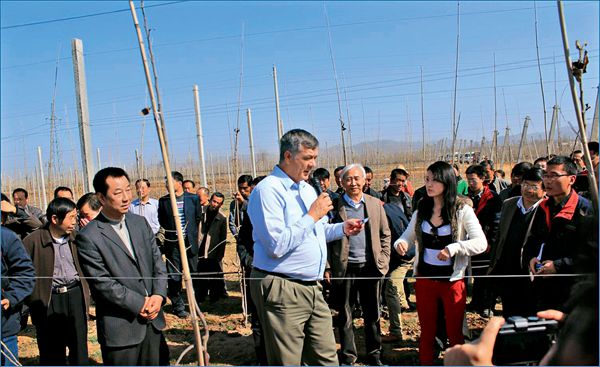 Professor Terence Robinson from Cornell University explains advanced apple planting technologies to local Shaanxi farmers.
The Yangling Agricultural Demonstration Zone in Shaanxi is an international center for modern agriculture cooperation. Since 2015, it has promoted scientific and technological collaboration with countries along the Silk Road Economic Belt and 21st-Century Maritime Silk Road.
Shaanxi is now twinned with the Moscow District of Chuy Province in the Kyrgyz Republic. The province built the first international Central Asian-oriented modern agriculture demonstration base, and also signed an agreement with the International Integration Foundation of Kazakhstan to jointly build the China-Kazakhstan Modern Agriculture Demonstration Park.
"Kazakhstan needs high-yield, drought-resistant crops, and water and energy-saving agricultural technologies. Carrying out agricultural science and education cooperation with Chinese research institutes and colleges, therefore, will vitalize Kazakhstan's agricultural industry," said Mr. A. Kurishbayev, Chairman of the Board of S. Seifullin Kazakh Agro Technical University.
He Cheng, director of the International Integration Foundation of Kazakhstan's representative office in Xi'an, told China Today that the China-Kazakhstan Modern Agricultural Demonstration Park has made significant achievements since its construction in 2015. The yield of its pilot No. 5 rust- and drought-resistant winter wheat plant is 319 kg per mu (15 mu equals one hectare) – with 82.28 percent more yield than local varieties, which gives it a huge potential value on the Kazakhstan market.
The 200-hectare demonstration zone adopts multiple modes of operation to introduce and encourage experimentation with improved varieties, agricultural facility, water-saving irrigation, economic forest and fruits, flower seedlings and agricultural materials and machinery.
Bringing Back Chinese Seeds and Technologies
Sardarbek Mairykov from the Kyrgyz Republic works for the UN Food and Agriculture Organization. He came to China in 2015 to take part in a training program sponsored by China's Ministry of Commerce. While on a visit to an inland province he said, after spending hours inspecting a vegetable greenhouse, "the arid climate in my inland hometown makes it difficult for farmers to cultivate vegetables. So I want to take China's vegetable seeds and advanced planting technologies back to my country to enable people there to have vegetables every day."
Most countries along the Belt and Road are developing nations that desperately need to improve their water conservancy facilities, introduce more agricultural technologies and comprehensively update their agricultural production capabilities. China, with its age-old agricultural civilization, has accumulated multiple planting and cultivation technologies suitable for various climates, notably arid and semi-arid inland regions. There is also a huge demand in these countries for China's agricultural machines and equipment, greenhouse cultivation, animal and plant inspection and quarantine technologies. There is hence ample scope for agricultural exchanges between China and other countries along the Silk Road.
Shaanxi's Yangling Agriculture Demonstration Zone has over the past three years organized more than 130 international exchanges and cooperation activities. They include receptions for 1,500 or more members of 150 foreign investigation and investment groups. Among these, there were 40 or more delegations above ministry-level including those of the then President of Myanmar, U Thein Sein, and the First Vice Prime Minister of Kazakhstan Bakitzhan Sagintaev, 50 or more globally well-known agricultural delegations, and 60 or more international science and technology cooperation delegations.
Yangling Agricultural Demonstration Zone has played a prominent role as a foreign-aid training base for other developing countries. In recent years, more than 890 people from 88 countries have taken part in the 45 training programs it has organized. Programs include agricultural production environment regulation, dry-land farming and water-saving irrigation technology, agricultural economic management, and green city construction. It has provided assistance to various projects such as the China-Egypt Agriculture and Technology Demonstration Zone, the China-Fiji Modern Agriculture Demonstration Zone, and the China-Benin Dry-land Farming Park, which are all progressing smoothly.
Services