Building Lifelines in Tajikistan – Tebian Electric Apparatus Stock Co.
By XIE YAHONG
THE second phase of the Dushanbe No. 2 thermal power plant project is now under construction in a suburb of Dushanbe, the capital of Tajikistan. Projected to provide electricity for the entire city, the thermal power station is considered to be a lifeline for Dushanbe. Jointly implemented by China and Tajikistan, this cooperation on production capacity will build the country's largest thermal power station.
Power shortages have always been a major problem in Tajikistan, in spite of its abundance of natural resources. Hydropower stations (the main power supply source) cannot meet the demands of the dry winter season when rolling blackouts often occur. Building more power stations is an urgent task for the government because electricity shortages are constraining the country's economic and social development.
Easing Electricity Shortages
Facilitated by the governments of both countries, Tajikistan's Ministry of Energy and Industry signed a contract with Xinjiang Tebian Electric Apparatus Stock Co., Ltd. (TBEA) to build the Dushanbe No. 2 power plant. Construction began in October 2012.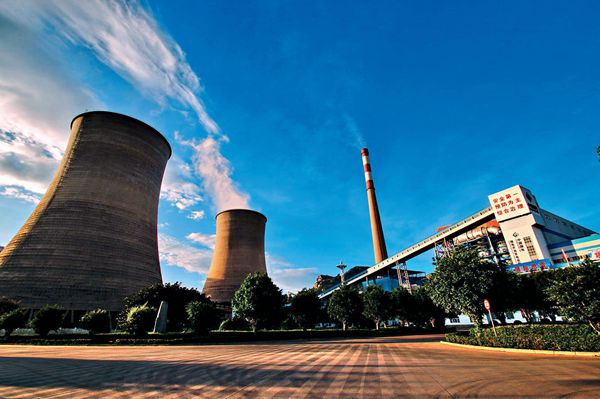 TBEA adopts advanced technologies to guarantee the levels of pollutants emitted during construction meet international standards and do no damage the environment.
TBEA has had a long-term cooperative relationship with Tajikistan for some time now, and has undertaken several contracts, including the construction of a 500 kV high-voltage power transmission and transformation project. Mutual trust has been established between both sides through years of cooperation.
In order to complete the project as quickly as possible, more than 1,000 Chinese technicians and workers have labored assiduously to overcome various difficulties. The two generating units of the first phase were started at the beginning and middle of 2014 respectively – six months ahead of schedule. These workers' efforts have thus greatly contributed to improving Dushanbe's power supply.
The second phase is expected to be completed at the end of this year. With an estimated gross generation capacity of 2.2 billion kWh per year, the power plant will resolve 60 percent of electricity shortages in Tajikistan, and supply heat to an area of 4.3 million sq meters (70 percent of the area covered by Dushanbe's heating services).
TBEA project director Xiao Zhi pointed at a row of devices on the roadside, telling me that the company has adopted advanced technologies including dust collection with electrostatic bags (which can collect up to 99.95 percent of dust) and desulfuration by wet processes (which could be up to 95 percent effective). The levels of pollutants emitted during construction meet international standards and are monitored in real time, and do not damage the local environment.
Great importance has indeed been attached to energy saving and environmental protection. A twin circuit 220 kV transmission line helps to reduce electrical energy loss. Furthermore, ash is recycled and reused, bringing extra economic benefits to the plant.
Landmark Practical Cooperation Project
As a key cooperative energy project aimed at promoting economic development and benefiting the people of Tajikistan, the progress of the TBEA power plant has been closely followed by top leaders in both countries. During his state visit to Tajikistan in September 2014, Chinese President Xi Jinping, along with his Tajik counterpart, Emomali Rahmon, attended the completion ceremony of Dushanbe No. 2 thermal power plant's first-phase project, and the groundbreaking ceremony of the second-phase project in Tajikistan's capital. Xi said that this was a landmark project of China-Tajikistan practical cooperation, and a symbol of friendship between the two peoples. Rahmon observed that the thermal power plant has increased the capacity for self-sufficient energy in Tajikistan. It is thus a model for high-level cooperation between the two countries.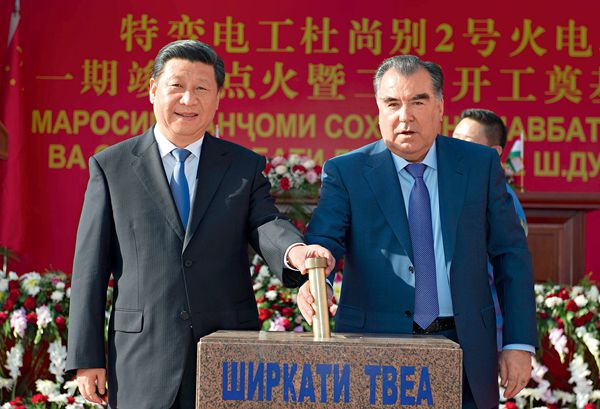 The Chinese President, Xi Jinping, and the President of Tajikistan Emomali Rahmon attend the completion ceremony of first-phase project of the Dushanbe No.2 power plant and the groundbreaking ceremony of second-phase project in Dushanbe on September 13, 2014.
Local people have also expressed gratitude. Mr. Kasimov works at TBEA's Tajikistan branch, and previously worked as an energy expert at the Tajik Ministry of Energy and Industry. He said that while the power plant was under construction, the Chinese company sent several groups of Tajik employees to Xi'an, China, for professional training. He is happy to see that they are now competent specialists in their field, and the mainstay of the power plant. "My Chinese colleagues and I witnessed the establishment of this plant. I am most impressed with their professionalism and with the advanced equipment used in the plant. I, along with all Dushanbe residents, am very satisfied!"
According to Wang Jian, head of the TBEA's branch in Tajikistan, the Chinese constructor is deeply gratified by the local people's welcome and support, and feels greatly honored to contribute to the building of the Silk Road Economic Belt, and thereby facilitating international production capacity cooperation.  
XIE YAHONG is a special correspondent with People's Daily reporting from Tajikistan.
Services