Foreign Companies Opting Out?
By staff reporter ZHOU LIN
MASS withdrawal of foreign direct investment from China has been a frequent topic of discussion in western media since 2015. China's investment environment has been beset with claims that enterprises are retrieving their capital, or transferring their production facilities to Southeast Asia and beyond.
However, a survey by the Delegations of German Industry and Commerce shows that more than 90 percent of German companies hold a neutral or optimistic attitude toward China's 13th Five-Year Plan, so refuting such reports. The survey also implies that around the same number of companies have no plans to leave China in the coming year.
Witness to China's Development
Located on Jiuxianqiao East Road in Beijing's Chaoyang District, the Siemens Factory Automation Engineering Ltd. (SFAE), established in 1993, was the enterprise through which the German company Siemens invested in China.
Wangjing, where the company is situated, is a residential cluster in Northeast Beijing with a permanent population of around 300,000. Accommodating a convergence of telecommunication and Internet companies, the area is site of the headquarters of such high-tech enterprises as ABB, Motorola, Sony Ericsson, Panasonic, and Microsoft. The "Mobile Valley," planned by the Chinese government, is to be sited in the northern reaches of the Wangjing Science & Technology Entrepreneurship Park.
Joe Kaeser, president and chief executive officer of Siemens AG, gives a speech at China Development Forum 2016 in Beijing last March.
"There was vast farmland here when the company was first built, but as you see, there are now skyscrapers everywhere," president of Siemens China Lothar Herrmann said. "We have now become a local enterprise in China."
Siemens AG, founded in 1847, is a global leader in electronics and electrical engineering. Siemens' history in China began in 1872. For more than 140 years, Siemens has been one of the country's largest foreign-invested companies, with around 32,000 employees and 70 affiliated companies. In the fiscal year 2015 (October 2014 - September 2015), Siemens achieved solid growth, and generated in the country revenues of €6.94 billion.
During the 140-year history of the partnership between Siemens and China, the German automation company has provided power generators to Yunnan's Shilongba hydro power plant, so signaling development of China's renewable energy, and built China's first electric tram. Siemens also supplied power-driven machinery to the century-old Tsingtao Brewery, and installed China's first X-ray machine.
Siemens has also witnessed the tremendous changes that have taken place since China's reform and opening-up policy came into effect. It has also observed the country's constantly improving business environment, normalized commercial rules, and strengthened business governance.
Herrmann commented that in recent years the Chinese government has set great store on building a well-developed "soft environment" to attract more foreign capital, one wherein both domestic and foreign enterprises enjoy an open, transparent, and predictable market. Along with China's entry into the "new normal" economy, comprehensive economic cooperation between China and the world has also brought unprecedented opportunities for foreign companies. "China's potential market is extremely attractive to foreign businessmen. We are confident of abundant opportunities in the near future," Herrmann said.
Opportunities under New Circumstance
Tapping into technology and experience to leverage China's long-term development, rather than depending on certain preferential policies, is at the core of Siemens' strategy in China's market.
When the German government put forward its "industry 4.0," the Chinese government proposed the "Made in China 2025" strategy. Although under different names, they have the similar mission of strengthening national competitive power amid constantly evolving industry. Guided by the industrial strategy, China aims to transform its labor-intensive industry into technology-intensive industry, and gain global competitiveness through providing digital solutions.
In June 2016, the German Chancellor Angela Merkel and Chinese Premier Li Keqiang witnessed the renewal by Siemens AG and China's National Development and Reform Commission of the Memorandum of Comprehensive Cooperation between Machinery, Electric and Electronics Industries of the People's Republic of China and Siemens AG. This renewal effectively broadened cooperation in the areas of intelligent manufacturing, intelligent infrastructure, and sustainable energy. In response to the "Made in China 2025" and "Internet Plus" strategies, Siemens AG has shared its "digital enterprise technologies and solutions" with China in order to boost transformation and upgrading of Chinese industries.
In the heart of China's southwest city of Chengdu is a small old-town district, surrounded by concrete skyscrapers and multi-lane highways. There you can sample the spicy foods typical of Sichuan Province and observe a more relaxed lifestyle than that of Beijing.
Siemens Industry Automation Products Manufacturing and Development Base, or Siemens Electronic Works Chengdu (SEWC), has now commenced operations here. Thanks to its digitalization expertise, which is vast compared to the national average, companies are flocking to the region, as evident in the many high-tech manufacturers that have set up plants here. The local government is also establishing favorable conditions for start-ups, so attracting more investors. Chengdu stands testament to the fact that high-tech innovation in China is no longer the preserve of the capital Beijing or the major coastal cities of Shanghai and Shenzhen.
As a newly built digital factory, SEWC is a shining example of the Siemens industry automation products manufacturing and development system. The company is engaged in digital production and manufacturing, underlining that the world has entered the "industry 4.0" era. SEWC is Siemens AG's third industry automation products R&D center, after that in Germany and the United States. It is also its first overseas "digital factory" outside Germany.
The CEO of Siemens Digital Factory Division Anton S. Huber commented that SEWC has been a strategic segment of Siemens AG's global manufacturing system, not only selling products to the local market, but also providing high-tech products globally.
"You will hardly find a factory in China that operates at this level," Dr. Beitinger from Germany said. Even though automation has made considerable progress in China's industry, such high added value can be achieved only by precisely analyzing and optimizing core processes, step by step. This, Beitinger believes, is the prerequisite for a digital factory.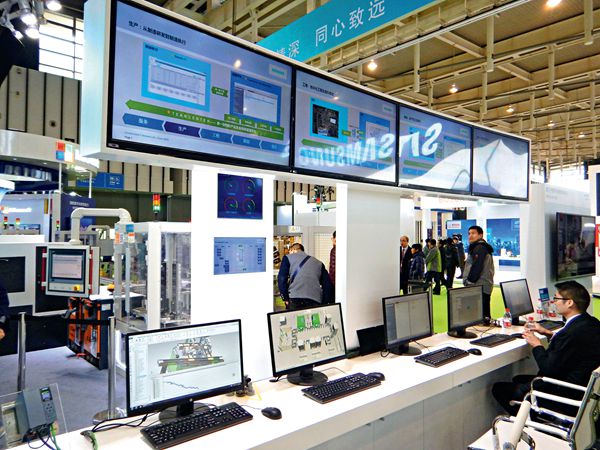 Siemens presents its digital interactive projects at the World Intelligent Manufacturing Summit in Nanjing, Jiangsu Province in December 2016.
The facility has more than 5,000 visitors every year. Delegations from major Chinese industrial operations come to SEWC to learn about the production of Simatic controllers and other electronic components. What interests them most is the facility's successful implementation of the Digital Enterprise concept. SEWC production is digitally recorded, monitored, analyzed, and optimized.
China's newly-introduced policies, including the Belt and Road Initiative, Made in China 2025, new urbanization, and intelligent manufacturing (to name but a few) offer new opportunities. "What we must do is readjust our business in accordance with China's future development trend," Herrmann said.
"For us, China's market is big and has abundant investment potential. Our cooperation is comprehensive, covering innovation, research and development, production and services – complete product lifecycle management," Herrmann concluded.
Competition to Shared Economy
Over the past 30 years of reform and opening-up, due to the development of China's economy and changes in cost-effective factors, both foreign and domestic enterprises have transferred their investment areas, expanded their scales, and become more efficient.
"For example, labor-intensive enterprises in East China, including foreign-invested companies, have gradually shifted to China's central and western regions, and even toward certain neighboring countries. This phenomenon highlights the decisive role the market plays in resource allocation," China's Minister of Commerce Gao Hucheng said. "We are now more concerned about the quality of foreign investment."
Gao Hucheng quoted indicators that FDI in China has maintained a steady growth. In 2015, FDI stood at US $126.3 billion (excluding data on bank deposits, insurance and securities) – a 5.6 percent increase over the previous year. During the 12th Five-Year Plan period, FDI grew by 30 percent compared with that of the 11th Five-Year Plan period. Data for 2014 and 2015 show the highest level for two consecutive years.
"This fully demonstrates that China's economic development and business environment act as magnets for foreign investment," Gao Hucheng said.
Worthy of mention is that, in 2014, Chinese citizens and enterprises throughout the world made a total of 837,000 patent applications, compared to 500,000 by those from the U.S. and 465,000 by Japanese citizens and firms. As Chinese enterprises have strengthened their research and development capability, foreign companies can no longer obtain huge profits solely through a monopoly on technology. China's indigenous manufacturer Gree Electric Appliances Inc. invested more than RMB 2 billion in research in 2009 – a figure that doubled last year. Gree's focus on core technology innovation has won the company numerous national technology awards.
R&D facilities are also prominent in Siemens AG's blueprint for China. The company's Corporate Technology department (SLCCT) occupies a special position as the largest R&D base beyond Germany. By fiscal year 2015, the company had 20 R&D hubs, around 4,500 R&D researchers and engineers, and more than 10,000 active patents and patent applications in China.
Chen Liming, president of IBM China, a representative transnational enterprise with more than 30 years of information and technology experience in China, pinpointed two phenomena: China's investment in scientific research has dramatically expanded to become the global No. 2 since 2006 and is expected to rival that of the U.S. by 2020. China's ratio of R&D investment to GDP moreover surpassed that of the European Union in 2014. Meanwhile, China is keen to make advanced high-tech achievements and be an incubator for global technology innovations.
Under the guidance of the five development concept of innovation, coordination, green, openness, and sharing during the 13th Five-Year Plan period, China will speed up its process of building a new open economic system. It will be one characterized by rule of law, and a society that welcomes foreign investment by building a more open, international, and convenient business environment.
"China's business environment is sure to become more transparent, stable and favorable for all kinds of enterprises. I strongly believe that China will be the most popular destination for global investors," Gao Hucheng said.
"Looking around the world, China is the second largest overseas market for Siemens AG, and will maintain its importance as a vital investment market," Herrmann said. He added that the 13th Five-Year Plan inspires foreign businessmen. "We look forward to joining hands with China, now and in the future," Herrrman concluded.
Services